1. TOO MANY DAYS ARE FLAG DAYS.
A bubbling problem finally boiled over: defensive penalties.
Some calls Sunday were debatable, but the problem isn't confined to one game; it's long-term.
Eight defensive infractions led directly to seven Colts first downs Sunday, increasing the Broncos' total of first downs allowed by penalty to 28, the most in the AFC and second-highest in the NFL behind New Orleans' 35.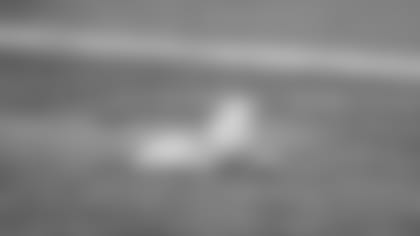 No team is allowing a higher percentage of its first downs via penalties than the Broncos. 18.3 percent of the first downs earned against them have come via penalties, far worse than the league average of 10.6 percent.
"I'm very concerned. Statistically, we have the No. 1 defense in football, but we're also the most penalized," Head Coach Gary Kubiak said. "We've got a great thing going on. We've got something that needs to get corrected. We have to find a way in the second half of the season to turn that around."
Seven teams have permitted more than 13 percent of their first downs earned against them to come via penalties. Denver is the only one with a winning record.
Furthermore, the Broncos lead the league in defensive personal-foul penalties with 16, three more than the second-worst offenders (Buffalo, 13).
New England, by comparison, is the NFL's best at avoiding such infractions, with just one defensive personal foul this season.
"You're going to have some penalties at times, but you can't have selfish penalties that hurt the football team. That has been addressed," Kubiak said. "We will go to work on getting that taken care of."
LIMITED WORK FOR VERNON DAVIS.**
Kubiak said last week that Davis' work would be "isolated" as he made his Broncos debut Sunday, and proved to be the case, as he was limited to just nine snaps as he continues to learn the offense.
"Coach told me prior to the game that I would be limited so that I could get comfortable with everything in the system. I agreed. I said, 'Yeah. I'm with you 100 percent,'" Davis said.
"I think that I need to get everything so that, when I go out there, I can be on the same page as [QB] Peyton [Manning]. I don't have to worry about asking questions I can just go and play.'"
Davis' biggest impact over time could be in the red zone, but the Broncos only ran six red-zone snaps. Davis was in on two of them, running a route down the middle and an out to the corner on two plays late in the third quarter.
Davis was targeted 8:15 into the second quarter on a go route on which his left arm was grabbed by Indianapolis' Colt Anderson, but no flag was thrown.
"It happens. Whether he was holding me or whatever it is, the play didn't go through," Davis said. "We didn't make the play. It didn't happen, but there are plenty of opportunities for that."
Ryan Harris and Tyler Polumbus alternated during the first four series of the game, but Harris worked at left tackle on five of the Broncos' last six possessions, starting in the second quarter.
Harris played 34 snaps, plus one negated by a penalty, and was the left tackle on both of the Broncos' touchdown drives. The offense averaged 5.41 yards per play on Harris' snaps.
Polumbus played 17 snaps, nine of which came on a third-quarter drive to Brandon McManus' field goal. The offense averaged 7.35 yards per snap with Polumbus at left tackle, punctuated by 20- and 37-yard connections from Peyton Manning to Owen Daniels.
Max Garcia worked at both guard spots in place of Louis Vasquez and Evan Mathis. Kubiak said that Vasquez "was hurting a little bit."
"I think that Max is playing well in the run game," Kubiak said. "He needs to improve in the pass game with a lot of stunts and those kind of things, but he has a bright future. He's getting better every time he goes out."
PRESSURE USUALLY WORKS -- BUT IT DIDN'T ON ANDREW LUCK.**
And Luck responded better under pressure than he had at any point this season. Per ProFootballFocus.com, Luck completed seven of 14 passes for 112 yards and a touchdown under pressure Sunday for a rating of 100.9 -- well above the 37.6 rating he compiled on passes under pressure in Weeks 1-8.
Some of the league's best passers under pressure loom on the schedule in the second half of the season: New England's Tom Brady, Cincinnati's Andy Dalton and San Diego's Philip Rivers.
Wherever the football went, Danny Trevathan could usually be found. He finished Sunday's game with a career-high 19 total tackles, including 13 assists.
Trevathan now ranks second on the Broncos in tackles with 60 (35 solo and 25 assists), just behind Brandon Marshall (63: 47 solo and 16 assists).