ENGLEWOOD, Colo. --Tight ends will play in this Broncos offense -- and they will play a lot.
During the preseason, the Broncos' collection of tight ends -- which included the dual-position players also listed as fullbacks -- saw frequent action. On 45.6 percent of their preseason snaps, the Broncos used at least two tight ends. They moved them around; James Casey would line up in the backfield or in the slot, but sometimes he would also work at the line of scrimmage outside of a tackle.
With only three tight ends on the 53-man roster after the cutdown deadline Saturday, it came as no surprise that the Broncos would bolster the position group. Given the frequency with which tight ends will be used, it was equally unsurprising that waiver claim Mitchell Henry and practice-squad signee Arthur Lynch were thrilled to join the Broncos.
"Any time a team uses tight ends and likes to carry three and a fullback, you know the numbers work in your favor over time," Lynch said.
Added Head Coach Gary Kubiak: "Between [Henry] and Lynch, also, I think it's just really going to help us. You go from a group where you have two guys and now you feel like you've got a pretty strong group, but we've some catching up to do."
Both wasted no time grabbing their playbook iPads and diving into the work of learning a scheme that provides a broad horizon of possibilities at their position.
"Getting here for the first day, it's a lot thrown at you," Henry said. "Hopefully I'll sit in meetings and get to pick up a lot more this afternoon. Some of it's kind of similar through knowledge and stuff. A lot of it's different, though. I just have to study a lot more."
Both were priority targets for the Broncos as Sunday dawned. They placed a waiver claim on Henry, and waited on Lynch to see if he passed through after being waived by the Jets.
"They expressed interest right away in wanting me to sign," Lynch said.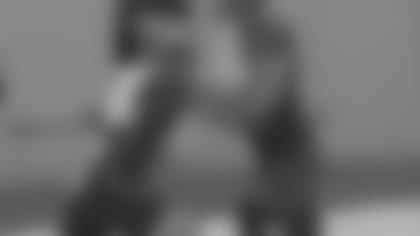 Cobbling together a practice squad in the hours after teams are awarded waiver claims after the 53-man roster deadline is not as cut-and-dry as you might think. For some players who are in high demand, the scramble resembles the frenetic moments after the draft, when scores of undrafted players field calls from multiple teams wanting their services.
Henry experienced that in May when he signed with the Packers as a college free agent but received interest from multiple teams -- including the Broncos. He felt he had a better chance to stick with the Packers, and you can't blame him for feeling that way; the Packers did not draft a tight end until the sixth round (UAB's Kennard Backman), while the Broncos took their tight end, Ohio State's Jeff Heuerman, in the third round.
Heuerman's torn anterior cruciate ligament suffered on the second day of rookie camp altered the Broncos' plans. In the following three and a half months, they claimed Marcel Jensen off waivers, gave a long look to him and holdover Dominique Jones, and brought in Jake Murphy and Dan Light for practice-field work. None managed to stick.
Now the Broncos start again with two young prospects who have been on their radar from the pre-draft process until now.
"I had a great opportunity in Green Bay," Henry said. "I really liked it up there and I get to come to even better opportunity. It was a win-win. I was excited to get to come here."
Lynch, a fifth-round pick of the Dolphins last year who spent the last two weeks with the Jets, said that Kubiak and some of his assistants called him, selling him on why the Broncos would be a perfect fit for his strengths and long-term development.
"I can learn and get better just by watching [the veteran tight ends]," Lynch said. "The system that they run here also fits my skill set, so I think if it were to work over time, I think this is a place where I can excel both on and off the field. Those were the driving factors in me getting here."
The fullback element could be key for either Henry or Lynch, given the manner in which Casey will be used in the backfield, at tight end and even as a slot receiver. Versatility is paramount; the more spots in which a tight end can line up, the more flexibility the offense has to change its formations without altering personnel, allowing for different looks on the possessions when it accelerates the tempo.
Learning how to play fullback in the NFL often takes years.
"It's one of those things that takes repetition," Lynch said Monday. "You've got to be smart, you've got to know what to do, and how they want it done, but over time, I think I'm athletic enough, and I think that I'm a smart enough player to be able to get it and do things the way they want them to be done."
If the Broncos ask Lynch to work at fullback, he's ready.
"I played some fullback at Miami and in college [at the University of Georgia]," Lynch said. "If it's something they want me to do, I'm willing and eager to learn. That's something I'll work hard at, and James [Casey] is a great guy to learn from. He's definitely a hybrid guy. He can do it all, and I think in this particular day and age, for guys to catch the ball out of the backfield, line up in line, play fullback, play slot -- that's huge.
"If I can learn from him and eventually grow into being my own player and do some of the things that he's capable of doing, I think I can make an impact in this league."
Both Lynch and Henry hope that recovery from injuries allows them to make the impact they seek.
Henry played in the preseason with a cast on the left middle finger of his left hand; he's now down to a splint.
"It was protected. As long as it wasn't going to get worse, I could go out there and play," Henry said. "It was difficult at first playing with one arm, but I got used to it."
Lynch spent his rookie season on injured reserve because of a back injury, but had no restrictions on his work throughout the offseason and preseason.
"It did set me back, but I've never felt healthier. I'm in as good a shape as I can be in," Lynch said. "What was a little frustrating was that I felt like I never got the opportunity that I would have wanted [with the Dolphins] because I was hurt so early. But they have a job to do, and they can only wait so long."
And now the Broncos hope that the Packers' and Dolphins' losses are their gain.