BOCA RATON, Fla. -- **With two quarterbacks under contract, the Broncos situation at the position remains "fluid," and there will be others added to compete with Mark Sanchez and Trevor Siemian, Executive Vice President/General Manager John Elway said Monday.
"I think we want to bring in some competition -- not only at the quarterback position, but all positions," Elway said. "I think that's what we're in the process [of doing] now."
"Right now, it's a fluid situation," Head Coach Gary Kubiak added.
"We'll be starting from scratch in a lot of ways, but they'll all be starting together, and it's another challenge. That's part of this business. Things happen. You lose players, things change, but the nucleus of our team is intact, and we're going to be a good football team, so we'll get going with these quarterbacks, and it will be a very competitive situation."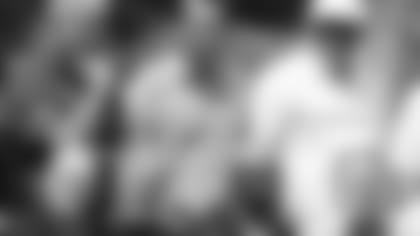 Kubiak is confident that Sanchez can make a successful transition after being acquired in a March 11 trade from Philadelphia.
"First off, you've got to remember: Mark's been a successful player in this league. He's been to two AFC Championship [Games]. He's played with some good football teams. And he's still relatively young. I know he's excited to be with our franchise, with a good football team," Kubiak said.
"He knows what we're talking about; he knows how we go about things. We'll get going with him. We're just as excited to have him as he is to be with our football team."
Kubiak is also optimistic about the progress of Siemian, who took one regular-season snap last year after being one of the Broncos' three seventh-round picks in the 2015 draft.
"You can't forget about Trevor," Kubiak said. "Trevor is a young player that we think a lot of."