INDIANAPOLIS --Patience remains the watchword for the Broncos as they give quarterback Peyton Manning time to make a decision about his future in the wake of the Super Bowl 50 win.
"Once again, it's about him taking his time to work through things, think through things," Head Coach Gary Kubiak said at a press conference Wednesday at the NFL Scouting Combine. "There's no hurry here. We want him to enjoy what just took place, and then we'll go from there."
Kubiak said that he had a "brief" conversation Tuesday with Manning, and that he expected to speak with the quarterback again Wednesday. Kubiak said that Manning and Executive Vice President/General Manager John Elway have also had conversations.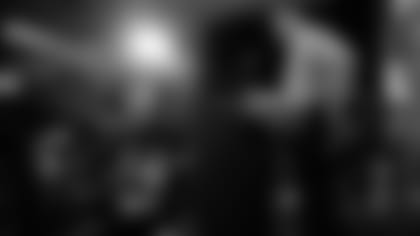 "Nothing's changed," Kubiak said, adding that the ere was no uneasiness as the team works on its other offseason tasks while awaiting Manning's decision.
Although the Broncos are giving Manning time, there is a clear deadline: March 9, the start of the league year and the date when Manning's contract for 2016 would become guaranteed if he's on the roster.
"Free agency, all those things leading up [to it], there's obviously time frames in our business," Kubiak said, "but I think we kind of went through it and we're going to stick to it exactly how we did it last year."
Kubiak said that Manning came out "for the most part pretty healthy" once he got through the season.
"He's a Hall of Fame football player. He's a Hall of Fame person," Kubiak said. "I mean, he's an amazing guy to be around every day, a leader.
"Watch our football team when he came back [in Week 17], just the confidence that they [had] as a group. You talk across the board -- the confidence that we played with week in and week out when he came back says a lot about him as a leader. I'm just very proud of the job he did."