ENGLEWOOD, Colo. —  **As organized team activities end and the Broncos prepare to take their summer break, Head Coach Gary Kubiak is still looking for consistency -- and for one quarterback among Mark Sanchez, Trevor Siemian and Paxton Lynch to emerge and display that quality.
"I think they've all done good things," Kubiak said. "What we're trying to find is that consistent guy. That's what we're trying to find."
Kubiak described Sanchez and Siemian as "right there with each other" based on their work throughout OTAs. During the last four practices, Sanchez has taken all the first-team repetitions, with Siemian handling second-team work and Lynch running the No. 3 offense.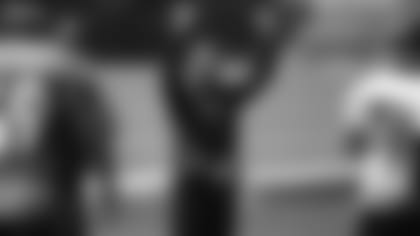 "I think Trevor and Mark have kind of looked each other in the eye the whole offseason," Kubiak said. "When I sit there and watch them practice, I think they're right there banging on each other, and I think the young kid [Lynch] is extremely talented and young and does a lot of great things, and has his troubles. So we're trying to find the consistency somewhere.
"It's a very competitive situation," Kubiak added later. "They're obviously ahead of our young guy just from a mental standpoint right now, but those two guys have been very close throughout the course [of OTAs]."
Consistency is what Kubiak also wants to see in Lynch, who successfully guided the offense in the two-minute drill late in practice.
"All the ability is there," Kubiak said of the first-round pick. "It's just trying to get all the consistency in place in what you do."