ENGLEWOOD, Colo. --Why has Gary Kubiak been the right man at the right time for the Broncos?
It starts with the fact that his players always know where he stands, whether it's with his openness about the state of the quarterback position last year or each player's status on the team. And that honesty is universal; it doesn't matter whether a player is atop of the depth chart or the last man on the roster, fighting to stay in the league.
"He's a straight shooter," said inside linebacker Brandon Marshall. "He ain't going to lie to you. He's going to keep it real, man. I definitely respect that. I think we all do."
Kubiak's interaction with his players is more along the lines of what you'd expect from a position coach, working with a smaller group.
"He's going to shoot you straight -- straight like a position coach. Usually, a position coach is someone you've got a relationship with," running back C.J. Anderson said. "My relationship with Kub is not as strong as it is with [Running Backs Coach] Eric Studesville, just because I'm around 'E' more than I'm around Kub. But Kub is going to shoot you straight."
Anderson might not have the role he has now if Kubiak hadn't done that. The coach is tough, but fair. He doesn't always tell his players what they want to hear; he conveys what they need at the right moment, whether it's an admonishment, an "Attaboy," or somewhere in between.
"I've had him pull me in and say, 'Hey, man, you need to lose weight, and when you lose weight, you can do this,'" Anderson said, "and I've had him pull me in and say, 'Hey, man, you're playing outstanding; keep doing what you're doing.' I've had it both ways."
Kubiak doesn't do mind games.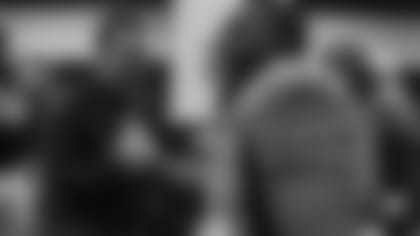 "As a player, he leaves no gray area in going, 'Ahh, man, if I don't play well, then this is going to happen,' or, 'If I'm messing up, this is going to happen.' He doesn't leave that gray area in your head at all," Anderson said. "You know that he's expecting something from you, and he's telling you what he's expecting."
And because Kubiak has such unwavering honesty in conveying his expectations, he was able to provide Marshall exactly the assurance he needed earlier this month when he kneeled for the national anthem to call attention to social injustice.
Marshall knew when he walked into the meeting that whatever Kubiak told him would be the honest, straight-shooting truth -- and that when Kubiak offered his support of Marshall's First Amendment right to express his view, it was as strong as steel.
Of course, Marshall knows that support comes with a caveat: don't let it affect the team, or your play.
"I could see if I was in here, distracting the locker room, if I was playing terribly on the field, I think those are two things [that would cause Kubiak to say], 'What's going on, B?'" Marshall said.
"I'm not disrespecting him personally or anybody personally," he added. "I think as long as I'm not disrespecting Kub as a man or anybody on the team, I think he's fine with it -- as long as I do my job."
And that, too, underscores another aspect of Kubiak's stewardship -- that the team comes first. Players are individuals, with a diverse collection of interests, backgrounds and perspectives. But staying together as a unit comes first.
And a massive reason why the team is unified is because each player knows where he stands with his coach.