INDIANAPOLIS --Head Coach Gary Kubiak saw progress in the offense and in the running game, and sees possibilities in the running backs he has on hand, he said when he met the media Thursday at the NFL Scouting Combine.
With Ronnie Hillman an unrestricted free agent and C.J. Anderson one of three restricted free agents on the roster, uncertainty exists heading into the new league year.
"Both of those guys did a really good job for us," Kubiak said.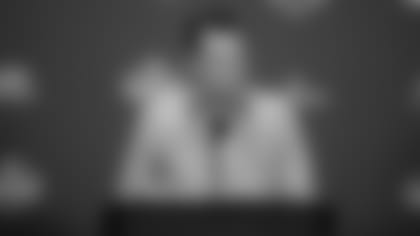 Kubiak expressed hope that Hillman would remain a part of the running back corps, but believes that it will be crucial for Anderson, the Super Bowl 50 starter, to remain injury-free. Anderson played through an ankle injury early last season and struggled in the first six weeks before improving after the bye.
Anderson later pointed to the rest given over the bye as a reason why he displayed better form in November, December and the postseason.
"Keeping C.J. healthy I think is a key moving forward," Kubiak said.
Kubiak noted that Juwan Thompson and Kapri Bibbs could be in the mix going forward. Thompson has "a bright future" despite injuries, Kubiak said, and Bibbs "fits what we want to do."
"We've got four good young players, and hopefully Ronnie's still a part of that, and we'll go from there."