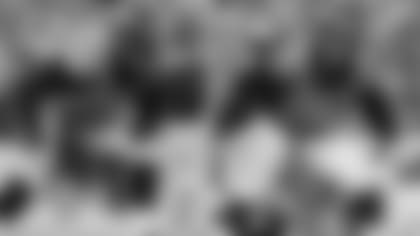 ENGLEWOOD, Colo. --Both Donald Stephenson and Ty Sambrailo will see action at right tackle next Sunday night against Kansas City, Head Coach Gary Kubiak said, but the decision as to which one would start and how the repetitions are divided would be based on how they continue to play and practice.
"I kind of look at the situation, and basically we've told them, 'Whoever plays the best is going to stay in there,'" Kubiak said. "They're going to both play.
"We've got to improve up front, not just at that spot. We need more consistency at that spot. We'll see what happens. But right now we'll just work them all week and we'll make a decision at the end of the week."
Stephenson was the early-season starter before suffering a calf injury against the Colts in Week 2. He returned to the lineup in Week 6 at San Diego, but was relieved by Sambrailo in the second half of the 25-23 win at New Orleans on Nov. 13.
Sambrailo started three games in place of Stephenson, but was relieved in the second half of that third start (the Week 5 loss to Atlanta) after struggling against Falcons edge rusher Vic Beasley. Sambrailo suffered an elbow injury early in training camp that held back his progress when he was competing for the right guard spot, which eventually went to Michael Schofield.