ENGLEWOOD, Colo. --If Garett Bolles earns the starting job at left tackle this summer, the Broncos might have found themselves a diamond.
That's because Bolles, like a diamond itself, would have been forged into a first-teamer by pressure.
There's the pressure of learning a complex new offense being installed by Offensive Coordinator Mike McCoy. There's pressure from daily competition in the form of veteran teammate Ty Sambrailo, who is at full strength for the first time in nearly two years after grappling with labrum and elbow injuries the last 22 months.
Finally -- and perhaps most importantly -- there is the pressure from facing outside linebackers Von Miller and Shane Ray on a regular basis. Bolles won't see a challenge more difficult than the one posed by the Broncos' twin edge rushers, whose blinding speed and array of moves offer Bolles no rookie grace period once he drops into his stance.
"I'm grateful that I have to go against those guys in practice and not at the game because those guys make tackles look bad and that's what they do," Bolles said.
Any misstep against Miller and Ray, and Bolles will pay. So what does he gain from the challenge of facing them every day?
"Consistency in my pass set and making sure my knee doesn't go outside my ankle and making sure that my hands are up, because those guys are there for a reason," Bolles said. "They make their money for a reason. Von was a Super Bowl MVP.
"All those guys are so strong, and I'm grateful and blessed that I get to play with those guys and learn from them."
Bolles' learning doesn't stop when the play does, either.
"They're my friends. Von texts me all the time and talks to me," Bolles said. "He's excited to be with me on this team. He knows what I can bring to this team, so I just have to trust in the process and respect everyone and get ready to play."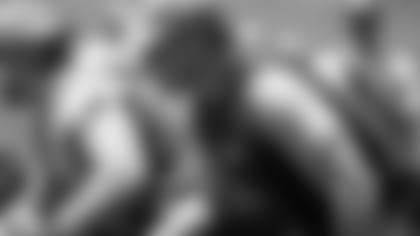 What could separate Bolles and give him an advantage over other tackles against the speedy edge rushers he'll face is his size -- or the lack thereof. At 297 pounds, he is 21.5 pounds lighter than the average starting left tackle from Week 1 of last year, and seven pounds below the lightest season-opening starter of last season (New Orleans' Terron Armstead).
Bolles' frame and footwork allows him to counter the speed he'll face on the outside with quickness of his own. His size has already earned him a nickname from his coaches.
"Coaches call me a big lizard with my lean body," Bolles said, laughing.
That size not only allows him to counter the outside moves that edge rushers use to try to get to the corner, but it gives him the ability to get downfield and block. He showed flashes of brilliance of this during OTAs, helping turn moderate gains on screen passes into long jaunts.
"I love to run. I love to get out on the screens and watch my running back burst for whatever number of yards they need to get into the end zone," Bolles said.
The desire and physical tools are there. Now Bolles must harness them in order to handle the pressure that arrives when camp begins.