ENGLEWOOD, Colo. --In the run of play during practices and games, players don't think about their contracts. The action is too fast, the consequences of stasis too severe and the tasks are too arduous to consider anything but the moment.
But after the helmet goes back on a shelf or a hook in the player's locker-room stall, it's understandable to think about contracts. It's not just the business of the job, it's the business of life, something to which anyone in the workforce can relate on some level.
And for 22 of the 90 Broncos on the current roster, that means playing under a contract that expires after this season. That could be 23 if the Broncos can't complete a long-term deal with wide receiver Demaryius Thomas.
The Pro Bowl wide receiver's unsigned franchise tag the Broncos' stated hopes of signing him to a long-term deal cast a shadow over the offseason. But his contract is not the only one the Broncos must consider.
What must their pending unrestricted free agents prove this year to get a bigger, better deal in the future? Let's start with the Broncos' homegrown players. (Contract information is from Spotrac.com.)
Because the Broncos did not make a first-round selection in John Elway's second draft after returning to the organization, none of the picks left from that class have a fifth-year option, which cranks up the urgency a bit.
S OMAR BOLDEN: **Back at safety on a full-time basis, Bolden is in a scrum for three jobs: his defensive role and the roles of kickoff and punt returner. He jolted the Broncos' kickoff returns to life when he got the job late last year, averaging 33.0 yards on 13 returns.
But with roster spots at a premium, it would help his cause if he could emerge as a punt returner, something he hasn't handled on a full-time basis as a pro or at Arizona State. Between returns and a role as a gunner, special teams could keep him in the league a long time, but first he needs to build on last season's promising finish.
RB RONNIE HILLMAN:First, he has to find some footing on the roster. With C.J. Anderson and Montee Ball leading the way, Juwan Thompson providing a power gear and last-year's practice-squad runner, Kapri Bibbs, showing flashes of brilliance in OTAs, he's in the thick of a crowded field he's in the thick of a crowded field and by no means has a lock on a roster spot.
DE MALIK JACKSON: **He must prove that last year's breakout performance was not a fluke. Just eight defensive ends (3-4 and 4-3) ranked higher than he did in ProFootballFocus.com's rankings, and he powered his way into the starting lineup by the end of the season by being equally effective against the run and in collapsing the pocket.
Playing in the 3-4 alignment should help him; instead of shuttling between end and tackle, he can settle in working as a three- and five-technique end, depending on the exact situation. The guidance of Defensive Line Coach Bill Kollar should also aid his progress. Another season like last year would make him one of the most coveted defenders on the market.
If Jackson continues his trajectory, he could eventually be an example of one of Executive Vice President/General Manager John Elway's mantras -- that "we don't draft All-Pros, hopefully we develop them." But players like that aren't cheap.
Jackson, for his part, says he isn't thinking about his contract.
"I'm just worried about -- seriously -- just going out there and doing my part, and making them give me as much as I feel like I deserve," he said during OTAs "Right now, it's not about the money, which would be nice, I'm not going to lie. But right now it's about going out here and just trying to earn it. I've got one more year on my contract, so for me and to sit there and be worried about a contract right now would be silly."
QB BROCK OSWEILER: **Perhaps no one has as much to prove -- or gain - from practice alone. But perhaps no one else on the roster has as little control over how he can make his move in his contract year.
If Peyton Manning remains healthy, Osweiler's repetitions in the regular season could again be limited to mop-up duty. So if he is to show that he can still be the franchise's quarterback of the future, he needs to be effective in training camp and the preseason. Teammates praised his growing command in the huddle during OTAs and minicamp, and he's starting to bear the responsibility of on-field leadership well. He trusts his targets, will squeeze the football into narrower windows, and makes fewer mistakes than at any time to this point.
But will that be enough? Further, if Manning plays well this year and returns for the final season of his contract, does Osweiler opt to test free agency and look for an immediate chance to start starting job that would likeely not be his until 2017, or perhaps beyond, depending on how long Manning plays?
ILB DANNY TREVATHAN: **First, he must show he's healthy -- and getting a full read on that might take all 16 regular-season games. His value to the Broncos and on next year's market could rest upon how well the knee in which he had a kneecap reconstructed holds up not just over a game or two, but the long haul.
Wade Phillips' 3-4 scheme and its use of the nose tackle will likely mean that Trevathan has to take on more blockers at the second level, which puts him in a different role against the run than he had during his 2013 breakthrough. And when he drops into pass coverage, he needs to show the quickness he had before the injury. If he passes all of those tests, he should get a significant, long-term deal next spring.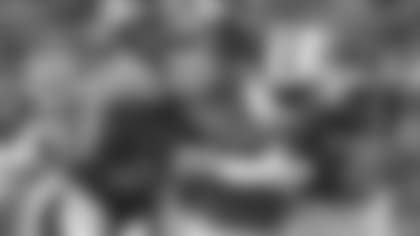 DE DEREK WOLFE:After allaying fears by returning to full health and improving as a player last season, the 2012 second-round pick has the chance for a big leap now that he's in a scheme that is more conducive to his frame and skill set.
Wolfe admitted this offseason that he was surprised a then-4-3 team like the Broncos picked him in 2012; now that he can work full-time as a three- and five-technique end, he must show that he can flourish, particularly in the pass rush, to get the deal he wants.
WR DEMARYIUS THOMAS: **The Broncos hope to lock him up to a long-term deal as they did with their last two players who received the franchise tag in recent years, but the clock is ticking and the July 15 deadline for a contract looms.
If the Broncos can't get a deal done, he'll need to continue showing that he's one of the game's elite receivers, and also stay healthy. He has played in 66 consecutive games despite some injuries in that span.
LB VON MILLER: **As a first-rounder in 2011, the Broncos had a fifth-year option on Miller and picked it up. If they don't sign him to a long-term deal in the next seven months, giving him the franchise tag is a possibility, but the Broncos clearly want him around for the long haul as a defensive cornerstone.
Miller's task in 2015 is two-fold: build off the 14-sack season he had after recovering from a torn anterior cruciate ligament and continue to steer clear of the off-field issues that derailed his 2013 season and put him in Stage 3 of the NFL's substance-abuse policy.
THE OTHER RETURNING VETERANS
NT MARVIN AUSTIN JR.:He takes on a new role at nose tackle this year, and he must show that he can hold his ground against a center or a guard, preventing him from reaching the second level. He also must show that he's a better option on the inside than Vance Walker, who has a two-year contract and can play all three defensive line positions.
S DAVID BRUTON JR.: **The longest-tenured Bronco on the active roster now that left tackle Ryan Clady is on injured reserve, Bruton will, at minimum, push Darian Stewart for a starting spot, see some work in dime packages and maintain his array of roles on special teams. But he's at the point in his career where if he sees a better chance to start on the open market in 2016, he could take it.
The Broncos saw that before with linebacker Keith Burns, who left twice in free agency looking for more snaps on defense before eventually returning each time. But if Bruton's push for a starting spot eventually proves successful, his best chance at defensive playing time would be in Denver, and he could remain a Bronco for a long time. But even if he's not a starting defender, his leadership on and off the field is a valued asset.
WR ANDRE CALDWELL:Entering his eighth NFL season, Caldwell is at a crossroads. He has timing with Manning, is a potential option on returns and can work at any receiver spot. But on the other hand, he lost the kickoff-return duties to Bolden late last year and is a known commodity having to contend with other receivers with unknown potential. Further, the increased emphasis on tight ends could lead to a crunch at wide receiver. Before he can focus on his contract, he needs to stick on the roster after the final cutdown.
OT CHRIS CLARK: **He's another player who faces the most crucial camp and season of his career. If he proves that he can handle right tackle duties after losing the job six games into the 2014 season, then he could earn a multi-year deal starting somewhere in the NFL in the 2016 season, because by then he would have shown he can be a dependable starter at both tackle spots. Clark has a lot to gain this year.
CB TONY CARTER:Just three current defenders have been on the roster longer than Carter. But he must think about making the 53-man roster before he worries about his long-term contract. He signed a restricted tender in the offseason, but that isn't guaranteed. This will be perhaps the most crucial training camp of his career, and with four draft picks at his position in the last three years on the depth chart, the competition is stiff.
LB STEVEN JOHNSON:After re-signing on a one-year contract in March, Johnson saw plenty of work with the first team in OTAs while Brandon Marshall recovered from his foot injury. In starting throughout the second half of the 2014 season, he proved that he is an effective two-down linebacker against the run. With that and his special-teams experience, he's an asset.
But he wants another chance to not only start, but play on every down, atoning for the struggles he encountered in pass coverage last year. Johnson has responded to every challenge and obstacle in his career. If he does so again, he could earn a multi-year contract next year, when he would hit unrestricted free agency for the first time. **
WR JORDAN NORWOOD: **He's taken the first big step: he's recovered from a torn anterior cruciate ligament. He's resumed the role he had last year before the preseason injury, working on punt returns as well as at wide receiver. But before he can focus on a contract, he needs to stick on the roster, and with Caldwell, Kyle Williams, Bennie Fowler, Jordan Taylor, Solomon Patton and others in the mix, he needs to jump off the film at training camp.
RB JEREMY STEWART:Before the Stanford product worries about his long-term contract, he first needs to make the 53-man roster, and with the quality and depth at the position, this will be a tall order. He won't get the most carries at training camp, so he'll need to maximize them to earn more chances in preseason games. But even a great preseason may not be enough if the running backs near the top of the depth chart play well.
TE/FB JAMES CASEY: **After two years with the Eagles in which he wasn't used like he was with the Texans, a return to a Gary Kubiak-led offense could set him up for a few more years in the league. Although he can line up at tight end, his future appears to be as a blocking back. Because that position requires quick reads of the defense's front seven, experience is an asset, outweighing any physical decline in a player's 30s, so Casey could be in line for a few more years in the league if he remains healthy and he so desires.
C GINO GRADKOWSKI:Although he's with a new team, Gradkowski's situation is similar to the Broncos' 2012 draftees, since he was a part of that year's class as a Ravens pick. In his case, he simply needs to prove that he can be an effective starter. His 2013 season on Baltimore's first team was inconsistent, and when Kubiak arrived to become Baltimore's offensive coordinator, a change at center followed, and Gradkowski's work was in practice. But Kubiak and Offensive Coordinator Rick Dennison saw enough in him to trade for him. If he does well this year, he could earn a multi-year contract to start somewhere in 2016, although the progress of Paradis could determine whether the Broncos opt to keep Gradkowski around.
OT RYAN HARRIS: **With Harris on the roster, Kubiak, Dennison and Offensive Line Coach Clancy Barone know they have a reliable, experienced option at right tackle if Clark struggles. He's overcome the back problems that cut short his first stint with the Broncos, and knows the blocking scheme well from his first two Denver seasons and his time with the Texans. But with his past injury history and his age, he's likely to see a series of one-year contracts if he sticks around.
CB CURTIS MARSH:As with Carter, Marsh must distinguish himself amid a thicket of young cornerbacks. Marsh has some similar physical attributes to Aqib Talib and plenty of regular-season experience, but he must show that he has enough untapped potential to have upside that matches that of rookies like Lorenzo Doss and Taurean Nixon.
DE ANTONIO SMITH:After being excused from voluntary OTAs following criminal allegations that have not resulted in any charges, Smith's first task upon his potential return is to get back up to speed with the defense. Given that he played under Wade Phillips and Bill Kollar in Houston, this shouldn't be an issue. Smith is at the point of his career where he is likely to always be on one-year contracts like the one he has now for as long as he keeps playing.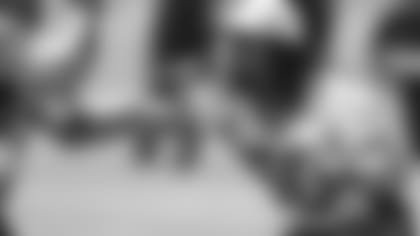 LB REGGIE WALKER:Leadership on special teams and depth at inside linebacker are his attributes, and they give him a chance to set himself apart this summer. Special teams is likely to determine the composition of the back end of the ILB depth chart, and before Walker focuses on a future contract, he'll have to fend off 2014 draft picks Lamin Barrow and Corey Nelson.
WR KYLE WILLIAMS:Along with Norwood, he will be in the mix on returns and as a backup receiver. Injuries defined him the last two years: he tore his anterior cruciate ligament in 2013 and injured his shoulder in last year's preseason finale, just before the Chiefs cut him. If he can stick on kickoff and punt returns and do well, he could earn another contract, but first he must make the regular-season roster -- and then play in the regular season, which he hasn't done since 2013.
Running back C.J. Anderson, inside linebacker Brandon Marshall, safety Josh Bush, tight end Dominique Jones and outside linebacker Lerentee McCray could all hit the restricted market this year.
Anderson could be poised for a significant bump and a high tender if he builds on the stellar second half of the 2014 season that catapulted him to the Pro Bowl.
Marshall has a lot to gain if he can return to his pre-foot-injury form. He did not practice throughout the offseason and had surgery in April, but began running in late June and continues to sprint during his daily workouts at team headquarters as he pushes toward his goal of returning at some point during training camp or the preseason.
For Jones, Bush and McCray, the first task is to make the 53-man roster; all sit squarely on the bubble, although each had some promising moments in during OTAs. Jones earned Kubiak's praise after shedding 21 pounds between April and early June, Bush had multiple takeaways during practice and McCray could be a better fit as the strong-side outside linebacker in the 3-4 alignment working behind Miller than he was in the 4-3.
EXCLUSIVE RIGHTS FREE AGENTS:
Thirteen current Broncos are scheduled to become exclusive-rights free agents in 2016: wide receivers Isaiah Burse, Bennie Fowler, Nathan Palmer and Solomon Patton, running back Kapri Bibbs, inside linebacker Todd Davis, quarterback Zac Dysert, guard Ben Garland, safety Ross Madison, kicker Brandon McManus, center Matt Paradis, defensive end Gerald Rivers and outside linebacker Chase Vaughn.
Davis and Garland appear to be in the best shape, working extensively with the first team in OTAs. Davis filled in for Danny Trevathan and had an impressive offseason, and Garland has a high ceiling and the proper skill set for this offense; he just needs snaps and cohesion. For the rest, the focus is on making the roster in some capacity, perhaps on the practice squad.