ENGLEWOOD, Colo. --If the Broncos go into the 2013 season with Nate Irving and Steven Johnson as the middle linebacker options -- as John Elway and John Fox suggested at their Scouting Combine press conferences -- then that's not something they're terribly concerned about, considering that the playing time a middle linebacker can receive in the NFL of 2013 is endemic of a reserve rather than a starter.
"Sixty-five percent of our snaps last year were nickel," said Elway. "I'm not trying to downplay the importance of that position, but nickel is so important, too."
And when the Broncos go nickel, Von Miller moves to defensive end, Wesley Woodyard stays at one linebacker slot and they substitute. For that, they have an in-house option for the future in 2013 sixth-round pick Danny Trevathan, who split snaps at times late in the season with D.J. Williams.
That being said, the door isn't closed on a deal. The Broncos could let the linebacker market settle, but if veteran bargains are to be had, they might bite.
Paul Kruger, Baltimore: In a 4-3, he would play defensive end, but could be so coveted by 3-4 teams with massive cap room (e.g. Cleveland) that a shift isn't a consideration. His effectiveness late in the season was obvious -- 12 sacks in his last 12 games, including playoffs -- but that sack total is 2.5 higher than he amassed in the previous 47 games.
Connor Barwin, Houston: Barwin did the opposite of what you expect in a contract year; he regressed in all areas, particularly the pass rush, where he tumbled from 11.5 sacks in 2011 to a career-worst three. The Texans want him back, and he's stated a preference to play for a winner, but this is his chance to cash in.
Dannell Ellerbe, Baltimore:It wasn't a coincidence that the Ravens went 0-3 and saw their defense collapse while Ellerbe was injured last December. He can be a liability in pass coverage, but against the run he's one of the league's best inside linebackers. Some thought he was a better fit as a 4-3 linebacker coming out of college, but he's proven to be versatile and adept.
Daryl Smith, Jacksonville: If he's healthy, the 31-year-old still has multiple effective years in him, and the Jaguars' total defensive implosion last year was closely tied to a groin injury that sidelined him for 14 games. Broncos Defensive Coordinator Jack Del Rio knows how effective he can be; he's steady, equally effective in pass coverage as he is against the run and is a three-down linebacker. He'd be a good fit for the Broncos -- if he moved to his old slot middle linebacker, because his usual position on the strong side belongs to Von Miller.
Shaun Phillips, San Diego:Age is catching up with Phillips, whose first step is slower than it was in his prime years. He managed nine sacks last year, but is a fairly one-dimensional player and could be forced to downgrade to pass-rush specialist going forward.
Thomas Howard, Cincinnati:He's coming off a torn anterior cruciate ligament that ended his season in September, but is progressing well in his rehabilitation. The Bengals' defense wasn't hurt without him, but that was because their defensive line had a breakout year.
Philip Wheeler, Oakland: The Raiders need to make a play for Wheeler, who was arguably their best defender in 2012, although he didn't show his form in two games against Denver. Wheeler is an effective every-down player, but his salary is likely to skyrocket exponentially from his near-league-minimum pay last year.
Brian Urlacher, Chicago:His credentials as a future Hall of Famer are secure, and if he can fight off a recent spate of injury troubles, he can still help.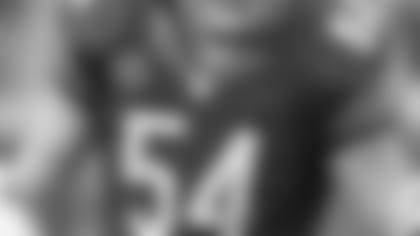 Brad Jones, Green Bay: He found his niche after moving to inside linebacker last season and could fare even better in a 4-3 scheme as a middle linebacker. The Packers probably can't afford to keep him, since his emergence and relative youth (he turns 27 in April) will make him a hot commodity.
Erin Henderson, Minnesota: Much better in attack mode than in dropping back in coverage, Henderson is a significant asset for a team looking for a stout run defender.
Keith Brooking, Denver: He upgraded the Broncos' middle linebacker performance after being promoted to the first team in Week 6 of last year, and if the intended young replacements struggle through offseason work, he might still be on the market for the Broncos to bring him back if they need to re-fortify the position.
Jasper Brinkley, Minnesota:The Vikings might be forced to keep Henderson or Brinkley, but not both. Brinkley is younger and a better tackler at this stage in his career and should get the nod.
Bradie James, Houston: He wasn't expected to be an every-down linebacker last year, but Brian Cushing's injury forced him into extensive action. He's quality depth, but is better served as a run defender at this point.
Larry Foote, Pittsburgh: At 33, he has more value to the Steelers than anyone else, and both sides seem to know this, as Foote confirmed a few weeks ago that the sides are working on a deal.
Rey Maualuga, Cincinnati: The emergence of Vontaze Burflict, who shed myriad character concerns last year, could leave Maualuga on the outs in Cincinnati. Maualuga slipped in the 2009 draft because of character concerns of his own, and struggled in transitioning from situational to every-down use.
Victor Butler, Dallas: He's only started two games in his career, but was effective in limited work, forcing two fumbles and notching three sacks. The 25-year-old should get an opportunity to start as a 3-4 outside linebacker elsewhere.
Larry Grant, San Francisco: Played well enough in a brief starting role late in 2011 to potentially leap to a first-team job on a more linebacker-needy team.
Scott Fujita, Cleveland: A neck injury likely means the end of his career; if by chance he does return, he's a two-down player, but offers leadership.
Will Witherspoon, Tennessee: He started three and a half seasons for John Fox in Carolina, but those days ended over seven years ago, and last season was the first time he didn't start a majority of the games in which he played. If he doesn't return to the Titans, he could wait for a team in need of veteran help in July or August.
Others: Xavier Adibi, Tennessee; Lorenzo Alexander, Washington; Wantwan Barnes, San Diego; Chase Blackburn, N.Y. Giants; Ricky Brown, Baltimore; Jonathan Casillas; New Orleans; Zac Diles, Tennessee; Tim Dobbins, Houston; Justin Durant, Detroit; Moise Fokou, Indianapolis; Larry Foote, Pittsburgh; Keyaron Fox, Houston; Omar Gaither, Oakland; Tavares Gooden, San Francisco; Quentin Groves, Arizona; Gary Guyton, San Diego; Mario Haggan, St. Louis; Clark Haggans, San Francisco; Geno Hayes, Chicago; Leroy Hill, Seattle; Ramon Humber, New Orleans; Brandon Johnson, Pittsburgh; Akeem Jordan, Philadelphia; Bryan Kehl, Washington; Niko Koutouvides, New England; Manny Lawson, Cincinnati; Paris Lenon, Arizona; Kaluka Malava, Cleveland; Rocky McIntosh, St. Louis; Gerald McRath, Tennessee; Marvin Mitchell, Minnesota; Kirk Morrison, Buffalo; Jesse Nading, Houston; Mike Peterson, Atlanta; Jason Phillips, Carolina; Brady Poppinga, Dallas; Keith Rivers, N.Y. Giants; Nick Roach, Chicago; Barrett Ruud, Houston; Scott Shanle, New Orleans; Brandon Siler, Kansas City; Ernie Sims, Dallas; Dan Skuta, Cincinnati; Bryan Thomas, N.Y. Jets; Erik Walden, Green Bay; Jamaal Westerman, Indianapolis; Tracy White, New England; Leon Williams, Kansas City; Demorrio Williams, San Diego; Chris Wilson, Washington.
Bart Scott (cut by N.Y. Jets on Feb. 19): Scott isn't an asset to a team that is in salary-cap purgatory and in need of a transfusion of youth, but can still turn in solid play against the run. Whether he's in a 3-4 or 4-3 alignment, he would likely work only in base packages, which depresses his value.
Nick Barnett (cut by Buffalo on Feb. 11): The Bills cited a failed physical in terminating his contract last month, but if he stays healthy, he can still help someone, especially against the run. He makes few mistakes, doesn't miss many tackles and racks up plenty of stops of his own -- over 110 in each of the last two years.
Takeo Spikes (cut by San Diego on March 7): Interesting fact about Spikes: he's never played for a playoff team in 15 seasons in the pros, but it's rarely been much fault of his own. He's still stout in the run, but can be a liability in coverage. The best landing spot for Spikes is a contending team where he can be a two-down linebacker or a quality reserve.
Others: Calvin Pace (cut by N.Y. Jets), Brashton Satele (cut by Dallas), Stewart Bradley (cut by Arizona).
Rob Jackson, Washington: Surprisingly strong in coverage, he didn't have the same skill set as the man he replaced, Brian Orakpo, but wasn't a liability. Orakpo's return and the Redskins' cap crunch means the  Redskins might not fight to keep the converted defensive end.
Others: Kyle Bosworth, Jacksonville; Justin Cole, St. Louis; Jacob Cutrera, Tampa Bay; A.J. Edds, Indianapolis; Dane Fletcher, New England; Rob Francois, Green Bay; Rob Jackson, Washington; Josh Mauga, N.Y. Jets; Austin Spitler, Miami; Stevenson Sylvester, Pittsburgh; Frank Zombo, Green Bay.