HIGHLANDS RANCH, Colo. — Former Broncos star wide receiver Ed McCaffrey was officially introduced Tuesday as the third head football coach of Valor Christian High School.
"The timing's perfect," McCaffrey said. "First of all, I never thought this opportunity would even be available. I love playing the game — I've been playing since I was a kid. I loved playing in the NFL [and] at Stanford. I loved coaching. I coached Little League for 10 years. I probably learned more about coaching every position and team chemistry and personalities and dynamics doing that. But I've always loved the game. That's why I've stayed close to it. ... That's why I was a broadcaster. That's why I still am an NFL analyst — because I just love the game. It's been so good to me. I've been so blessed to play the sport for so long. And here at Valor, I feel called to serve where I can live a fulfilling life and give back to future generations.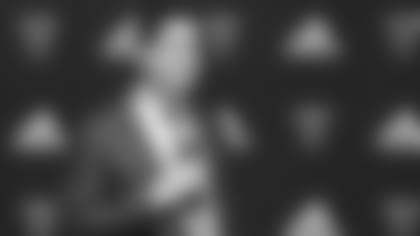 "... High-school football, it's different than the NFL and college. A lot of these kids, they may not have played football until they show up here. Some have aspirations of playing in college or the NFL, others don't. But here in high school, so many of the guys I played with said it was the most fun and exciting times of their lives. So that's what we're trying to create here."
McCaffrey, who will be a first-time head coach, met his team during a meet-and-greet Tuesday evening. The Eagles compete in Class 5A.
The former Bronco has long held a connection to the private school.
Three of McCaffrey's sons graduated from Valor — including Carolina Panthers running back Christian McCaffrey — and his youngest son, Luke, is a rising senior and is expected to start at quarterback for Valor this fall.
"Honestly, it would've been better if it was a year from now," McCaffrey said. "Again, I never expected to be in this position. I was shocked that the position became available. It's something that I've always wanted to do. My sons know that, my wife knows that. I've purposefully stayed in the shadows and stayed in the stands to allow my sons to have their own high-school experience. Having played here and won a couple Super Bowls, I didn't want to cast a shadow on their experience. My kids are growing up now, though. Two are out of college — they're playing the NFL. One's in college, and Luke, ideally, we could've gotten him out of here before this became available, but I think this is a once-in-a-lifetime opportunity. I don't take it for granted."
Valor has also played host to McCaffrey's annual Dare to Play Football Camp, which gives children and young adults with Down syndrome the chance to play football.
McCaffrey, who spent nine years in Denver after beginning his career with the New York Giants, earned a Pro Bowl bid with the Broncos and was a key piece on two world-championship teams.
He remained heavily involved with the Broncos in the years that followed. Beginning in 2012, McCaffrey served as the color commentator on KOA-850 AM for Broncos games. McCaffrey stepped away from that role ahead of the 2017 season.