ENGLEWOOD, Colo. --C.J. Anderson sat at his locker-room stall Wednesday afternoon, enthusiastically answering the inevitable barrage of media questions that come when your team will is one of the last eight standing in the postseason, when he saw Peyton Manning out of the corner of his eye.
Immediately, he knew he needed to get his quarterback's attention.
"Hey, 'P,'" Anderson said, getting his attention to explain why he made a specific read.
Immediately Anderson and Manning began conversing in a football dialect intelligible to themselves and their teammates, discussing plays, protections and how to adapt to an opposing defense. They did so in a vernacular indecipherable to the layman, but perfectly clear to them.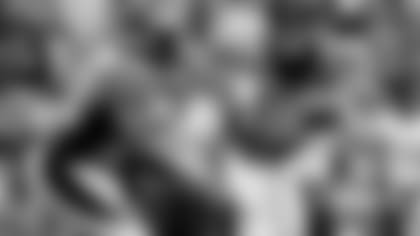 Through interactions like that, an 18-year veteran's education of a young player continues apace.
"You just heard that conversation right there -- I was in the wrong; I thought I was right, but I was in the wrong," Anderson said. "Those types of things happen when you're anticipating [the opposing defense's intent]. But as long as you stay detailed and keep listening and just keep working, we'll be fine."
Anderson and his teammates have paid particular attention this week to Manning. He's on point, as is always the case, but there's something different about this week -- and given the weight and urgency of the moment, it's understandably so.
"18 is a little more amped up, to be honest," Anderson said.
"Just his energy and questions and situations -- there's a lot of things that we weren't doing in previous years. He's just more amped up, making sure we're more dialed in and detailed on this and that."
Anderson said the last time he saw Manning quite to this level was "maybe" in his rookie season during the playoffs, when the Broncos defeated the Chargers and Patriots to reach Super Bowl XLVIII.
Back then, Anderson was still learning his role -- and learning how to work with Manning. The first lesson: Don't fake your knowledge; if you have questions, ask them.
"Better to ask than not know! If you don't know, you'll be sitting on the bench! I learned that two years ago, in my rookie year. I didn't ask, and I messed up," he recalled.
"You just want to make sure you're on the same page with him. I try to anticipate what he's going to say. Sometimes that works well; sometimes it doesn't."
The questions haven't stopped, as the interlude in the locker room reminded everyone within earshot. But Anderson doesn't want to return to the days in which he didn't know. Exposure to Manning taught him more about how to study and prepare, and now is the chance for that diligence to bear fruit.
"Sometimes I've still got to ask him questions," Anderson said, "and he still gives me that, 'Oh, come on, man, I know you know this' [response], but I've got to ask him to make sure."
In turn, Manning quizzes Anderson and other teammates.
"In meetings, practice, everywhere. He just keeps you on your toes, [asking], 'Hey, did you see this?' or 'This might happen, make sure you see this.' Me, Ronnie [Hillman] and Matt [Paradis], we've got our own individual meetings with him.
It's the postseason, and what Manning and Anderson want more than anything else are three and a half more weeks of locker-room lessons and meetings. There are more details to learn, concepts to perfect and tactical tweaks to assimilate.
"We're learning from one of the greatest," Anderson said. "It's a good feeling."