ENGLEWOOD, Colo. -- **The Broncos need their ground game to function for their entire offense to work. They especially need their ground game to succeed in the red zone, otherwise one scoring threat after another could grind to a halt.
On four carries inside the Oakland 25-yard line last Sunday, the Broncos lost 10 yards.
"I think that we put our guys in a tough situation with those," Offensive Coordinator Rick Dennison said. "Certainly when you run the ball it makes life a little easier in the red zone."
The solution is not simple -- and it's not about one person.
"It's a lot of things," said C.J. Anderson, who sat out last Sunday's game because of an ankle injury. "You've got to be stout up front. You've got to make the right call at the right time.
"And as far as us [running backs], sometimes you just have to make a play, whether that's breaking a tackle or making a man miss in the hole. Everything's not going to be perfect all the time, so sometimes you just have to go out there and make a play."
That's what Ronnie Hillman was trying to do when he lost six yards on a second-and-goal run from the Oakland 5-yard-line, leading to a field goal two plays later.
After plowing into a thicket of offensive and defensive linemen for a 1-yard loss on the previous play, Hillman received a toss pitch from Brock Osweiler but immediately was forced outside by Khalil Mack, who plowed through Jordan Norwood as the wide receiver tried to set up a block to the outside.
Instead of trying to get to the edge, where Vernon Davis was blocking at the line of scrimmage, Hillman stopped, cut back and looked for an opening. With nothing there, he had to fall forward and take the loss with six Raiders defenders closing in on him.
"He was trying to make a play," observed Anderson, who watched from the sideline. "It was ugly from the get-go. I see what he's trying to do, and he's trying to make a play. He [gets the football], and with his speed -- he looked at the tape and he said, 'I should have just taken it.'
Hillman had no shot at scoring, but he might have gotten back to the line of scrimmage and set up third-and-makeable instead of third-and-goal from the 11.
"When you see a person like that with his speed, he can go sideline to sideline and make a great play when things are ugly," Anderson said. "He's just got to trust himself, and trusting himself and his foot, I think he'll do that this weekend if that opportunity presents itself again."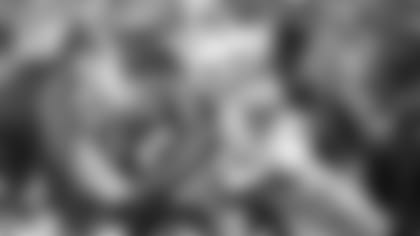 What made last Sunday's 34-yard performance all the more surprising -- and disappointing -- was that it came on the heels of three consecutive promising games for the Broncos' rushing attack. From Weeks 11-13, only six teams averaged more yardage per carry; just two (Tampa Bay and Seattle) accumulated more rushing yardage than the Broncos' 483 yards on 107 carries.
"As running backs, we found a way to spark the team and get it going," Anderson said.
The offense wasn't elite, but it was chewing clock, grinding out long drives, avoiding mistakes and keeping the opponents off-balance. The flow the offense had came back to what Anderson, Hillman and Thompson were accomplishing behind their blockers.
"In our running back room, that's a big emphasis: let us be the reason why we make plays. Let us be the reason why the offense has a spark."
Against Oakland, there was none.
"We didn't have that spark on offense," Anderson said. "It was kind of a dead period. It was not Bronco football. That's not what we do.
"If we [the running backs] can stay patient and not get frustrated so fast," he added later, "we'll be okay."