ENGLEWOOD, Colo. --The predictions of 7-9 records, a crashing thud out of the playoffs after five seasons as division champions and other pronouncements from pundits carry no weight.
On the surface, that's what members of the Broncos defense will say.
"Man, it doesn't matter. We've still got to play these games, and we're going to take care of that once the season starts," said safety Darian Stewart.
But if you dig a little deeper, there's a sharper edge there.
"I don't know, but most of these guys making these opinions never played football, and some of these other people making them, they played on other teams and go for their teams," Stewart added.
"It is what it is. They're going to say what they want to say. It just gives us extra motivation just to go out there and prove everyone wrong."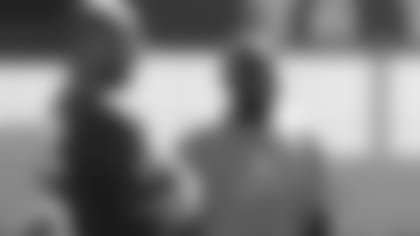 Predictions of a retreat by the Broncos are generally built upon two concepts: the defense has to regress from its dominant form of last year, and questions at quarterback linger after the retirement of Peyton Manning and the departure of Brock Osweiler -- an unusual combination of circumstances for a defending champion.
"Defense wins championships and I think that people are just saying because we lost two quarterbacks ... when people see events that haven't happened before, they automatically have doubts," said cornerback Bradley Roby.
"But we know that our defense was a big reason why we got to the game and a reason why we won the game. So we are very confident that we will be better this year, just because we're going to try harder, it's another year year with our coaches, and we [will] learn the defense a little bit better."
That thought was fresh in Roby's mind, because 10 minutes earlier, he was watching film with the defensive coaches. The feature presentation? Mistakes made by the defense last year.
"It was mistakes that we were making in games that made them closer than they should have been," Roby said. "I think we'll be a lot better this year."
A goal of the defense has been to increase its interceptions. Stewart said the Broncos want to lead the league in that statistic, and getting to that point is something within their control.
Predictions, of course, are not.
"Everybody is entitled to their opinions," Stewart said. "So we're just going to keep working and getting better.
"It's our second year together, so it's going to be hell for teams this year."
"They doubted us last year, and you saw how that turned out," Roby added.
But one pronouncement in particular rankled Stewart: being ranked the No. 2 secondary in the league by former Steelers cornerback Ike Taylor. Not coincidentally, Taylor placed Pittsburgh atop his list.
"They must [have not] watched the film," Stewart said. "But if you look who said it, man, he was a Steeler. For him to say the Steelers were No. 1, that's bad. He shouldn't even be on the TV, like, for real."
But Stewart had one burn left for Taylor.
"He remembers DT well," he said, to laughter in the room.
Tuesday's practice was all about speed, as the receivers and the rest of the Broncos headed indoors to continue their offseason training program. (Photos by Ben Swanson)