ENGLEWOOD, Colo. --One sub-par game doesn't mean the Broncos don't have an elite defense -- nor does it mean they should overhaul their tactics heading into Monday night's showdown with the AFC North-leading Bengals.
Their emphasis on man-to-man coverage complemented with a furious pass rush and properly placed linebackers and safeties filling in the gaps has worked far more often than not.
The presence of the first pair of cornerbacks to make back-to-back Pro Bowls since Kansas City's Albert Lewis and Kevin Ross a quarter-century ago makes that possible. Chris Harris Jr. and Aqib Talib free the other defenders to attack, and even though the Steelers found openings in those one-on-one matchups, the Broncos don't plan to reset their meter now.
"That's what we do," said Harris. "Coach challenges us to do that every week. We brought the heat all game, we just lost. That's just what happens."
And sometimes, that means you will get beat -- as Harris was by Pittsburgh's Antonio Brown, surrendering his first touchdowns since Nov. 24, 2013.
A day like that was inevitable. Even Hall of Famers have it, as Harris himself saw nearly three years ago, when Champ Bailey was beaten for two touchdowns.
"Champ -- when we lost to the Ravens, he had a bad day. It happens to everybody," Harris said.
That knowledge buoys Harris. So does the confidence from the coaches.
"Wade [Phillips] and [Gary] Kubiak, they gave me a lot of confidence. They said, 'You're still a great player. You're still great.' I was one-on-one the whole game," Harris said.
"That's just how it is. Nobody can say they played Pittsburgh and had to play Brown one-on-one the whole game. Nobody did that. Everybody else played zone or double-team. I'm the only one that had to play him one-on-one, straight up like that."
The uniqueness of Harris' assignment is one reason why Phillips doesn't want Harris to beat himself up too much of the game.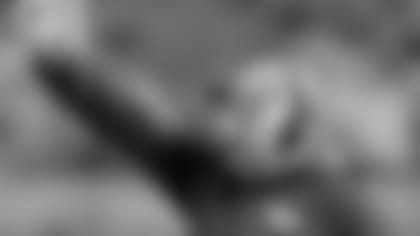 "Yeah, I thought he was a little too hard on himself," Phillips said. "He didn't give up any big plays. Obviously, the touchdowns hurt him because he hadn't given up those, but he's still a great player. He's one of the best players in the league. He was voted that way, but he's obviously that."
And because of that, on Monday night you'll see still see plenty of pressure up front and man-to-man coverage on the back end.
Yes, the challenge posed by the Bengals' top three receivers -- A.J. Green, Marvin Jones and Mohamed Sanu -- is similar to what the Steelers brought with Brown, Martavis Bryant and Markus Wheaton.
But the Broncos' defense remains atop the league in most metrics, including passing yardage allowed per play, per game and sack rate.
One frustrating game didn't change that -- and won't change their philosophy. The only thing that Phillips wants to see is better tackling.
"You stick to what you do," Harris said. "I've been playing the same coverage for five years, the same technique for five years. I rarely get beat.
"If you get beat, you just have to believe in your technique, continue to stick to what you're doing. I was just out of whack last week. It just happens. Sometimes you'll be out of whack and you have to bounce back."