ENGLEWOOD, Colo. --As the cliche' goes, it's all about taking the season one game at a time.
With Peyton Manning recovering from his torn plantar fascia injury and returning to practice this week, his status will bear monitoring to see if he can make the next steps toward playing time.
But that's for next week -- and it depends how Manning progresses. Wednesday, he took some seven-on-seven repetitions and even saw some scout-team work. For now, the focus is on Manning's recovery, and Brock Osweiler's readiness for his fifth and perhaps toughest starting assignment to date -- against a surging Steelers team on the road.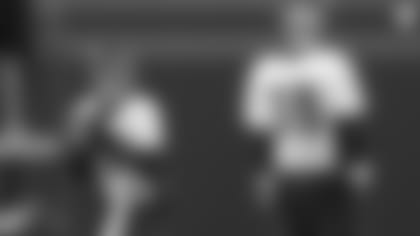 "I'm expecting Brock to continue to play well, but I'm going to stay focused a week at a time," Kubiak said. "I'm not going to talk about what's going on three weeks from now or two weeks from now.
"We're committed to playing Pittsburgh, we're going to have to be really good this weekend, we know who our quarterback is this weekend, we know the other one is out, so we're going to stay committed week to week. That's not going to change."
Osweiler said he doesn't see Sunday's game as a referendum on his status, or an audition for future work.
"I don't look at it like that. I'm simply looking at it as it's another football game," Osweiler said.
"I'm just focused on doing my job this week. Whatever happens in the future happens in the future. That really doesn't pertain to me right now. That's out of my control. What I can control is my preparation this week for the Steelers, and that's where my focus is."
And that means turning ahead from his first loss, applying the lessons learned from absorbing five sacks and moving forward without dwelling on it.
"Brock's fine. I mean, that kid's smiling all the time," Kubiak said. "He's always upbeat. He's got a lot of confidence in himself."
If Osweiler plays well on Sunday, the Broncos might find themselves in a dilemma. But it would be the kind of dilemma you want: having an emerging young quarterback showing promise and a Hall of Fame passer returning to full health.
Osweiler's progress so far leads to a simple grade on him from Sanders.
"A-plus," he said. "We're sitting here 3-1. He's been handling everything really well. You guys have been on him about Peyton Manning questions, and he still came through in the clutch versus the Patriots. He's been playing really well."
And Kubiak noted that there has been mutual, symbiotic progress between himself and Osweiler.
"I think Osweiler and I are growing together," Kubiak told Pittsburgh-area media on a conference call with them Wednesday. "He has the ability to make all the plays. He moves around pretty darn good. This will be the fifth start of his NFL career. He will continue to grow.
"We will learn about each other, and us coaches will see the things he does well. But I've been impressed. He has handled himself like a champ. He's been in tough situations. He continues to play with confidence and works through it. We need to continue to get better around him."