ENGLEWOOD, Colo. --For most players, training camp is all about opportunity. What they do with it defines their future in the NFL.
You've heard plenty about the wide receivers, particularly Kalif Raymond and Jordan Taylor. The quarterbacks are in the spotlight. But who else has shown flashes with their opportunity this summer?
Here's just five of the names who have stood out so far: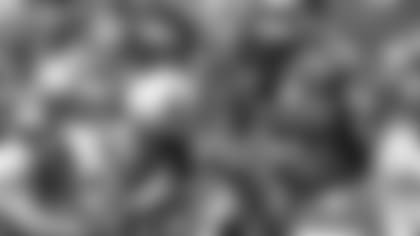 With Aqib Talib on the non-football injury list, Webster has worked as the No. 3 cornerback on four of the first five days, and as the No. 2 cornerback with Bradley Roby during the July 31 practice when Chris Harris Jr. had the day off.
Early in training camp, Mark Sanchez and Trevor Siemian seemed to pick at Webster. But by Saturday, Webster was making them pay, breaking up two deep passes -- including a deep toss up the left sideline to Emmanuel Sanders.
"He's a big player for us," Head Coach Gary Kubiak said. "He's come back really focused on what he's doing."
All of the running backs have found their way into the notebook with impressive runs. But when Janovich is in action, his blocking is key to making them possible.
One of C.J. Anderson's best runs Monday came when Janovich led him into the hole, and then successfully screened out Brandon Marshall, one of the toughest defenders to keep out of a run play. It was a classic fullback block, and evidence of what Janovich should bring to the offense as he looks experienced and decisive beyond his rookie status.
During the first four days of training camp, Peko was one of the most disruptive defensive linemen; he generated a consistent interior push in the pass rush. Then on Monday, he knocked down a pass at the line of scrimmage.
"Peko's been impressive," Defensive Coordinator Wade Phillips said, citing his ability to get his hands up at the line of scrimmage.
"We've always stressed that as being able to get your hands up if you're not able to get there quite in time," Phillips added.
Having that kind of awareness and quick reaction will help him make an impression and potentially earn a roster spot.
Injuries to Ty Sambrailo (elbow) and Sam Brenner (concussion) helped McGovern get a first-team look during Monday's work, but the fifth-round rookie had been building his case for a more expansive role since OTAs.
Head Coach Gary Kubiak said Monday that moving McGovern up to the first unit is the kind of move that you make early in camp to avoid moving too many players around too much in the wake of injuries. But it also gives the Broncos a chance to take a long look at McGovern's progress.
McGovern isn't the only young offensive lineman making strides. Justin Murray, an undrafted rookie from Cincinnati, has been effective moving off the snap and hepling create holes for Juwan Thompson, Kapri Bibbs and other running backs.
He has more moves than he did last year. Although his speed rush off the edge appears to be faster than it was in the 2015 season, he mixes in some inside moves, and is also more stout at the point of attack against the run. He is rarely caught out of position.
For Ray to play extensively in the wake of DeMarcus Ware's absence and eventual conversion to situational use, he had to be more than just a pass rusher; he needed to be a complete outside linebacker who could hold up well on three downs. Based on his work during training camp, he's become that.
"You want to see that huge leap and Shane has done that," OLB Von Miller said. "He's gone above and beyond what he's supposed to do."