It was a terrific day for Ronnie Hillman.
In June, the second-year running back spoke about the weight he was adding this year, bulking up from around 180 pounds to nearly 200. Hillman knew what the 200-pound threshhold felt like; he weighed that much at the 2012 Scouting Combine. But he shed that weight in time for his rookie season, so Saturday's  work was his first full-speed, full-pad work at close to 200 pounds.
So far, so good. Hillman cut decisively, was explosive in the open field, adeptly kept his balance and looked as fast at 195 pounds as he did at 180. He opened one team period following his blocks, including one from Jacob Hester, moving right and darting upfield for a sprint that elicited one of the louder ovations of the day.
Hillman was also asked to run up the gut during Saturday's work, which was the kind of duty that he avoided through most of his rookie season, when he was more often used to stretch the field horizontally and work outside, where he had more space.
"He has done a good job," Offensive Coordinator Adam Gase said. "It is a different deal from the position he was in last year because we were very selective in what we did with him. Now, the whole book is open."
Equally capable of big plays on Saturday was Jeremiah Johnson, who ripped off a pair of long sweeps. Johnson is quick, persistent and for a third consecutive year keeps finding his way into my notebook.
Understand this about fifth-round pick Quanterus Smith: his full development will take some time. That's to be expected for a defensive end who relies on his speed, is coming off a torn anterior cruciate ligament and is lighter than most at his position (255 pounds). But he fared well in the first full-contact, one-on-one pass rush period, using inside rip moves as effectively as his pure speed to the outside.
The comparisons to Elvis Dumervil are obvious, even if they're not carbon copies. Both are undersized and use quickness to beat opposing blockers to the edge. Smith is six inches taller and has a little more reach than Dumervil. But one comparison that could prove handy is how Dumervil was used as a rookie: situationally. He played enough to accumulate 8.5 sacks in 2006, but wasn't in the starting 22 until his second season.
Smith doesn't have to record massive stats this year to justify his selection, but if he's efficient at generating pressure in the snaps he receives, his rookie season will be a success.
Malik Jackson was also solid in both run and pass-rush drills, and for a second consecutive day was consistent at generating pressure in team periods.  Rookie Sylvester Williams was also solid in pass-rush work, and was consistently quick off the snap against his man, just like he was the last time I saw him in full-pad one-on-one work during Senior Bowl practice six months ago. He'll need to get stronger against the run, and he'll need to refine his pass-rush moves, but that comes with the territory.
"He comes in, he's a serious guy and goes to work," said defensive coordinator Jack Del Rio. "He's got a ways to go; we all do."
In general, the defensive front did a good job of disrupting the first-team offense when Peyton Manning went back to pass. At one point, six consecutive Manning passes fell incomplete during team periods; good coverage and a consistent pass rush were primarily responsible. But none of the passes were intercepted (although safety Mike Adams came close).
But this sequence also shows why Wes Welker is so valuable. After that run of incompletions -- which also included a long Hillman run -- Manning looked in Welker's direction. He promptly turned a short pass into a long gain, weaving through the defense.
That's the value of the best slot receiver in the game: if deep passes aren't clicking, you can throttle back, look for Welker near the line of scrimmage, get everyone in position to block and watch him re-ignite a stalled offense.
Rookie Montee Ball didn't have any breakaway runs like Johnson or Hillman, and had little room to run, often being engulfed by the front four as soon as he received the handoff. Ball also was beaten in one-on-one pass-protection work -- which is typical for a rookie at his position, no matter how sterling his pedigree.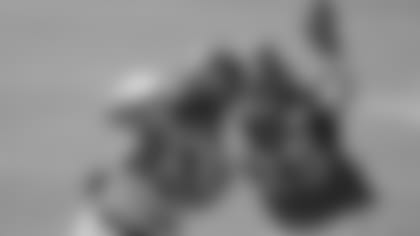 ](http://www.denverbroncos.com/multimedia/photo-gallery/Training-Camp-2013-Day-Three-Photos/3393193b-d91d-4723-b189-04e1fe9e84ac)
"I think he missed a couple (of blocks) today. But the thing we keep looking for is making sure he is sticking his nose up in there and trying to make the contact," Gase said. "What (Running Backs Coach) Eric Studesville has been doing is taking him aside, working with him and the linebackers one-on-one.
"It is a process, it's not going to be an easy thing where he is going to be able to step in there and dominate linebackers as a rookie. It is going to take some time and he is going to have to work on it. We have a lot of training-camp practices left."
What one has to like from Ball is his pass-catching ability and his instincts in protecting the football. On one carry, he burst to the left side, but saw two defenders approaching, about to tag-team him for the kind of collision that often ends with a fumble. Ball made himself more compact and placed two arms around the football, while continuing to run -- simultaneously preventing a potential takeaway while also becoming a bowling ball, able to burst through for more yardage.
Ball's ability to size up a situation and adapt in a split-second's notice goes hand-in-hand with his natural intelligence. Together, they offer evidence that he can make the necessary adaptations to succeed at this level.
Del Rio continues to shuffle his safety combinations which so far has given five safeties a chance to work on the first unit in either team or seven-on-seven drills. There's two reasons for this: nurturing competition among the position group and providing a chance to experiment and find which pairings work best in specific situations.
"That's what we're doing -- we're learning right now," Del Rio said. "We're looking at a little bit of everybody, getting them in different spots. We're evaluating. We're exposing them to a lot.
"I like to use a lot of different combinations with our back end. We want to build that flexibility now, teach them different roles and let them compete. We'll sort through that and determine which guys go first, and which guys come in in certain groups as we get going."
Del Rio did this at the start of training camp last year with Adams, Rahim Moore and Quinton Carter, so his tactics are no surprise. Carter's work has been limited to this point in training camp because he missed all of the organized team activities and minicamp as he recovered from knee surgery. But Carter appears to be moving more smoothly every day, and Del Rio said the 2011 starter would be "right there in the mix" soon.
"He's working his way back into it. He's been cleared to play, (but) the same time, we don't want to just throw him in full speed. He's going to take some time to build his way back."