ENGLEWOOD, Colo. -- A high ankle sprain is never good news. But when cornerback Dominique Rodgers-Cromartie was unable to put weight on his left leg as he hobbled to the sideline at midday Wednesday, it would have been understandable if the Broncos and their fans had feared a far worse fate.
"He's done it before, so I'm not overly (concerned)," head coach John Fox said. "Anytime they miss time, I'm concerned. We'll just get him healthy and get him back out there."
Better now than later. It's only July 31, there will be less pressure on him to return before he is healed. The regular-season opener remains 36 days away; in the interim, the Broncos can use the next few weeks to give younger cornerbacks such as rookie Kayvon Webster and 2012 fourth-round pick Omar Bolden some more repetitions.
"It gives other guys opportunities," Fox said. "We've got plenty of numbers and it'll give a guy some opportunities to get reps in practice."
It also would appear to move Chris Harris back to the first unit. Although Harris is the projected nickel back and was expected to play in five- and six-defensive back formations, he also was the starting right cornerback for most of the 2012 season, so returning to that role would create the most seamless transition.
"You know I'm always ready," Harris said. "I'm going to make plays if I'm at the nickel or at corner, so it doesn't really matter to me."
Rodgers-Cromartie's injury also moves Tony Carter back up to the third cornerback role he held most of last year, so the overall status of the position resembles what it was in January. But the Broncos didn't want to mimic last year; they wanted more, and if they have one more injury at cornerback, the learning curve for the younger players will quicken.
1. Carter, Webster, Bolden and others battling for playing time at cornerback will also have to cope with an offense that continues to accelerate the tempo.
"As fast as the officials let us, and as fast as we can get the play we want to run communicated," said tight end Joel Dreessen.
The first-team offense looked particularly effective in it, marching to a touchdown during a period in which it was given just 1:10 on the clock and a six-point deficit. Peyton Manning coolly directed a four-play, 60-yard drive that ended in a 22-yard touchdown strike to Demaryius Thomas.
"You have to be in shape to defend it, I know that," said cornerback Champ Bailey. "They are coming rapid fire. It is just going to prepare us down the road. We are going to see it somewhere."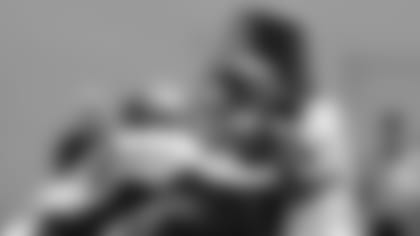 ](http://www.denverbroncos.com/multimedia/photo-gallery/Training-Camp-2013-Day-Seven-Photos/2d390860-3762-40e3-ab70-05233cfaecd2#3cd9b553-837b-4853-b24a-5f8bc433f751)
Bailey cited the Chip Kelly-coached Eagles as team that will try to establish a breakneck pace. He and the Broncos also saw it from the Patriots last year in a Week 6 loss.
"We saw what they were doing a little bit, but what we're doing is going to be entirely different," he said. "We're going to be doing it the Bronco way."
Running back Montee Ball felt that Wednesday was his best day of practice to date. It featured his best run, when he veered right, made a sharp cut in the open field and turned upfield for a long gain.
But he acknowledged that he still has some work to do as a blocker, and that was evident in one-on-one and team periods. During a one-on-one, he squared up against safety David Bruton and hit him between the numbers, but failed to knock him off-balance or to the ground. That allowed Bruton to stay upright and sprint around the edge past Ball.
Ball also pointed to a play during a team period where he missed the defender, in a similar experience to his missed block on Bruton.
"I made the right read, I saw the right blitzer, but I kind of lunged at him and missed him," he said. "I  was going in for the kill shot, and the defense is fast, and those players get paid, too, so he kind of just sidestepped me.
"But other than that, I think I had a pretty good day today and I'm working on (blocking)."
If he wants playing time in the regular season, that's how he'll earn it.
3. While Julius Thomas has deservedly received praise for his development and Jacob Tamme is shelved because of a quadriceps injury, Dreessen has steadily, quietly gone about his role, which shapes up to be similar to the one he held last year.
Of the Broncos' tight ends, Dreessen remains the most consistent blocker, which will be even more crucial given the absence of a true fullback on the roster. (Jacob Hester is more of a do-it-all hybrid; since OTAs, he's lined up at nearly every skill-position spot other than quarterback.)
The biggest concern for Dreessen when training camp began was his recovery from offseason knee surgery. It's progressed enough to where he's practiced every day and has carried a full workload -- but not to where he's at 100 percent.
"I'm feeling really good. It's getting stronger," Dreessen said. "Obviously about 10 weeks out of surgery now, so I'm not quite my old self yet, but I'm getting there."
Dreessen is past the point where the knee is at the front of his mind when he practices, so he's beyond the major mental hurdle in recovery from knee surgery. But when he reviews his work, he notices that his movement isn't where he wants it to be.
"I don't think about it at all," Dreessen said. "I watch tape and I see a difference, but it's not something that I'm thinking about, by any means."
4. At some point the safety competition will stabilize. But for now, the mixing and matching continues, and with Quinton Carter recently earning some first-team repetitions as he continues recovering from a knee injury, six different safeties have taken their turns on the first unit.
"We're really just waiting for the safety spots to get settled in so we can really get that chemistry," Harris said. "We already know what we've got at corner; we're just going to continue to gel."
Harris isn't taking a rooting interest, but what he wants is a safety who will make himself noticed. Harris can relate to that; he's a former college safety who retained his willingness to step forward and make plays against the run as well as in coverage.
"We need some playmakers back there at safety to go far this year," he said. "That's what's really going to get us over the hump."
5.** Playmaking is why second-year veteran Duke Ihenacho continues to rotate in for snaps with the first team. His ascension happened quietly, and not with a "Eureka!" moment where a coach took him aside and told him he'd receive more repetitions.
"There wasn't a specific moment when (Defensive Coordinator Jack Del Rio) told me, it just gradually happened over time," Ihenacho said. "I wouldn't say there was specific moment so I didn't have an 'Oh My God!' reaction; it just happened."
Ihenacho is also emerging as a special-teams contributor, which makes it more essential for him to prove he can flourish in various defensive packages if the need arises. The same is true for returner Trindon Holliday, whose work has come with the second and third units. Holliday had back-to-back drops during the July 26 practice. His results were better Wednesday; he caught a a pair of passes during a seven-on-seven period.
Special teams will help make the difference at a few roster spots, and the contributions made in preseason games on kickoffs and punts could be what separates second-teamers and those placed on the waiver wire.