ENGLEWOOD, Colo. --Although the Broncos haven't been game-planning for the Carolina Panthers for months, their OTA, training-camp and preseason work has helped this week flow smoothly in advance of Thursday night's clash.
"We kind of knew exactly how we were going to bring our team along. But it's been a good week -- good focus, good practice," he said. "I like our work."
As the Broncos conclude their practices for the week, here's five things you need to know: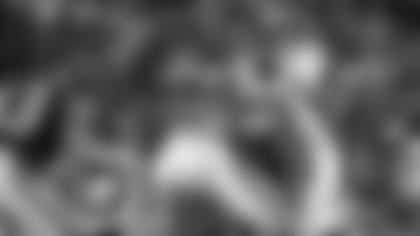 1. TREVOR SIEMIAN WILL HAVE THE FREEDOM TO MAKE CALLS AT THE LINE
Nobody expects Siemian to be at Peyton Manning's level in terms of how he makes his pre-snap checks and calls.
Manning was like Leonard Bernstein at the line of scrimmage, but that was a skill at which he never stopped improving; some of his pre-snap reads in the postseason last year were among the most prescient of his career.
But Siemian has the natural intelligence and command of the offense to make a change when the situation demands it.
"We have to give him freedom. We've got to let him play," Kubiak said. "Obviously when you're talking about a Hall of Famer [like Manning will be], that package will be a little bit bigger. But Trevor's a smart kid, and one of the reasons he's gotten himself in this position is because he's able to handle a lot.
"It's going to be up to him to make sure he gets us in the right situations, and we've also got to help him, too, and keep him in the right situations."
NO DESIRE TO KEEP THE EMOTIONS IN CHECK**
Some coaches would want their team to clamp their emotions down and be focused on a more clinical approach.
He understands that emotion -- particularly the fury uncorked by the defense last season -- was crucial in powering the Broncos to their third world championship. And he wants to see it again.
"Hell, I want them emotional," Kubiak said. "They work hard to be emotional. They pay the price all week. Trust them and let them play. Usually, if they're not talking a little bit, then something is wrong.
"I want them to be themselves, to go play and have fun."
CODY LATIMER READY FOR HIS RETURN ROLE**
In two previous seasons with the Broncos, Latimer has two kickoff returns to his name. Both were in his rookie season, and both were accidental; he fielded short kicks amid blustery conditions at New England and Kansas City as the up man.
That's it. He wasn't a returner at Indiana; he didn't handle the role in high school. Now he's the Broncos' No. 1 kickoff returner, with a 26-yard charge up the right sideline in the Aug. 20 preseason game against Los Angeles representing the extent of his experience.
But he doesn't feel the lack of experience will hinder him as he prepares to take on the first-team role on kickoff returns, which further expands his extensive special-teams responsibilities.
"I feel good about it. I've been getting reps in practice. I have the one return in the game," Latimer said. "I'm ready to go. It [isn't] a big deal."
How big a deal it turns out to be will depend on teams' philosophies on kickoff returns as much as Latimer himself.
With touchbacks after kickoffs moved to the 25-yard line, will opponents blast it -- especially in Denver's mile-high air -- or will they focus on kicking into what Special Teams Coordinator Joe DeCamillis calls "manageable space," outside of the numbers and inside the 10-yard line?
"We'll see exactly what happens there, but we're comfortable with him," DeCamillis said. "He's been back there in practice quite a bit and we're excited to see him."
IT'S NOT ABOUT REVENGE FOR CAROLINA**
The Panthers can't undo Super Bowl 50 by winning Thursday. They know it, and they've said it. The first Week 1 Super Bowl rematch in 46 years will be its own entity.
"It's not a revenge game," safety T.J. Ward said. "You can't take the game back. They can't win the Super Bowl. So you've just got to work on winning Week 1. That's the same thing we're focused on: winning Week 1."
But despite the public statements, the Broncos expect a little something extra from Carolina, because plenty of players in the locker room remember how it felt to lose a Super Bowl -- and then see the team that vanquished them right away. In 2014, the Broncos opened the preseason against the same Seahawks that defeated them in Super Bowl XLVIII six months earlier.
"It was just a preseason game, but we wanted to win that game," ILB Brandon Marshall said. "They say it, but they lost to us in the Super Bowl, so there's going to be some ill will towards us, some animosity."
5. IF YOU'RE GOING, ARRIVE EARLY
Kickoff on Thursday night is scheduled for 6:40 p.m. MDT, but the pregame ceremonies to commemorate the start of the NFL's 97th season and the Broncos' 2015 world championship will begin well before kickoff, so make sure you're in your seats by 6 p.m. to enjoy the festivities.
The countdown to kickoff for the 2016 Broncos and NFL season is nearing zero. The Broncos continued to prepare on the practice field. (photos by Eric Bakke)