ENGLEWOOD, Colo. --What better way to celebrate Labor Day weekend is there than by, well, working?
With a Thursday night opener against the Carolina Panthers looming, Sunday was a "football Wednesday," with the Broncos in a practice-and-meeting schedule that is typical of a Wednesday during a normal week with a game on a Sunday.
"Our guys were really good today," Head Coach Gary Kubiak said. "We're off to a good start, trying to teach some of our young kids and our new kids our routine, and what they have to do to help us get ready to play. So it was a good start today."
What else should you know from the Broncos' Sunday of work?
LAST FEBRUARY MEANS NOTHING THIS TIME AROUND**
The last time the Broncos played a game that counted, it was against the Panthers in Super Bowl 50. But both teams have gone through just enough changes to where studying the tape for clues and insight doesn't really help that much.
Carolina's passing game will look different with Kelvin Benjamin available and Devin Funchess maturing. Three of the Panthers' defensive starters, including All-Pro cornerback Josh Norman, have moved on, while two of the Broncos' defensive starters from Super Bowl 50, Malik Jackson and Danny Trevathan, left in free agency.
The Broncos' offense looks more like Kubiak's typical units from Baltimore, Houston and his 11 seasons as a Broncos offensive coordinator than the one he guided last year.
"Scheme-wise, probably," said RB C.J. Anderson when asked whether he could take anything from last season. "But it's different teams. We're a lot different; they're a lot different."
Kubiak's stated focus on having this year be about chasing another title, rather than defending its Lombardi Trophy, sealed the mindset.
"We let all that go. It's a new team, new year, new season," Kubiak said. "We're studying what they've done this year. I'm sure they're doing the same thing.
"We've got to stay focused on this time around. We don't talk about that at all, to be honest with you."
Neither are the Panthers.
"Everybody talks about rematch, revenge. No. This is 2016," Panthers coach Ron Rivera said. "I believe Von Miller already told everybody, 'New teams.' And that's the truth of the matter."
MICHAEL SCHOFIELD WILL START AT RIGHT GUARD**
With quarterback settled after Kubiak's announcement of Trevor Siemian as the starter last week, the final question regarding the first team was answered when the depth chart revealed Schofield at right guard, one spot ahead of Darrion Weems.
"We think he's earned that opportunity," Kubiak said. "He's had a really good camp. He's played everywhere. He's settled down the last two weeks and played the guard position with Weems out, so Michael's earned that right."
The first-team right guard when training camp began, Ty Sambrailo, is listed as a backup at both tackle spots after missing a month of work due to a right elbow injury, but he will also be part of the depth at guard, Kubiak said.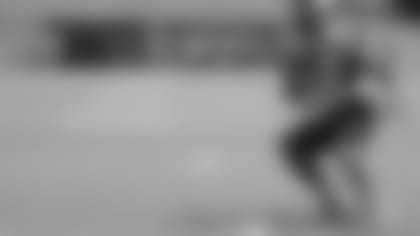 3. O CAPTAIN! MY CAPTAIN!
At the end of practice, Kubiak announced the 2016 team captains: WR Demaryius Thomas, OLB DeMarcus Ware and CB Kayvon Webster.
Thomas and Ware were no surprise; each has worn the "C" patch before, with Ware beginning his third defensive season as the Broncos' defensive captain after handling that role in Dallas.
"DeMarcus, that's a big respect factor," Kubiak explained. "Y'all know what he stands for on this team. Everybody respects how hard he's worked to get back to opening day."
Thomas was elected as an offensive captain in 2014, when the Broncos selected two captains on offense.
"I think D.T.'s had one of the best camps I've been around," Kubiak said.
Webster's growth in stepping into the leadership void created by David Bruton Jr.'s season-ending injury last December and his free-agent departure helped the fourth-year cornerback earn his first captain's patch.
"To take that over for [Bruton], that's huge," CB Chris Harris Jr. said.
And it's richly deserved, given how Webster overcame injuries in the 2013 and 2014 seasons to eventually establish a role on special teams and as the No. 4 cornerback on defense.
"The way he came into this team, he had a lot of roller coasters," Harris said.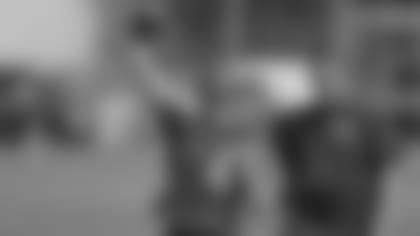 4. WHY THE BRONCOS CHOSE AUSTIN DAVIS TO BE THEIR NEWEST QB
Kubiak leaned on his past study of Austin Davis in deciding to sign the five-year veteran, saying that he studied the Southern Mississippi product "really hard" when he was draft-eligible in 2012.
"He has a little bit of background in my verbiage," Kubiak said. "He's been in some quarterback rooms with guys that have played for me, so I thought he could make up some ground here pretty quick."
The most prominent of those players is Case Keenum, who started for Kubiak in Houston in 2013 and has been with the Rams since 2014, when Davis started eight games.
"I'm familiar with the outside zone stuff, and kind of what he does," Davis said. "I was with Case Keenum in St. Louis, and Case was with him in Houston, and you just kind of call around and talk to guys about different systems and those types of things. I'm familiar with a lot of terminology and things we do; it's just how we call certain things and keep going with it."
Davis will lean on his past experience in learning the Broncos' playbook in a hurry; he cited a similar situation last year when he joined the Browns after being waived by the Rams.
"I had about 24 hours to get here and get rolling," he said. "There's no slowing down. It's Week 1 of the season, so there's a lot of work to be done, and you kind of hit the ground running."
MOVING ON WITH A SMALLER ROSTER**
The first practice of the regular season always carries a tinge of melancholy, given that it comes after a week in which the roster is trimmed from 90 players to a total of 63, including the 10-man practice squad.
Ronnie Hillman was by far the longest tenured Bronco let go. Hillman came into the offseason as the sixth-longest-tenured player on the roster; after the Tuesday release of Britton Colquitt, only five players -- Thomas, Harris, Miller and TE Virgil Green and OLB Von Miller -- had been on the team longer than him.
"Super tough, man," Anderson said, when asked how difficult it was to lose Hillman. "He's a good player. A lot of people will say what they want to say about him, but Ronnie can play football. He can protect; he can run; he can catch the ball out of the backfield. He has that, and the speed element that he has is something that I lack.
"But it's a business, and those are the decisions they made. We're still good in our room. Still deep in our room with myself and [Devontae] Booker and Kapri [Bibbs], so we'll be fine."
Anderson, a four-year veteran, is now by miles the elder statesman of the Broncos' backfield. The three other backs on the roster -- Devontae Booker, Kapri Bibbs and fullback Andy Janovich -- have a combined one game and zero regular-season carries of experience among them.
"It has come up pretty quick," Anderson said. "It's an entertaining business. I'm just going to stay on my P's and Q's so I can keep my feet on this ground here."
The Broncos completed their first practice of the regular season Sunday as they get ready to host the Panthers.