ENGLEWOOD, Colo. --The Broncos are 4-0, and some numbers help explain why they've reached that mark for the third time in the last four seasons and the ninth time in franchise history.
We start with a number that shows why Trevor Siemian will return to the lineup once he is ready following the sprained left shoulder he suffered Sunday against the Tampa Bay Buccaneers: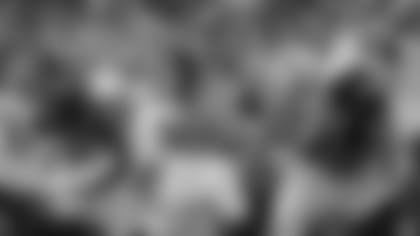 That's Siemian's quarterback rating through four games, which places him ninth among the 33 passers with at least 50 attempts this season.
But perhaps more significant is his rating in the last three games: a sizzling 110.2 that is third-best in the league among the 32 quarterbacks with at least 40 attempts and that span.
That is a significant part of why he will remain the starter and will be back under center when his shoulder injury allows him to return.
"Trevor's our starting quarterback, and hopefully he's going to be okay," Head Coach Gary Kubiak said, reiterating that Siemian did not need to work the bulk of the practice snaps this week in order to be ready to play against the surging Atlanta Falcons next Sunday in Denver.
"He's just really sore, just going through that motion and going through the throwing motion. Throwing the ball is not going to be a problem, it's how does it feel when he moves his whole [torso]. We'll have to see," Kubiak said.
One thing Kubiak wants to see Siemian improve upon is his ability to escape the rush well enough to avoid sacks, although he added that Siemian was "playing well" overall before his injury. Tampa Bay sacked Siemian three times in the first half Sunday after being sacked just five times in the first three games.
"I think he has a couple of sacks that he's going to look at and say, 'I have to help our guys up front. I have to get rid of the ball,'" Kubiak said. "I think he could have gotten rid of the ball a couple of times."
That was Lynch's quarterback rating in the second half Sunday, allowing him to complete his first regular-season at quarterback with a 94.1 rating that was the best single-game mark in Broncos history for a rookie quarterback throwing at least 20 passes in his regular-season debut.
"I was impressed," Kubiak said. "He goes in there; it's a tough situation and he operated a two-minute drill very nicely."
Lynch followed that with a 16-play, 69-yard march that consumed 7:57 of the third quarter.
"He got in a rhythm," Kubiak said.
Lynch's quarterback rating numbers do not reveal how he avoided losing yardage on four plays that could have ended up in sacks for losses. One went into the books as a sack, but resulted in no loss of yardage because Lynch made it back to the line of scrimmage. Two others ended in incompletions, and one was nullified by a Bucs holding penalty against Chris Conte that moved the chains early in the third quarter.
"He came out of a couple of bad situations by keeping from going down, that could have been more sacks," Kubiak said. "He bailed us out a couple of times, threw the ball away.
"There's a lot to grow from, but I thought he was very composed in what he was doing. He had a big smile on his face. I told him to go have some fun and play. I think that's what he did."
That is the average of the discrepancy in quarterback ratings for when opposing quarterbacks face other teams the last two seasons compared to when they face the Broncos.
Tampa Bay quarterback Jameis Winston came into Week 4 with an 83.5 career rating, but the Broncos held him to a 40.1 rating on 17-of-35 passing for 179 yards with no touchdown passes and two interceptions. Cam Newton's 69.5 rating in Week 1 was 28.5 points below his 98.0 rating against all other opponents since the start of the 2015 season. In Week 2, Andrew Luck's 64.3 rating was 16.5 points below his rating against everyone other than the Broncos; a week later, Andy Dalton logged a 72.8 rating that was 31.9 points below his 104.7 mark against everyone else.
The collective 61.3 quarterback rating allowed by the Broncos defense leads the league. Denver also leads the NFL in yardage per pass play allowed (4.35) and is second to Minnesota in sack rate (one every 9.18 pass plays).
That is Denver's scoring margin in the fourth quarter this season, the best in the league. The Broncos have outscored foes 52-13, including 20-3 in the last two games.
The Broncos' average of 13.0 points scored per fourth quarter leads the league, and is 5.75 points better than their 2016 regular-season average. Seven of their 13 touchdowns have come in the fourth quarter.
According to pro-football-reference.com, the Broncos' plus-39 fourth-quarter margin is their second-best after four games in club history, surpassed only by the 2012 Broncos' plus-45 margin. The Broncos' 52 fourth-quarter points are a club record for the first four games of a season.
It's as simple as that: the Buccaneers' point total that was the second-lowest allowed by the Broncos in their last 60 regular-season and postseason games; the only game better was at San Diego last December, a 17-3 Broncos win.
It was also the first time the Broncos held an opponent without a point in the last three quarters of a game since Jan. 1, 2012, when the Chiefs' first-quarter touchdown was all the offense they needed in dealing the Broncos a 7-3, regular-season-ending defeat.
Was Sunday's game the best for the Broncos defense so far this year?
"Definitely," inside linebacker Brandon Marshall said. "We stopped the run; we stopped the pass. We got interceptions, turnovers, sacks. I think it is the best game."
It got a little messy, but the Broncos beat the Bucs, 27-7. (Photos by Eric Bakke)