ENGLEWOOD, Colo. --It wasn't quite a bye, but the weekend after the Thursday night win over Carolina gave the Broncos a chance to pause and recover following a furious buildup to the 21-20 triumph that gave them their 15th win in 16 home openers since Sports Authority Field at Mile High opened for business in 2001.
They returned to practice Monday morning.
"We did a lot of individual work," Head Coach Gary Kubiak said. "A lot of drill work, special teams-wise, offense, defense and got a walk-through going. We got a head start on it a little bit. We're going to give them their day tomorrow and get back in our routine on Wednesday."
Here's what you need to know from the beginning of Week 2:
Thursday night saw Matt Paradis make his 20th NFL start. He's still young. He's still defined by what he can become, not necessarily what he is right now. But his composure in the middle, his ability to get in the right spot -- whether it's blocking a defensive tackle or leading the interior linemen downfield to block on a screen pass -- has been exactly what the Broncos need with a young quarterback and a reshuffled offensive line around him.
"Matt sees everything," right guard Michael Schofield said. "Matt gets us all on the same page, and we all kind of echo his call."
ProFootballFocus.com noticed, giving Paradis its highest grade for Week 1 of any NFL offensive lineman that played before Monday night -- and its third-highest grade for any offensive player overall.
"He's got total control of the group, calling fronts, getting everybody on the right guy, changing protections," Kubiak said. "To have Matt's football knowledge to go with a young kid like [QB] Trevor Siemian, is really, really, big. If you're young at center, young at quarterback, that's pretty tough. Even though Matt's a young player, he's a very experienced player."
MARSHALL TO MEET WITH DENVER POLICE CHIEF ROBERT C. WHITE**
Inside linebacker Brandon Marshall said he plans to kneel once again during the national anthem next Sunday before the Broncos face the Colts. But he also said he plans to meet with Denver Chief of Police Robert C. White.
"It should create some good dialogue," Marshall said.
"It's creating some good dialogue, but people are saying, 'Why are you using the anthem?' But in reality, people say, 'You should have done it another way,' that's what everybody says. But if you want to get some people's attention, if you want to spark conversation, this is a perfect thing to do -- no matter if it offended people or not, it was a perfect thing to do start conversation, to create dialogue."
Marshall said he plans to kneel during the national anthem once again next Sunday. But he also said that he wants to turn the focus to football, so after Monday's question-and-answer session, he wants to keep the focus on the field.
"From Wednesday on, I'm going to get on [to Indianapolis]," he said. "I'm going to focus on the game. I still have a job to do. I know how to separate the two."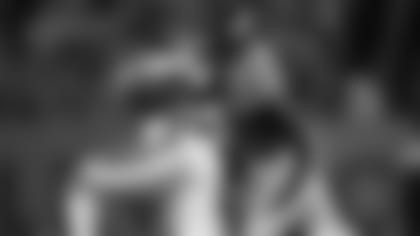 3. "THUNDER AND LIGHTNING"
It was Todd Davis, and not Brandon Marshall, who led the Broncos in total tackles last week, contributing seven stops (six plus one assist) to go along with a half-sack and two quarterback hits.
That earned Davis the team's Defensive Player of the Week honors, and the game ball to go with it. It was no surprise to Marshall, who spent much of the offseason and preseason watching film with Davis so they could begin getting their timing down pat.
"I told you, Todd can play," Marshall said. "Todd is a beast. He's going to continue to play well because he wants to. He's hungry. I think the guy could be a good player for a long time."
And as Marshall suggested, Davis is the "Thunder" to his "Lightning."
"Todd brings the thunder. I do the little overlapping, the lightning plays," Marshall said.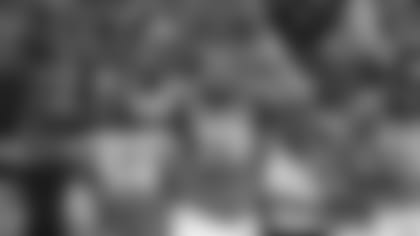 Right guard Michael Schofield and right tackle Donald Stephenson were in their first regular-season game as teammates last Thursday night, but based on the cohesion and communication they demonstrated, it seemed as if they had been playing together for years.
Schofield, last year's starter at right tackle, moved inside during the preseason, eventually beating out Darrion Weems for the job, and he had perhaps his strongest game in 17 career starts (including postseason) to date during last Thursday's win.
"I think that's probably his natural spot to go inside," Kubiak said. "We had some issues last year. He had to go to right tackle. I think Michael's very comfortable in there. Just the fact that he's played a lot of snaps next to Matt, now he gets to work next to Stephenson [and that] should only help him."
Schofield's knowledge of the offense -- and the role of the right tackle in it -- has helped Stephenson get up to speed.
"I see things, and I played his position, so I know what he should be looking for, too," Schofield said. "Obviously, he's still learning the offense, but he's got it down a lot."
But Stephenson has also helped out Schofield.
"He's quick. He's really good with his hands. I'm watching him use his hands, so I'm going to try some things with my hands, too, which helps," Schofield said.
D-LINE HAS 'A LONG WAY TO GO'**
Kubiak says he expects to have a "good rotation," but the reshuffled unit is still finding its footing after an offseason in which it lost Malik Jackson and a preseason that saw Vance Walker, his expected replacement, succumb to a torn anterior cruciate ligament.
"I think it's about the group and the group's got a chance to be very good, [but has] got a long way to go," Kubiak said.
He wants to see progress from rookies Adam Gotsis and Kyle Peko, both of whom made the 53-man roster. Peko was not on the active roster for last week's game, but Kubiak said that his special-teams work could eventually get him a shot on game days.
Nose tackle Sylvester Williams must also continue to progress in an expanded role that includes more work in pass-rush situations, particularly in sub-package work as one of two defensive linemen, along with Derek Wolfe.
"He's been really good," Kubiak said. "For Sly to get there and give us some more stuff up front, I think Sly's going to play more plays this year than he did last year. Sly has become a leader, too, so it's important that Sly takes another step in [Defensive Coordinator] Wade [Phillips'] defense and I think he's doing that."