ENGLEWOOD, Colo. --How serious is the challenge posed by the Atlanta Falcons' explosive offense? So much that the attack might be the best that Defensive Coordinator Wade Phillips has seen.
That's where Thursday's roundup begins.
ATLANTA'S OFFENSE: "I DON'T THINK WE'VE SEEN THIS GOOD OF AN OFFENSE IN A WHILE"**
So said Phillips, who wasted little time at his press conference Thursday extolling the praises of Atlanta's multi-faceted attack.
"It's a big, big challenge. We've played a lot of good offenses, but this might be the best one we've played," Phillips said.
Atlanta's rankings bear that out:
Points per game: 1 (38.0)
Yardage per game: 1 (478.8)
Yardage per play: 1 (7.48)
First-down rate: 1 (one every 2.785 plays)
Passing yardage per game: 1 (354.3)
Yardage per pass play: 1 (9.51)
First-down rate -- pass: 1 (one every 2.29 plays)
Rushing yardage per game: 6 (124.5)
Yardage per rush: 4 (4.65)
First-down rate -- run: 4 (one every 3.82 plays)
Turnovers per game: T-3 (0.5 per game)
"I think their numbers are real," Head Coach Gary Kubiak said. "They are going up and down the field, moving the heck out of the ball and scoring more points than anybody in football right now."
BUT THE DEFENSE SAVORS THE CHALLENGE**
"Absolutely," said ILB Brandon Marshall, "because then it's that much sweeter when we do our job and get the job done. I can't wait."
The Broncos' nine-game winning streak dating back to last December has been built on defusing elite offenses. Two of the wins came over Carolina, which led the NFL in scoring last season (31.2 points per game). Pittsburgh, San Diego and New England were three other teams the Broncos beat during their current run; they ranked No. 1, 2 and 3 in the AFC in passing yardage per game.
"It's just how we play them," Marshall said. "I think we're totally different than anybody else. When you count a so-called juggernaut offense, when they play our defense, I feel like you can't look them as the same because of how we play them, how we dictate the tempo, and how we dictate what we do."
During the Broncos' streak, they have held opponents to an average of 9.90 points below their average against all other teams the last two years. No team has come within two points of its average against everybody else when they face the Broncos. Atlanta has averaged 24.6 points per game the last two seasons.
TREVOR SIEMIAN TAKES A "BIG STEP FORWARD"**
Siemian's work was limited, but he showed progress, throwing the ball at the start of the session and later seeing some some seven-on-seven repetitions, as well as work during the individual periods of practice.
"The biggest thing is just [that] you're so sore, and when you throw, your trunk's moving; everything's moving," Kubiak said. "Trevor threw the ball fine today. You can just tell the rotation and stuff is something you've got to get used to. It's kind of like working through a hip pointer, is the way it's described to me. ... It's something you've got to work through, the soreness, to get it going."
"We only had him for a few throws, but he threw the ball well," Offensive Coordinator Rick Dennison said.
Siemian's practice work offers optimism he can take another step forward Friday as he deals with a left shoulder sprain.
"Hopefully he does a little bit more," Kubiak said. "I think we took a big step forward today, and we'll probably see how he comes out of today, how he feels tomorrow."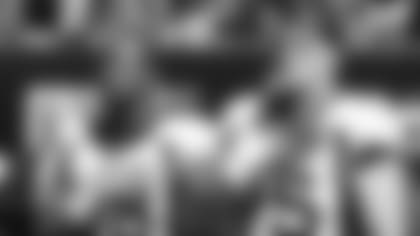 4. MILLER AND WOLFE: "LIKE DIRK NOWITZKI AND STEVE NASH"
And that's a bold statement for Miller to make, considering that he is from the Dallas-Fort Worth Metroplex and understands how the synergy between Nowitzki and Nash made the Dallas Mavericks' run of success possible.
"We just get each other," Miller said. "We've been playing with each other five years now, so we've spent a lot of time together. We went through hard times together; we went through the great times together."
No time has been greater than the last 14 games, in which Miller and Wolfe have combined for 29.5 sacks, including three that were split between the two of them. They have 9.5 combined sacks this season, including split sacks of Jameis Winston last Sunday and Andrew Luck in Week 2.
"I've been stealing Derek's sacks for two or three years now. It's great to see him get a lot of sacks ... about 10 of my sacks that I've gotten throughout my career, I've stolen from Derek."
WHY THE RUN GAME HAS STRUGGLED**
"It's technique," Dennison said. "It's [helmet] placement. It's footwork. It's hand placement, and then working together."
The absences of Virgil Green and Donald Stephenson haven't helped as the Broncos dropped from seventh to 23rd in the NFL in yardage per rush over the last two weeks, with Denver's average per carry of 2.56 yards in Weeks 3 and 4 ranking 31st.
Both Green and Stephenson practiced on a limited basis Thursday.
"We have been missing Virgil and Donald," Kubiak said. "That is not an excuse. We have to do it better."
Added Dennison: "It's certainly hard to not have two guys that you deem as starters. There's no excuse whatsoever. They're coached the same, they practice the same. We just have to work with who is on the field."