ENGLEWOOD, Colo. --Voluntary veteran minicamp ends Thursday, but Wednesday morning's on-field session was the last in which a portion was open to the media for viewing.
What jumped out as the Broncos got to work under their new head coach and staff? Here's five takeaways from the two days of work:
1. NO PADS OR HELMETS, BUT PLENTY OF SPARK.
With every thwack of a player against a tackling dummy or every exhortation from a coach -- none more than Special Teams Coordinator Joe DeCamillis -- the energy of the practices pulsated from the fieldhouse to the flagpole in front of the administrative building in front of Dove Valley and back again.
It didn't sound or feel like April. The tone was set.
"When we talked about it, the main thing we want to do is we want to play fast and physical -- and that's getting started right there," DeCamillis said. "Now, you can't do certain things because of the CBA (rules) -- and it's rightly so -- but we want to get that tempo started right off the bat."
Even kickers and punters took their turns practicing their pursuit and tackling form against dummies this week.
"We're going to do it, because what happens when [a return] breaks out?" DeCamillis said. "If they'd never done it before, it's a great excuse for them: 'Oh, I never did it, Coach.' Well, we're going to work on it. We're going to get them going.
"It's to prepare for a bad situation," DeCamillis added later. "You hope that you at least have a chance to be successful."
The practices were not only up-tempo, but efficient.
"That's been my experience with [Head Coach Gary Kubiak] -- we're constantly moving," said tight end Owen Daniels, who has worked under Kubiak his entire career. "We won't necessarily practice for three hours, but we're going to make the most of that hour and a half, two hours of time, and move fast at all times, and practice fast.
"Even if we're not in helmets, in pads, we're still going to be moving fast and practicing that way."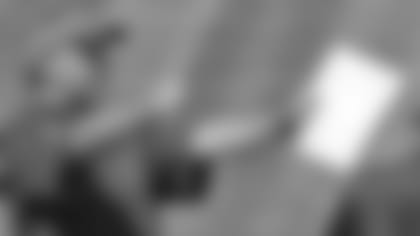 Daniels said that Kubiak accelerated the practice tempo in Houston once he added more veterans to his team after his first two years as the Texans' head coach. So it was no surprise the seasoned Broncos sprinted from the blocks this week.
In the portions of work open to the media -- particularly the special-teams periods -- players ran from station to station. When the Broncos broke down into their position groups, the position coaches wasted little time getting their players set for their drills.
"It's just organization," DeCamillis said. "If you have 20 minutes -- I learned a long time ago (that) you can't worry about how long you have, you just have to maximize that time."
And special teams gets plenty of work; DeCamillis noted that his phase gets the same amount of practice time as the offense and defense this week.
BRADLEY ROBY ON THE CORNER.**
Using the second-year cornerback at safety remains a possibility, but during this minicamp, Defensive Coordinator Wade Phillips left Roby at cornerback.
"I'm a corner," Roby said. "We talked about the safety thing, but at this time, we're just worried about corner. If that comes down the road, I'll be open to it, but right now I'm focused on corner. That's the position that I'd like to play."
Roby was the last player off the field Tuesday and Wednesday, lingering an extra 30 minutes each so he could work on his technique. He spent similar extra time on the field during training camp last year getting pointers from Pro Football Hall of Famer Rod Woodson, who worked as a coaching intern.
"I'm just working on technique," Roby said. "I think a big thing of mine last year (was that) I messed up a lot on technique things, and that's what I'm really working on now. If I can get that done now, by the time the season comes, it's going to be my first reaction, muscle memory. So that's what I'm working on. It's kind of a slow pace; I'm not running a lot. But it's a lot of muscle memory and positioning-type things."
SO FAR, SO GOOD FOR DANNY TREVATHAN.**
Fellow inside linebacker Brandon Marshall's rehabilitation from a foot injury continues, which meant that he was the only Broncos player with a signed contract who did not take part in the voluntary practices. But Trevathan was on the field, albeit on what he described as a "limited" basis.
"I can't do too much movement, but it's good for me. I get to work on my mindset," he said. "I had a year last year to work on it, but now I'm really strong with my mind. I don't like making mistakes. It's really going to help me with this defense."
Trevathan is of average bulk for a 3-4 inside linebacker -- smaller than some of the players that Defensive Coordinator Wade Phillips utilized there in other years. But he believes it will be no problem fitting Trevathan into this defense.
"All good players can fit in our system. If we've got a good player, we'll find a place for him," Phillips said. "I think Danny's a very good player. Obviously, he's coming off injury, but he's a tremendous talent. It's good he's out there and doing some things and progressing well."
Phillips is also pleased with the depth he has at inside linebacker.
"The good thing is (Todd) Davis and (Steven) Johnson and Lamin (Barrow) -- those guys played last year," Phillips said. "So they've got some experience, and I think it helps them that way, that they've played in ballgames -- and they've played in winning ballgames. It's good that we have those guys."
THERE'S A LOT TO LEARN, BUT PLAYERS ARE GRASPING IT.**
Phillips noted that there were few errors during on-field work the last two days, and attributed that to what the players were able to grasp in meetings the last two weeks.
"The thing that impressed me the most was actually (in) the classroom. We've got a real smart group. I'm really impressed with their focus, of learning what to do," he said.
"We made very few mental mistakes, and you expect a lot when you just put things in, but we made very few -- we made a couple today, but not very many. So I'm pleased with that."
The presence of players with experience in the schemes helps, as well. On offense, veterans like tight end Owen Daniels, fullback James Casey and offensive linemen Gino Gradkowski and Shelley Smith will help guide their teammates.
Daniels said he's "trying to be" a teacher whenever the need arises, answering questions when teammates ask him.
"We're still at the beginning of that learning process, so (we've) got a lot left to learn, and I'm here to teach; I'm here to help guys out," Daniels said. "It's one thing to go look at it in the meeting room; it's another thing to take it out on the field and add motions and add a defense that they've got to worry about."
On defense, that responsibility falls to defensive end Antonio Smith and outside linebacker DeMarcus Ware.
"Guys that have been in it before can tell them the idiosyncrasies of it. Those guys can tell them the little detail stuff," Phillips said. "But we think that we have a good system that you can put in quickly and do well."
Phillips said that the defense "80 to 90 percent" was installed in meetings, and the rest of it will be worked in over the course of this minicamp.
The Broncos continued their voluntary veteran minicamp on Wednesday.