ENGLEWOOD, Colo. --Dove Valley is quiet now, and only the players undergoing injury rehabilitation are required to be on hand on a daily basis between now and the start of training camp.
What did the Broncos take from the four weeks of OTA and minicamp work?
THEY SHOWED FAITH IN THE KIDS.**
The entire minicamp and multiple practices during the three weeks of OTAs belonged to the Broncos' youthful brigade of developing players, creating the unusual sight of quarterback Peyton Manning, with no helmet in sight, working on his dropbacks and play-action fakes during the June 1 practice while understudies Brock Osweiler and Zac Dysert led the offense during team drills.
"Obviously [Manning] would go every day and even longer than we ask him to. It's just the way he's built," Head Coach Gary Kubiak said June 10. "But I think it's been good because he's put in a lot of quality time with the other guys and the study habits that he has and the time that he has spent in the classroom has been exceptional.
"It's just important for these young guys to get better and he understands that he needs some help on this team. He needs some young guys to step up and help him be successful. So I think he understands the cause."
The same was true on defense, but for a different reason. Injuries to Brandon Marshall and Danny Trevathan forced Steven Johnson and Todd Davis into extensive work, and also bumped Lamin Barrow and Corey Nelson up. All had their moments, but Davis was a revelation, building off his starting work late last season. His command in the defensive huddle grew as he relayed the calls and helped set the defense up play after play.
The change in the distribution of repetitions -- an idea Kubiak used in Houston but expanded after his year in Baltimore -- was only part of the alterations to offseason work. Practices moved at a brisk pace. Individual periods were more intense, particularly during minicamp, when dozens of veterans were sent to their workouts midway through practice, ceding team and seven-on-seven work to their teammates.
"I think it was a lot different," said tight end Virgil Green. "Coach Kubiak runs the team in a different way. He strives for perfection. He wants us to finish everything we do, and I think the guys have done a great job of responding."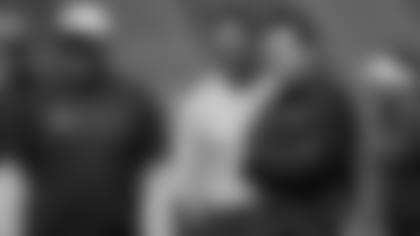 2. THE OFFENSIVE LINE IS A WORK IN PROGRESS.
As the offensive line undergoes its transition, the unit must be prepared for some inevitable mistakes in the early going as the group finds its collective rhythm and cohesion. But the five-man unit expected to begin training camp on the first team showed signs of growth during recent OTAs.
"Communication is a lot better and now they're understanding what we're trying to get done," Offensive Coordinator Rick Dennison said during minicamp.
Most of the attention went to the left flank of the offensive line, where rookie Ty Sambrailo stepped in for the injured Ryan Clady and former defensive lineman Ben Garland held down the left guard spot. This wasn't the initial plan when OTAs began, but the Broncos adapted, and now can focus on getting Sambrailo and Garland to learn together and work on the cohesion required of the tandem blocks emphasized in this scheme.
The Broncos have veteran options like Shelley Smith and Ryan Harris available in reserve on the inside and outside. They've played for Dennison and Kubiak before. The coaches know their skill sets; the players know their roles in a zone-blocking-intensive scheme.
Less is known about Garland, Sambrailo and Chris Clark at right tackle in this scheme. So it benefits them -- and the coaches -- to give them the extra repetitions now, knowing that if those insurance policies are needed, they can get up to speed faster because of their knowledge base in this scheme.
Forty percent of the expected No. 1 offensive line when training camp begins has no regular-season starting experience. That can be scary, but it's also an opportunity if experience creates improvement.
"If you are young and you make it work, then you've got a chance to be good for a long time," Kubiak said.
"So, I feel like we've got some good, young players and it's our job to get them going and if we can hit it right, this can be a group that can play together and stay together for a long time."
THE RETURNER COMPETITION WILL BE ONE OF THE FIERCEST -- AND MOST COMPLEX -- OF TRAINING CAMP.**
Why "complex"? Because, as with the scrum for jobs among kicking specialists, overall roster construction will matter -- both on the 53-man roster and among the 46 active on regular-season game days.
Unless one of the candidates blows the others out of the water, the returner -- or returners, if kickoff and punt duties are split -- must provide value as reliable depth in the secondary or at wide receiver. During the 2014 preseason, it looked as if Jordan Norwood could be that guy on punt returns; in the last preseason game before he tore his anterior cruciate ligament, he saw some first-team repetitions.
Norwood is again in the mix on punt returns, along with fellow reserve receivers Isaiah Burse and Kyle Williams.
Omar Bolden's success on kickoff returns late last year and his OTA work at safety after moving back from cornerback places him squarely in the mix. But Special Teams Coordinator Joe DeCamillis wants to see if Bolden can handle punt returns, at which he saw work this month.
"I'm just trying to help this team in any way possible," Bolden said. "If [the] time calls for it for me to return some punts, I want to be ready. So, I'm just trying to practice and get better at doing that as well."
Even Pro Bowl wide receiver Emmanuel Sanders is not out of the mix, although it's possible his trustworthy hands lead him to the "punt catcher" role inside the 10-yard-line that Wes Welker and Eric Decker handled in recent years -- and that Ring of Famer Rod Smith manned in the early to mid 2000s.
"That's something we have to talk about as we go through it. That's in Coach Kubiak's wheelhouse," DeCamillis said."
THEY PRACTICED WITH INTELLIGENT AGGRESSION UP FRONT ON DEFENSE.**
It's one thing to say, "Let's pin the ears back and go after the quarterback." That might get onlookers excited, but it's only a part of creating an effective pass rush; you want arms in the air leading to deflections. This was a common occurrence during OTAs, as defensive ends and nose tackles got into position to affect the trajectory of dozens of passes.
"About four of the guys, I think they move forward really well," Defensive Coordinator Wade Phillips said. "I think we've got a group that can come in and play and do some good things for us.
Defensive end Kenny Anunike deflected a pair of passes during Monday's OTA, showing his progress as he adjusts to his role inside in the 3-4 alignment.
THE OFFENSE IS GETTING ON THE SAME PAGE.**
Multiple defensive players noted the simplicity of Phillips' scheme compared with the one the Broncos used under Jack Del Rio before he rejoined the NFL's head-coaching ranks in Oakland five months ago. But for the offense, it's trickier. Everyone must learn something new as the Broncos combine schemes, whether it's Manning and the returning starters absorbing concepts Kubiak has used for years, or players like Shelley Smith, Ryan Harris, Gino Gradkowski and Owen Daniels adapting to the concepts carried over from the offense of the last three years.
This process will continue through training camp and the regular season, and it will not be without some bumps along the way. But by the end of OTAs, the offense was able to effectively move the football in a no-huddle, two-minute drill situation, driving to a touchdown at the end of Monday's OTA. You don't want to make too much of a scoring drive in a mid-June practice, but it was a promising milestone -- especially after what had been a rough session for the offense.
The Broncos hope their work yield is a balanced offense that is the best of both worlds. The changes on the offensive line might delay its progress, but if the offense is peaking and clicking by midseason and beyond, the groundwork put down in OTAs will be a reason why.
Take a look at what Broncos drills look like from above with these shots during OTAs. (All photos by Ben Swanson/DenverBroncos.com)