With the Pro Football Hall of Fame's Selection Committee taking votes on the Class of 2021 on Tuesday, it won't be long until we learn whether nine is the magic number for John Lynch. The nine-time Pro Bowler and two-time first-team All-Pro has reached the finalist stage eight times before but has not yet made the final cut to earn a hold jacket.
As we reflect on his career, here's a brief look at some of his most memorable and most productive games with the Broncos.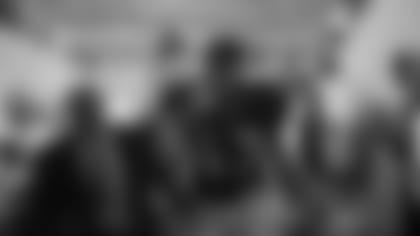 Week 4, 2004 season: Broncos 16, Buccaneers 13
With the Buccaneers, Lynch had matriculated from an unheralded third-round pick to an All-Pro safety known as one of the most-feared hitters in the NFL. But a year after helping lead Tampa and its star-studded defense to a blowout victory in Super Bowl XXXVII, the Buccaneers parted ways with Lynch and future Hall of Fame defensive tackle Warren Sapp, two of their top players, in a series of cost-saving moves.
Lynch had wanted to stay in Tampa and offered to have his contract restructured, but the Bucs denied that request and chose to release him, which led the perennial Pro Bowler to sign with the Broncos as a free agent.
Four weeks into his first season in Denver, Lynch would be back in Tampa — this time as an opponent. But in anticipation of his first game against his old team, he was out of sorts.
"Last night, to be honest, I didn't sleep a wink," Lynch said after the game. "I don't know if I was that nervous for the Super Bowl."
The Buccaneer faithful showered Lynch with raucous cheers, and he returned the gesture with a nearly impeccable performance. He tallied seven tackles, including two behind the line of scrimmage. One of those — a collision with future Ring of Honor fullback Mike Alstott — ended a drive near midfield on third down.
As the game came to a close, Lynch walked off the field with tears in his eyes, cherishing having gotten not only the win, but also some closure to his time in Tampa.
"You caught me at a bad moment," Lynch said. "The emotions hit me hard, and I was overwhelmed."
Week 6, 2005 season: Broncos 28, Patriots 20
In a game that would in some ways foreshadow the playoff matchup that was to come, the Broncos and their pass defense held their ground against the two-time defending champion Patriots and quarterback Tom Brady.
Behind a stingy start by the defense and a three-touchdown second quarter, the Broncos jumped out to a 21-3 halftime lead. Lynch played a key role, especially early; he ended three Patriots drives with pass breakups to force punts.
His presence was all the more vital in the second half, when Champ Bailey left the game with a sore hamstring. The Broncos bent but did not break, holding off Brady's comeback attempt in the fourth quarter.
"We're proud of what we've done so far," Lynch said, "but our goal is to do much more."
That quote would prove prescient.
Week 17, 2005 season: Broncos 23, Chargers 7
Lynch, who grew up in the San Diego area, always seemed to save something special for games at Qualcomm Stadium. In his first two games there as a Bronco, Lynch had the only two games of his career in which he forced two fumbles. The first didn't result in a win, but the second did.
The veteran safety was a terror for the Chargers' quarterbacks, as he sacked Drew Brees and Philip Rivers once apiece, and forced a fumble each time. The first was recovered by the Broncos at the Chargers' 1-yard line, setting up an easy touchdown. The second was recovered by San Diego in the end zone a Broncos safety.
"I love the way he plays," Bailey said after the game. "You know that No. 47 is always going to be ready to play. When he lines up, you feel confident in what he can do."
2005 Divisional Round: Broncos 27, Patriots 13
Lynch's four years with the Broncos peaked during the 2005 season, a 13-3 campaign that then brought about the franchise's first postseason win since Super Bowl XXXIII. That record had earned Denver a first-round bye and a home game in the Divisional Round against the Patriots, winners of three of the previous four Super Bowls. Brady had yet to lose a playoff game, and he had just completed perhaps his most productive season of his career to that point.
But Lynch and the Broncos would fluster Brady like no other team had. Early in the game, amid a thundering din from the Mile High crowd, the Patriots committed a false start, which sent the mob further into hysterics. Lynch proceeded to provide more encouragement to them, Michael Silver reported for Sports Illustrated, and an annoyed Brady yelled to him, "That's right, John, you get 'em fired up!"
Lynch and Denver's defense didn't let up, holding Brady and the Patriots to just 13 points. Bailey provided one of the best defensive plays in franchise history with a 100-yard interception return that came up just short of a touchdown, and Lynch then ended New England's final possession with an interception of his own.
Week 17, 2007 season: Broncos 22, Vikings 19
In what would end up being his final NFL game, Lynch didn't have any eye-popping statistics, though he did lead the Broncos in tackles with nine. The game didn't have any playoff consequences for the Broncos, but Lynch and his teammates had bigger goals in mind.
"It's about competing, regardless of the circumstances," Lynch said. "This was nice."
The game itself was an entertaining nail-biter, though the Broncos gave up a 19-3 fourth-quarter lead. Early on, Lynch provided a helping hand on a key play with the Vikings driving for a touchdown. As Minnesota running back Chester Taylor ran on a sweep play to the right pylon, Lynch took his blocker to the ground just in front of the goal line, forcing Taylor to dive over him with the ball outstretched. At that moment, Taylor took on contact from D.J. Williams in midair, losing the ball just as it was about to cross the goal line. The turnover would prove critical for Denver.
In overtime, the Broncos forced a turnover and recovered the ball in the red zone, setting up a chip shot game-winner for Jason Elam.
For Lynch, who admitted that he was considering retirement after the season, it was a good cap to the season and to his career.
"I've tried to play football and make those decisions at the proper time, but human nature kicks in and yeah, there were moments when you try to soak it in," Lynch said.