ENGLEWOOD, Colo. --Aqib Talib will not play in Oakland this weekend, but the Broncos think they're well-equipped to withstand his absence for a second consecutive week -- largely because of their depth at cornerback, starting with Bradley Roby.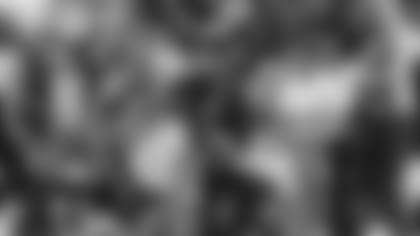 He's long since proved that he can handle every-down work, of course. Last week, he added another stellar performance stellar performance to his resume.
"That's what we play the game for: to get these opportunities," Roby said. "That isn't going to change for me."
But why has Roby done well when pressed into extended duty? It starts with the people around him.
When the Broncos drafted Roby in 2014, they'd just signed Talib, and had Chris Harris Jr. rehabilitating after suffering a torn anterior cruciate ligament the previous January. They also had a Pro Football Hall of Famer, Rod Woodson, helping out as a coaching intern that summer, and Woodson gave Roby one-on-one attention.
Woodson played two seasons with the Raiders, and is now back there as assistant defensive backs coach. But Woodson helped Roby learn "small, intricate things" about being a cornerback that help him to this day.
"I was always in his ear," Roby recalled. "He helped me a lot.
"When I see opportunity, I take advantage of it," Roby added. "So for me to be a rookie and have two Pro Bowl coaches in front of me, and then have one of the best players ever to be all around me, it's like, 'Dang, I've got to take advantage of it.'"
FILM STUDY ALSO MADE ROBY WHAT HE IS**
While Woodson offered technical pointers, Talib and Harris set the example for Roby by showing how the game must be studied.
"Watching Chris and Aqib and seeing how much they knew about the game, I'm asking, 'How do you guys know all this stuff?'" Roby recalled.
"They go, 'The film, the film, the film.' So I really became a disciple of watching film."
Roby admitted that he only watched film "a little bit" when he played at Ohio State, "but I didn't know what I was watching," he said.
"It's different when you know what you're looking for, certain things," he added.
No team has more plays gaining more than 20 yards than the Raiders, who have 39 such plays this season -- including a whopping 10 in last Sunday's 30-24 overtime win at Tampa Bay.
The biggest reason? Derek Carr's ability to extend plays and buy time for his receivers to break open downfield.
"Derek is playing off-schedule really well," Head Coach Gary Kubiak said. "He starts moving around and guys start moving and getting downfield. They have a lot of good things going on. The fact that the quarterback is growing with his time in the league, I think is the [biggest] thing."
LOOKING FOR IMPROVEMENT AGAINST THE RUN**
Although the Broncos are second-best on a per-game basis in allowing the fewest gains of 20 or more yards (2.75 per game), just four teams have allowed more runs of at least 20 yards. Opponents have six runs of 20 or more yards at the Broncos' expense, most recently Melvin Gordon's 20-yard scamper with 4:40 left in the fourth quarter last week.
That Gordon run was the fourth rush of 20 or more yards on the Broncos in their last five games, and contributed to the first 100-yard game allowed by the Broncos to a running back since Week 2 of the 2015 season at Kansas City, ending a 24-game streak.
For the season, Denver's defense ranks 19th in average per carry (4.27 yards) and 23rd in rushing yardage per game (117.4). Only in first-down rate (one first down allowed every 4.89 carries) do the Broncos stand out; they rank seventh.
"We definitely aren't happy," said ILB Brandon Marshall. "You give up over 100 yards a game, that's terrible."
And it doesn't matter how they come -- even if they're not on the kind of straight-up power runs that most teams use.
"The runs they're breaking on is the kind of misdirection, slice and zone runs, where we've got to stack and get off the block and make the play," Marshall said. "It's not like they're just running it down our throat, running power at us and gashing us. It's the little zone back, zone slice, stretch plays, belly plays that are getting us."
"We've got to be stouter at the point of attack," he added. "I think all that comes into play. Hopefully we get back to it."
MARSHALL, PARADIS, WEBSTER EXPECTED TO PLAY**
Although the Broncos will play without Talib, Marshall, center Matt Paradis and cornerback Kayvon Webster are expected to play Sunday, even though all are listed as questionable.
"I hope I'll be out there," Marshall said Thursday. "I would love to be out there again with my guys."
Marshall practiced all three days this week after missing last Sunday's game with a hamstring injury. If he plays, he will go back to relaying the calls from Defensive Coordinator Wade Phillips, who communicates with him via the radio receiver in Marshall's helmet.
Even if Phillips coaches from the upstairs booth Sunday, he will be able to communicate directly with Marshall just as he would on the sideline.
The Broncos wrapped up on-field preparation for Sunday night's road battle with the Raiders.