ENGLEWOOD, Colo. --If the Broncos are to have a late-season push that ends in a playoff berth, Trevor Siemian's improved poise is going to have to be a reason why.
1. KNAPP: SIEMIAN HAS "KNACK" FOR DEALING WITH PRESSURE
With Offensive Coordinator Rick Dennison attending to a family matter, Quarterbacks Coach/Passing Game Coordinator Greg Knapp answered questions Thursday -- and, as expected, the primary topic lobbed at him was the progress of Siemian after two years under his watch.
"He's shown us he's got a great knack to handle a lot of pressure," Knapp said. "Think of the games he's played in this year, and there have been a lot of big games for a young quarterback, and he's proven that he can keep a pretty steady mindset up and down close games, throughout the season."
Knapp noted that this quality was evident in the video footage from Siemian's Northwestern years that he studied leading up to the 2015 NFL Draft.
"No doubt about it," Knapp said. "There's certain things you look for on tape that say to you, 'All right -- fourth-quarter, come-from-behind, two-minute, maybe red-zone [situations], when there's a blitz going on, how does he handle that?'
"And he seemed to always make good decisions."
Knapp said that the college film also revealed Siemian's resilience and ability to compartmentalize; one mistake didn't lead to another.
"The other thing you look for is after a mistake -- a fumble or interception -- what does he do the next play, and how quickly does he come back?" Knapp said. "He showed that he had pretty good composure in those situations."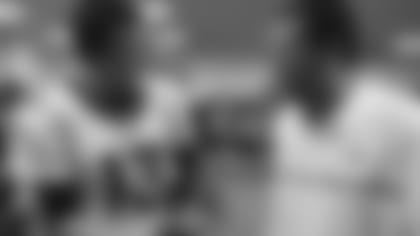 COMPOSURE MEANS SIEMIAN CAN HANDLE BEING PUSHED**
Siemian's steadiness under pressure is a reason why Kubiak said four weeks ago that Siemian needed to go from being OK to playing "big," and why he added Monday that he needs to turn some of the impressive recent statistics into more wins.
"When a guy is like that, you want to keep pushing him," Knapp said. "Sometimes players don't know how far they can go until you push them as a coach, and that's what Gary's been doing, and I love it."
As Knapp added, Siemian simply "gets it."
"He likes the challenge. He doesn't question it. He understands the standard that's been set here," Knapp said. "I tell any quarterback that comes into this building, 'There's not many places where the GM is a Hall of Famer and the head coach is really good at coaching the quarterback position.' So the standard is set high here."
And Knapp understands what that's like from his first years as an NFL coach with the 49ers. In 1998, the 49ers promoted him to quarterbacks coach, where he immediately became the position coach of a future Hall of Famer, Steve Young. A year later, Hall of Fame coach Bill Walsh returned as the team's general manager; all he did was design and perfect the offense that Knapp and his fellow 49ers assistants guided.
"My growth with Bill Walsh in the building and Steve Young as the quarterback -- you like it like that," Knapp said. "Because that's what's going to drive [you]. You're going to find out if the player wants to be great, because if that's the standard that's been set by those playing in the building, that's what's going to be expected by those playing in the game."
PATS' PLAY STARTS WITH LINE STABILITY**
The Patriots' improved power running game and ability to protect Tom Brady find their common DNA strands in the Patriots' improved offensive line.
Brady's sack rate has improved from one every 17.4 pass plays last year to one every 29.3 pass plays this season, while the rushing game has improved both in yardage per carry (3.7 to 4.0) and per game (87.8 to 115.5).
Broncos Defensive Coordinator Wade Phillips cited the return of longtime Patriots assistant Dante Scarnecchia as a factor behind their line's resurgence.
"You can tell that their line has improved overall," Phillips said. "[Brady] has only been sacked 12 times this year and he hasn't been hit that much. The protection seems to be a lot better than [it was] last year, but he plays great all the time, whether it's protection or not."
Line continuity has also been a key.
Last year, the Patriots had 12 different starting offensive-line combinations, and never used the same starting quintet more than twice. This year, the Patriots have used just three starting line groupings, and the combination of LT Nate Solder, LG Joe Thuney, center David Andrews, RG Shaq Mason and RT Marcus Cannon has started 11 of 13 games -- including the last eight in a row.
KNAPP PLEASED WITH LYNCH'S PROGRESS**
"Way too young," Knapp replied when the subject of public criticism of Lynch's play arose during his press conference.
"I've coached quite a few guys in the league. I've been through a few ups and downs of a young quarterback. He's only played, what, two and a half games?" Knapp said.
"Your first year, you're still learning the offense; I don't care who you've coached, or who's played, the first year is a learning curve like no other because it's one thing just to learn the playbook, but then to go execute it against a moving defense, it takes time."
Knapp praised Lynch's ability to protect the football; he threw one interception in 83 attempts and had two fumbles in 101 total touches, a rate of one turnover or interception every 34.3 touches that is better than the league average of one every 30.8 touches (for all quarterbacks with at least 50 passing attempts).
"I think he's done a good job of protecting the ball for a young quarterback in the two and a half games he's played," Knapp said. "But there's no doubt, he's still learning a lot. I'm pleased with his progress. It takes time for a young guy to learn."
That's what Kubiak said the team had when he was asked whether the team had an underdog mentality heading into the final three games of the season.
"We're in a battling mentality," Kubiak said. "We're sitting here [at] 8-5, and that'd be really good in some divisions; it's not very good in our division this year. We understand that, and we also understand the challenges that we have here at the end for us to find a way to get in as a football team."
If good practice can lead to good play, the Broncos should well-positioned for Sunday.
"I like our work. Our energy has been good the last two days," Kubiak said.
On Thursday, the Broncos continued their preparation for their Week 15 matchup against New England. (photos by Pete Eklund unless noted)