ENGLEWOOD, Colo. --With all Broncos hopes of a postseason bid predicated on first getting a Sunday night win at Arrowhead Stadium, they wrapped up their Chiefs preparation with the knowledge that they would have to play without ILB Brandon Marshall, safety T.J Ward and TEs A.J. Derby and Virgil Green.
1. CONDITIONS COULD NECESSITATE GROUND REVIVAL
Since C.J. Anderson suffered a torn meniscus against the Texans in Week 7, Denver has struggled to run the football; in four of the team's last seven games, the Broncos ran for 60 or fewer yards, including a combined 76 yards in the last two games.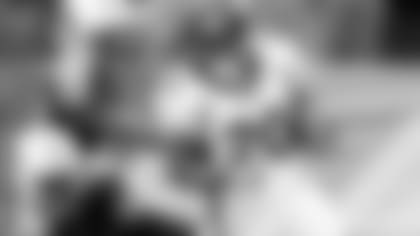 In Kansas City, the Broncos might need to run to have a chance, with sustained winds of over 20 miles per hour, gusts potentially reaching 40 miles per hour and rain forecast for a warm, but uncomfortable Christmas night.
"Sometimes when it gets sloppy like this you get more opportunities to run the football because of the conditions," said running back Justin Forsett. "I'm looking forward to whatever the conditions might be. I think we'll have us a good game."
Forsett had some early success running to the outside last week, and that could provide a building block for any attack Sunday.
"We definitely used that for our advantage [last week] and as momentum for this week," Forsett said. "We have to go out and start fast and finish strong. That's our main objective."
DON'T FORGET ABOUT TRAVIS KELCE **
With all the chatter about Hill, one can't overlook tight end Travis Kelce, who heated up late in the Chiefs' Week 12 overtime win in Denver and leads all NFL tight ends with 73 receptions this season for 957 yards, second at his position.
Kelce has four 100-yard games in the last five weeks, including an eight-catch, 101-yard night against the Broncos. His five 100-yard games this season trail only Atlanta's Julio Jones (seven), and with one more 100-yard game, he would tie former Chief Tony Gonzalez for the most 100-yard performances by a tight end in a single season this century.
"It's always tough facing a tight end like Kelce," said Harris. "They line him up outside at receiver; they line him up everywhere. He's always in motion. He's always a tough challenge."
Although the defense has limited yardage and points the last two weeks, it hasn't succeeded at taking away the football, with no turnovers forced since Von Miller's strip-sack fumble off Blake Bortles in the final moments of the 20-10 win at Jacksonville on Dec. 4.
"For us, I don't think we've gotten one in the last two weeks. That's usually important to us playing well and being successful. We've lost the turnover battle a couple of weeks in a row now," Head Coach Gary Kubiak said. "It's something that needs to change for us."
The Broncos haven't recorded a takeaway in four of their last six games; not coincidentally, they've lost all four. Before that recent run, the Broncos forced at least one turnover in 14 consecutive games dating back to the previous December; they won 11 of those 14 games.
Denver has also lost seven consecutive games in which it failed to force a turnover; the last win without a takeaway was the 29-10 triumph over Green Bay on Nov. 1, 2015.
CONTINGENCY PLAN AT TIGHT END**
With Derby and Green both ruled out as they continue to go through the league-mandated post-concussion protocol, the Broncos had to promote rookie Henry Krieger-Coble to the 53-man roster from the practice squad, parting ways with No. 3 QB Austin Davis to make room.
Jeff Heuerman is expected to start after playing extensively last week. Heuerman had back-to-back catches early, but Forsett also thought Heuerman held up well as a blocker last week. In Jacksonville, Heuerman delivered a key block that sprung Kapri Bibbs loose for a 24-yard pickup.
"It was good," Forsett said of Heuerman's blocking. "I didn't notice a difference when he was in, so I don't expect anything to change."
If the Broncos adhere to their trends of recent weeks, both Will Parks and Justin Simmons will pick up the slack with T.J. Ward out, with some three-cornerback packages that include Bradley Roby with a single high safety (Darian Stewart) as part of the plan.
Parks and Simmons have played a virtually identical percentage of snaps on a per-game percentage basis this season.
"With what we do defensively, they'll both be out there," Kubiak said. "Will and [Simmons] are interchangeable in what we do, so obviously they're going to play a bunch, and then we could end up in some other single[-safety] stuff, too. So it just all depends what we're playing."
The Broncos wrapped up their week of on-field preparation for their Christmas Day game against the Chiefs on Sunday. (photos by Ben Swanson)