ENGLEWOOD, Colo. --Monday, all the Broncos could do was watch the all-22 video, diagnose what went wrong in their 30-20 loss to Oakland and begin laying the foundation for trying to correct their issues before a weekend trip to New Orleans.
That work started on the ground -- where the Broncos now rank in the league's bottom 10 teams in rushing yardage per game amassed and allowed -- a place they never expected to be.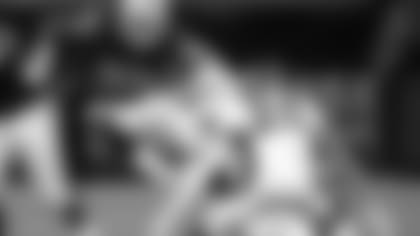 When opponents gash you on the ground, as teams have to the Broncos' defense in recent weeks, it takes a toll on the pride of a unit. That's especially true for a defense that just nine months ago dismantled the explosive Panthers and league MVP Cam Newton in Super Bowl 50 by taking away their ground game first, and doing so flawlessly.
No one in the locker room expected the Broncos to reach Week 9 ranking 29th in rushing yardage allowed per game (128.6), 22nd in yardage per carry (4.40) or allowing more rushing first downs per game than more than nearly two-thirds of the league (6.22 per game, tied for 20th).
"A lot of big plays are short yardage," Head Coach Gary Kubiak said. "We're gapped out and we think we're there to make a play. We didn't tackle well last night. We had a lot of guys in position to make tackles."
And when those cracks in the run defense lead to chasms through which the Raiders romped for 218 yards and the most possession time against the Broncos in a 60-minute game in at least a quarter-century ... well, that's going to gnaw at the pride of a defense that isn't accustomed to anything resembling its performance Sunday night.
"Yeah, absolutely," Crick said. "But we just didn't execute. And we're a bunch that, when we do execute, we play good football and are good against the run, and we know we're capable of that."
But any improvement appears likely to come without Derek Wolfe. He received "encouraging" news on his elbow injury, but the Broncos appear set to face the Saints without him.
"Everybody just has to do their job a little bit more. Losing Wolfe, that's going to hurt. We don't know how long he is going to be out for," Crick said. "He's a tough guy. He'll be back before anybody expects.
"Until then, we just have to go out and do our individual jobs. If we can all do that, and do it just a little bit more, we'll be in good shape."
DOES SHORING UP THE RUN DEFENSE MEAN SACRIFICING AGAINST THE PASS?**
It doesn't necessarily have to, but with rare exceptions, fortifying one aspect of defense can mean sacrificing elsewhere -- e.g. using eight men in the box, attacking the run, leaves you vulnerable over the top. The nature of modern football, a product of evolving rules that generally favor the offense, usually means you can't plug every hole in a dam.
Denver's defense was one of those exceptions last year, but that's in the past. So can the Broncos improve their work against the run without creating a vulnerability?
"It's tough to say," Marshall said. "We were really good against the run last year. It's tough to say what might be compromised for us to do better."
But he and the Broncos know where improvement must start: in the front seven.
"We've just got to be stouter up front," he said. "We've got to get off blocks and make plays.
"Man on man, we've got to make plays, and if we can't, then I think it becomes a tactical issue."
Added Crick: "There are a lot of plays where we're getting double-teamed up front and we're either losing our footing or not being strong at the point. It's an easy fix. We just have to practice it." **
THE SEARCH FOR CONSISTENT PRODUCTION**
In their 27-9 win over Houston two weeks ago, it looked as if the offense had found the consistency it lacked. The Broncos' longest play was 31 yards, but over one-third of their plays (21 of 59, not counting the final-play kneeldown) gained eight or more yards, allowing Denver to gash the Texans repeatedly and set up second- or third-and-short scenarios.
Sunday night, the Broncos averaged more yardage per play (5.9) than they did in that win over Houston (5.8); that pace was the Broncos' best since September. But the Broncos' yardage game in spurts and clumps, including the 69-yard catch and run by Kapri Bibbs that was more than twice as long as any single gain two weeks earlier.
Against Houston, 35.6 percent of the Broncos' snaps picked up eight or more yards. That dropped to 24.2 percent against San Diego six days later and 23.5 percent in Oakland last night.
The Broncos also sputtered in the first and third quarters Sunday. They averaged 1.0 yards per play in the first quarter and 4.6 yards in the third quarter; those averages were 7.2 in the second quarter and 9.4 in the fourth.
"We have to find some consistency. [That] is what we have to do," Kubiak said. "We ran 50 plays [Sunday] night. Six yards a play, you would think that's good when you look at football statistics, but the problem is there's no consistency through the course of the game.
"It's consistency, staying on the field. You look early in the game, a couple of drops, a couple of things going on that we just have to find a way to stay on the football field. They ran 80 plays—we ran 50 in the game. That doesn't bode well for your football team."
FIRST-DOWN WOES CONTINUE**
The lack of consistency also bore itself out on first downs, which set the Broncos up in long-yardage situations for most of the night.
If you looked only at yardage per play, the Broncos flourished on first downs, racking up 9.94 yards per pass play and 8.35 yards per play overall.
But nine of those 23 first-down plays resulted in either no gain or a loss of yardage. Just 12 of 23 (52.2 percent) saw the Broncos gain more than two yards.
Despite the per-play average, Sunday night's first-down performance was actually much less effective than the Broncos' output against Houston, when they averaged 4.43 fewer yards per first-down pass and 2.28 fewer yards per first-down play, but gained positive yardage on 18 of 23 first-down plays and gained three or more yards on 17 of 28 plays (60.7 percent).
The explosion and open-field shiftiness shown by Kapri Bibbs on his 69-yard journey through Oakland's defense evoked memories of C.J. Anderson's similar jaunt through the Raiders two years ago, and could earn Bibbs a greater share of the workload as he splits time with Devontae Booker while Anderson rehabilitates from knee surgery.
"I think we're gaining confidence in him," Kubiak said. "Booker is not doing anything wrong. We have to get him some room. He's got 12 carries for 2.2, so we have to find somebody some room, whoever is in there.
"Kapri came in and made a big play on third and short, made a big run for us. He almost busted that out of there. Those are our two guys here down the stretch. They have to play well and we have to trust both of them to play."
The Broncos challenged at times but ultimately didn't have enough as they fell 30-20 in Oakland. (Photos by Eric Bakke, unless noted)