ENGLEWOOD, Colo. --With starters C.J. Anderson and Matt Paradis not at practice and fellow first-teamers Brandon Marshall, Sylvester Williams and Aqib Talib watching drills and taking mental repetitions, the Broncos got back to work barely 38 hours after they wrapped up their 27-9 win over Houston.
Here' what you need to know from Wednesday:
1. PREPARING A CONTINGENCY PLAN AT RUNNING BACK
With Anderson receiving a second opinion Wednesday after injuring his knee against the Texans on Monday night, Devontae Booker is set to move up to the starting lineup if needed, with Kapri Bibbs poised to assume Booker's role in the rotation after being limited to four carries for 24 yards so far this season.
"It just picks up Kapri's work, basically. Obviously Book would start, and it's kind of up to Book -- how much can he handle," Head Coach Kubiak said. "But I think he's been growing. He played really well the other night."
Booker has made palpable progress since fumbling on his first regular-season carry against Carolina in Week 1, running with more confidence and hitting the holes faster, particularly in the last two games, when he averaged 5.86 yards per carry, rushing for 129 yards on 22 attempts.
"The more touches I started getting, the more comfortable I started feeling," Booker said.
Added QB Trevor Siemian: "Book's a stud, and he's been running really well for us the last couple of weeks. Hopefully we get C.J. back again, because you'd like to have two that are playing really well."
But it's his growth as a pass blocker that has been most impressive, and allowed him to earn the coaches' trust to stay in the game on obvious passing downs.
"When I first got here, there was still a learning obstacle for me," Booker said. "The more and more that I watch film and start studying, the more and more I know about pass protections."
2. THE LOSS OF KNOWLEDGE IF ANDERSON CAN'T PLAY
As valuable as Anderson has been in the running part of his role, his deep knowledge of the scheme and diagnosing the pass-rush intent of an opposing defense prior to the snap might be equally crucial to the offense.
That knowledge, gleaned by working next to Peyton Manning for three seasons, will not be easy to replace if Anderson is lost for even a brief period.
"C.J. does a great job in protections," Siemian said. "Between him, Matt [Paradis] and myself, we try to be on the same page as best as we can.
"But Book's coming along, and we've got a lot of confidence in Kapri, too. We've got a lot of confidence in them if asked."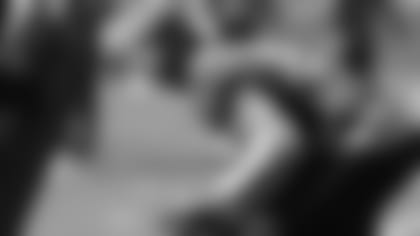 3. BRONCOS HAD BEEN SCOURING FOR A TIGHT END BEFORE TRADING FOR A.J. DERBY
"We've been looking around," Kubiak said, "but we think this kid's got a bright future, and it's up to us as coaches to get him going as quickly as we can."
Although Derby only took up the position as a senior at Arkansas in 2014, he's become a fast study -- particularly as a receiving target, where he led the Patriots in receptions (15) and receiving yardage (189) during the preseason, but couldn't find any playing time behind Rob Gronkowski and Martellus Bennett.
That's what the Broncos need right now. Through seven games, Broncos tight ends had combined for 183 yards and a touchdown on 17 receptions, and had been targeted just 23 times -- including zero targets in Monday night's win.
Just 13.9 percent of the passing first downs came from tight ends, placing the Broncos 24th in the league. Only 12.2 percent of their passing yards came from tight ends; that ranks 28th. And only the Jets have a lower percentage of receptions and targets coming from their tight ends than the Broncos.
"We've had some issues there at that position with Virgil's health, Jeff's health," Kubiak said. "Those guys are hard to come by in this league, and [New England] is a team that has a couple of pretty good ones playing right now."
4. DERBY MIGHT BE READY RIGHT AWAY
Even though Derby has yet to make a regular-season reception and will have to be brought up to speed in the offense, the newest Bronco could be active this Sunday if he makes enough progress, Kubiak said.
"Let me see how he does, but yeah, I'd feel very comfortable," Kubiak said.
Not only did Derby lead the Patriots in receptions and receiving yards during the preseason, but he ranked second among all NFL players in receptions and third in yards during the four-game summer slate, averaging 12.6 yards per reception in the process.
"We think he can help us -- and help us quickly," Kubiak said.
"A lot of our verbiage is the same in some areas, so we think we can catch up fast from that standpoint," the head coach added. "But he's a very smart kid. We need some versatility with what's going on with our group right now, and he'll give us [that]."
WARE PRACTICES, STILL NOT "100 PERCENT HEALED"**
"It doesn't feel 100 percent healed," Ware said of his forearm Wednesday after practicing for the first time since fracturing it in the third quarter against the Colts on Sep. 18.
"But the thing is, that's the bone. I think the muscles have to get acclimated around it so it can hold and be stable. That's what I'm trying to get to."
That is Ware's only issue; he said the rest of his body feels "great." The Broncos have missed him, but he's also missed out on the accumulation of wear and tear; if his arm is up to full strength, his freshness will be an asset.
"I feel really good. It's a process of getting my arm acclimated to punching guys, doing pass-rush moves," he said. "It's a day-to-day process. I don't know if I'm going to play this week. I don't know if I'm going to play next week. But if it progresses like it should, I should be out there."
Ware has been able to keep himself up to speed from a conditioning standpoint -- he's even up to 250 pounds because of his conditioning and weight-room work.
"I feel like a beast," he said.
But arm strength will be the biggest factor in determining whether he plays this Sunday, and he said he's just "waiting for my arm to get right."
"I play on the right side, so a majority of the time when I punch a guy, I'm punching with my left arm, but when you hit, no matter how big the pad is, that shock and sensation going through that bone -- it's just making sure that it's not painful every single time," Ware said. "Because every time I hit somebody -- 30 plays, 50 plays -- you want to be comfortable and not in too much pain."
Shots from the Broncos' Wednesday practice before welcoming the Chargers to town. (Photos by Eric Bakke unless noted)