INDIANAPOLIS --What the 2016 NFL Scouting Combine lacks in its ability to create a media circus, it will make up for in intriguing storylines.
There is no consensus, slam-dunk No. 1 overall pick, although there are compelling cases for Mississippi OT Laremy Tunsil and Ohio State DE Joey Bosa, both of of whom would fill pressing needs for the Tennessee Titans, who possess the top overall selection.
The Broncos don't select until the 31st pick, but they will be busy working to try and keep as much of their championship equation together as possible.
Here are five storylines for the days ahead, which will kick off with Head Coach Gary Kubiak's press conference at 8:15 a.m. MST Wednesday, which you can watch live right here on DenverBroncos.com:
1. Preparing to play "tag"?
If the Broncos can't strike a long-term deal with Von Miller by 2 p.m. MST on March 1 -- just seven days away -- they will have to use the franchise tag on him in order to prevent him from being on the open market. At that point it would be a question of whether the Broncos use the non-exclusive tag -- which is typical -- or the exclusive tag, which chews up more salary-cap room.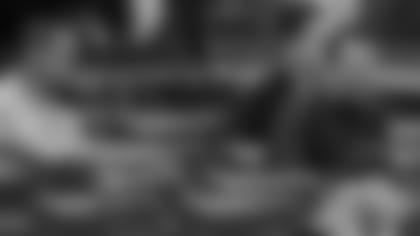 The only downside to winning a Super Bowl is a constricted offseason. Head Coach Gary Kubiak and Broncos brass began descending on Indianapolis on Tuesday -- just two weeks after hoisting the Vince Lombardi Trophy in front of over a million fans in downtown Denver for the parade and rally at Civic Center Park.
Because the coaches were busy preparing for Super Bowl 50, none of them were at the Senior Bowl as would ordinarily be the case, so the Combine marks the first chance the coaches will have to see many of this year's draft prospects in person and meet them face to face.
One advantage the coaches will have is a staff that returns virtually intact, with the only change being Brian Callahan's departure to become the Lions' quarterbacks coach. Klint Kubiak, Callahan's replacement as offensive assistant, is already on hand and settling into his job.
3. Preparing for free agency.
With a lengthy unrestricted free-agent list that includes five Super Bowl 50 starters and key restricted free agents in C.J. Anderson and Brandon Marshall, Executive Vice President/General Manager John Elway and salary-cap/contracts guru Mike Sullivan have a task list nearly as long as that of the players participating in the Combine. Brock Osweiler's pending free-agent status and the waiting in regards to Peyton Manning as he makes a decision on his future also loom over the Broncos, who must prepare for every possible contingency in what will be a busy start to the league year.
The Scouting Combine is typically a venue for contract negotiations to be kick-started, and that will again be the case, with reports circulating that the Broncos will talk with Osweiler's agent in Indianapolis.
4. Winning "from now on."
Elway always says this is the goal, so now the Broncos' task becomes sustaining and building upon their third world championship. Although a bit of regression from the defense is a near certainty from a statistical perspective, the offense has plenty of room for improvement, particularly after accepting for just 20 points in the final six quarters of the season -- with its only touchdown coming on a four-yard drive.
Some of the potential answers are already on the roster in the form of young players who will be asked to step into larger roles, but for the Broncos to make their ninth Super Bowl appearance next winter, they'll have to find some help and depth in this year's draft class.
The Combine provides a standard for measurables, but it is not the be-all, end-all. It can confirm previous observations, or compel a closer look at a player that outperforms the work he put on film.
There will be plenty of chatter over the days ahead, but it's important to remember that this is just one part of the Broncos' evaluation.
Take a trip back to NFL Combines past with photos of Broncos from their showcases in Indianapolis.