The 2015 AFC Championship Game rematch with New England and the dramatic defensive stops that preserved the Broncos' 20-18 win are among the lasting memories of the Broncos' third world championship season.
But the Broncos would likely have not been in position to make those defensive stands in January without their stunning fourth-quarter comeback in the snow on Sunday Night Football that ended the Patriots' dreams of an undefeated season and altered both teams' trajectories.
Early in the fourth quarter of the Week 12 showdown, the Broncos looked destined for a defeat that would have knocked them three games and a tiebreaker back in the race for the AFC's top seed with just five games left to play. New England led 21-7, and the Broncos had just gone three-and-out for the third consecutive series and sixth time in 10 possessions.
In his second start, Brock Osweiler was struggling. He'd completed just two of his previous nine passes for a meager eight yards.
Nobody comes back against the big, bad, Belichick-Brady Patriots with all that going against them, right?
As Britton Colquitt's punt sailed toward Patriots returner Chris Harper, Cody Latimer dashed through the snow with the speed of Santa's sleigh. He didn't force Harper to muff the punt, but he did distract him. Shaquil Barrett recovered at the New England 36.
But the comeback wasn't on until Osweiler found Emmanuel Sanders on third-and-6 for a 17-yard gain three plays later. That snapped him out of what had become a 2-for-10 funk, and unclogged the entire offense. C.J. Anderson galloped outside for a 15-yard touchdown run one play later, and the rally was on.
The Patriots spent the first three quarters and 30 seconds of the fourth shredding the Broncos. Then the Broncos did the same to them. From Barrett's recovery until Anderson's game-winning 48-yard touchdown gallop in overtime, the Broncos outscored the Patriots 23-3, outgained them to 225 yards to 75, averaged 9.78 yards per play to New England's 4.12 and had twice as many first downs (10-5).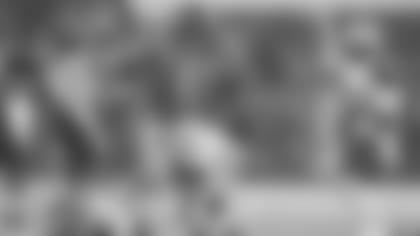 If the Broncos don't rally, they likely finish 11-5 -- which would have sent them on the road in the wild-card round. Instead, this crucial comeback gave the Broncos the tiebreaker advantage against the Patriots, which mattered after New England lost four of its last six to close the regular season.
This comeback isn't in the top five in terms of the magnitude of the deficit overcome.
But in terms of its importance in Broncos history, it takes a clear place in the top five. Without it, the Broncos likely wouldn't have championship rings to share with friends and family during their current summer break.
The Broncos handed the New England Patriots their first loss of the 2015 in Denver. These are the best shots of the win.