ENGLEWOOD, Colo. --Above all, you want three things from training camp.
A cohesive team that has grasped its schemes.
Young players taking steps forward.
Unfortunately for the Broncos, injuries to Vance Walker, Ty Sambrailo and Bennie Fowler prevented No. 1 from happening. There are signs that No. 2 has happened, although a more consistent performance for the offense on Saturday would confirm that.
But No. 3 did happen -- in a big way. Many of the youngest Broncos helped their causes over the last three weeks, a group that includes -- but is not limited to -- these players, presented in alphabetical order: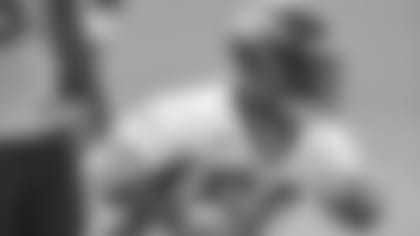 He was in the right place at the right time to recover Fowler's blocked punt last week at Chicago, but on defense, Anderson has seemed to always be around the football, avoiding traffic to close holes against the run while also making plays in pass coverage, particularly during seven-on-seven periods.
"He's probably one of the players that has come the furthest," Head Coach Gary Kubiak said. "The only thing that holds Zaire back is the total understanding of the defense because he has to make calls. He has to do all that.
"His effort, how he plays and his reactions are really good now that he understands the defense. You'll see a better player."
Day after day, Bibbs has squeezed through holes and turned in gallops of 10, 20, 30 yards and more. He reads the gaps created by a zone-blocking scheme like a seasoned veteran, and enhanced his cause to stick on the 53-man roster by flying downfield for a tackle on kickoff coverage in the second quarter of last week's win at Chicago.
This his third training camp, which places him squarely at the now-or-never juncture of his career. So far, Bibbs is playing like he belongs in the NFL.
"I think Kapri is a different kid," Kubiak said. "He sees an opportunity and he's taken advantage of it so far."
As with Bibbs, one area of dramatic improvement for the Broncos' fourth-round pick is in his decisiveness at reading the seams as they flash open and then sprinting through them.
"He's doing well. He stepped up. He just has to finish," Offensive Coordinator Rick Dennison said. "He goes up there and there is no lack of courage. There is no problem with that. He knows what he's doing. He seems to be on the right page with everything that we did. It's just a matter of his technique and finish."
That's where Running Backs Coach Eric Studesville comes in. Anderson said that Studesville shows video and pictures of Anderson, former Bronco Knowshon Moreno and others handling pass protection to help refine Booker's blocking skills.
"We really just let him know that these players (pass rushers) are only going to have certain moves, and it's how you take those moves away that will make it easier for him," Anderson said.
With Vance Walker on injured reserve because of a torn anterior cruciate ligament in his right knee, Crick has had to step forward out of necessity. He had a strong pass-rushing game last week against Chicago and helped the defensive line weather the absence of Derek Wolfe on Thursday; with him and Darius Kilgo working as the defensive ends, the line still got a consistently strong push against the 49ers' first-teamers.
Crick's best asset has been his experience in the scheme; he played under Defensive Coordinator Wade Phillips for his first two seasons in Houston, and worked with Defensive Line Coach Bill Kollar for his first three campaigns.
"When we first had him, we got him as a rookie, but he's an experienced player that has learned how to use his quickness," Phillips said. "He's very quick, he's very agile and he's real smart. He does all of those things well and he's comfortable in our defense."
In the last two weeks of training camp, Doss intercepted six passes. He added a pick of Brian Hoyer in the 22-0 win over Chicago on Aug. 11. His coverage has been sound, but his ballhawking play has jumped off the charts and allowed him to stake a claim to a roster spot in perhaps the NFL's deepest group of cornerbacks.
"Ever since I came to the NFL, started playing with these guys and competing my first year, it slowed down. This year is even slower," he said. "I'm working my technique and I know what the coaches expect. I know what the players expect."
And he knows what to expect from the receivers and quarterbacks he faces and studies, leading to his repeated interceptions.
"Guys that know what they're doing, doing the right things and playing the right techniques aren't lucky, they're in the right place because they're playing well," Phillips said. "He's had a really good camp."
The undrafted rookie still needs to work on his overall strength, Kubiak said Wednesday, reiterating a point he made during OTAs. His route-running and pass-catching abilities are already there, and he has capitalized off the first-team repetitions he's received since the start of OTAs because of injuries at the position.
But his biggest challenge will be in the weight room.
"He's got a long way to go from that standpoint. That's his issue right now," Kubiak said. "He's had to become more physical. He runs good routes, he's smart and he does all of those things well. He's playing well for [Special Teams Coordinator] Joe [DeCamillis], but can he get a little bigger? Can he hang on to it and become a better athlete at a later stage in his life? That's what he's working on."
Throughout training camp, Latimer has looked like the prolific pass catcher and dependable downfield blocker that he was in a college career at Indiana that made him a second-round pick in one of the deepest years for draftable wide receivers in recent history.
With the ability to make plays on a variety of routes -- from go routes up the sideline to quick slants and drags across the middle -- Latimer has become a multi-faceted threat and staked a claim to being the No. 3 receiver behind Demaryius Thomas and Emmanuel Sanders.
"I pride myself in knowing what I can do," Latimer said. "I know I have to go out there and do something. I'm more focused this year than ever. I'm determined. I know I'm not going to lose when I get out there."
As with almost any young player, consistency has been an issue for Lynch. But in terms of going through his progressions, making quick decisions -- particularly in escaping pressure -- and using his arm strength to squeeze the football into tight windows, Lynch has made palpable progress and shown signs that he will blossom into a quality starting quarterback.
Although Lynch has had some inconsistent moments in team and seven-on-seven periods, he has fared better in move-the-ball, game-simulation periods and against different opposition. He went 6-of-7 against the Bears and was effective at escaping the pocket and taking what the 49ers gave him the last two days; only an interception on a deep post route -- basically an "as good as a punt" play -- sullied his work in the joint practices.
"I'm really impressed with our young quarterback, the way he's practiced [against the 49ers]," Kubiak said. "I think he's gotten better. He's getting faster in what he's doing."
With Shiloh Keo facing a two-game suspension, the Broncos will need their young depth at safety to come through, and Parks has shown signs that he should be up to the task. He capped his training camp with a red-zone pick of Lynch on Monday and a tip-drill interception of Jeff Driskel three days later.
With a nose for the football and his ability to rush the passer -- shown with a sack against the Bears last week -- Parks should have a bright future; he is aggressive in the box, but not a liability in coverage.
The undrafted rookie made an early impression with his quickness and heady play. He already does a good job getting his arms up to try and deflect passes, and his quickness off the snap has allowed him to quickly establish position and work his way through and below offensive linemen to break into the backfield.
Walker's torn ACL will mean more opportunities for the nose tackles to work at the 3- and 5-technique spots, and could give them additional work in pass-rushing situations. This means additional repetitions for Sylvester Williams, Darius Kilgo and Peko. Kilgo and Peko are currently listed as the co-No. 2 nose tackles, and if Peko sticks on the 53-man roster, he could see rotational work right away.
Ray's stellar performance and consistent disruption off the edge comes as no surprise, as he built off the momentum established during OTAs and in offseason conditioning, when he focused on lean muscle and grew stronger.
In addition to his dominant play off the edge, Ray has also become better against the run, displaying increased strength at the point of attack and discipline in pursuit. He is rarely caught out of position, and his persistent pursuit has helped him corral runners from behind.
His vision and balance on kickoff and punt returns has helped him earn a long look in both areas, and his work as a slot receiver, route-running and willingness to wade into traffic to make tough catches has earned him notice.
Raymond remains in the thick of a competition with fellow rookie Bralon Addison, who should also get some work on kickoffs and punts this week and had a good week on offense, showing blinding speed on a bubble screen that went for a long gain.
With steady play that belies his lack of regular-season experience, command of the offense and his steady improvement at incorporating deep passes into his smooth, controlled game, Siemian's bid to earn the starting quarterback's slot has been one of the storylines of the summer.
"There's just more consistency," Dennison said. "He really understands what he's supposed to do and how he's supposed to do it. That translates to consistent play and performance out there. I think that's what he's given us."
Siemian will start against the 49ers on Saturday and is expected to work with the first team into the second quarter, although the play count will determine his playing time more than the game clock.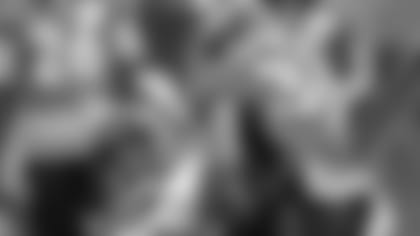 With an interception of 49ers QB Blaine Gabbert during the team move-the-ball period Wednesday, Simmons continued a strong camp that saw its signature play come when he stripped Garrett Graham of the football during the Aug. 5 practice.
Simmons started against the Bears and lined up all over the defense, including as a deep single high safety and in the box. He is in line to see plenty of action as the No. 3 safety in the dime personnel/nickel alignment sub package, filling the vacancy created by David Bruton Jr.'s free-agent departure for Washington.
"Justin's had a really good camp," Kubiak said. "He's becoming a pro very quickly. He's very bright, so he'll be a big part of what we're doing."
In a way, no veteran player had more riding on this training camp than Weems, who spent two months on the Broncos' practice squad in 2012 but had spent most of the last four seasons with the Dallas Cowboys as a reserve offensive tackle.
This was Weems' fifth professional training camp, yet to this point he had played in just one regular-season game -- in which he saw just two snaps, both on special teams. He was running out of time, and chances.
Then Kubiak, Dennison and Offensive Line Coach Clancy Barone gave Weems a shot at guard. The opportunity came in the wake of Sambrailo's elbow injury and with Michael Schofield having to work at left tackle while Russell Okung got up to speed.
"Weems had a chance and he took advantage of it. He's played really well," Kubiak said. "He's staying there right now and we'll see how he does."