DENVER — A new walk-through metal detector security system is being installed at Sports Authority Field at Mile High to improve the safety and convenience for fans attending all major stadium events.
The new system was installed prior to the Broncos' preseason home opener against the San Francisco 49ers and will continue to be utilized Thursday night against the Cardinals and throughout the regular season.
"The new metal detector system will allow fans to enter Sports Authority Field at Mile High faster and more efficiently while being much less intrusive than security methods used in the past," Assistant General Manager of Sports Authority Field at Mile High Scott Bliek said. "Our goal is to increase safety and reduce lines for all fans attending events at our stadium.
"As these new security procedures are being implemented, we are asking fans to plan accordingly and allow plenty of time to enter the stadium and get into their seats prior to kickoff."
In response to fan requests to improve the screening process to enter the stadium, a total of 93 walk-through metal detectors will be in place at all gates of Sports Authority Field at Mile High, replacing the hand wand and pat-down systems that have been in place the last four years. The metal detectors, which are currently used at Coors Field and Pepsi Center in Denver, will also be fully implemented by three other NFL stadiums this year (and will be mandatory for all NFL stadiums beginning in 2017).
"The reason that we're really going to this technology -- which will be the third building here -- is one, to increase the security of the building for our fans when they're here," Bliek said. "And the second reason is to increase the flow of people being able to come into the building. We've heard from the fans over the last few years through our NFL fan survey conducts is that they hate the intrusiveness of the screening process and that they don't like the amount of lines that they have to wait through. With this process, we let the machines do the work instead of letting the man-power do the work. We should be able to speed the process up as they come into the building on game day and enhance the experience that they have when they come to the building."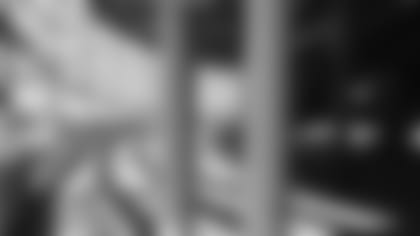 The metal detectors, referred to as magnetometers (mags) in the security industry, are similar to those used by TSA officials at airports. Unlike airport security checkpoints, however, fans will not need to remove shoes, belts, coins, watches, wallets or jewelry.
"The league has made this into one of our best practices," said Bliek. "All of these walk-thrus that we've installed here in our building are going to be mandated by the league for everybody at the start of the 2017 season. We've chosen to start now and get ahead of the curve. We think it's going to be a better experience for our fans. Why wait to go through two more seasons to make the jump?"
Fans that have medical conditions or are otherwise unable to pass through the metal detectors will be screened through other methods.
In addition to this new security system at Sports Authority Field at Mile High, the NFL's bag policy remains in effect for all stadium events. Fans are encouraged not to bring any types of bags to the stadium. Listed below are the styles and sizes of bags that are permissible:
Bags that are clear plastic, vinyl or PVC and do not exceed 12" x 6" x 12." (Official NFL team logo clear plastic tote bags are available through club merchandise outlets or at nflshop.com).
One-gallon clear plastic freezer bag (Ziploc bag or similar).
Small clutch bags, approximately the size of a hand, with or without a handle or strap, may be carried into the stadium along with one of the clear bag options.
An exception will be made for medically necessary items after proper inspection at a gate designated for this purpose.
Prohibited items include, but are not limited to: purses larger than a clutch bag, coolers, briefcases, backpacks, fanny packs, cinch bags, luggage of any kind, computer bags and camera bags or any bag larger than the permissible size.