ENGLEWOOD, Colo. --It seems logical that the notion of a "chess-piece" player should not be confined to offense. Rather, the concept can also apply to the defensive players who are schemed and used to counter the blizzard of routes run by potential pass-catching targets in this air-centric era of pro football.
Su'a Cravens can be a chess piece.
Bigger than most safeties, lighter than most linebackers, but with the speed to cover running backs and the size to hold his own against tight ends, Cravens boasts a skill set and a collection of physical attributes that makes him uniquely suited to provide a defensive response to the evolution of offensive football.
"I'd have to thank the Patriots for that," Cravens said, "because you go against a team that goes five-wide, and three of the five wide are tight ends, you can't put a nickel back on a tight end, because it's a jump ball, and it's big-boy football right there. It's a mismatch the entire game.
"You can't have the big, run-through-wall linebackers that can't guard out of the backfield, because the running backs are getting shifty and they're starting to use them a lot like receivers -- look at Cleveland with Duke Johnson, look at the Patriots when they had Dion Lewis and Danny Woodhead. So it's nothing new. It's always been a matchup plan."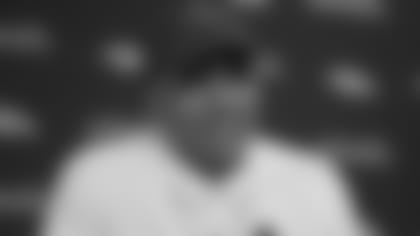 It's nothing new, except that defenses have a better understanding of how to use Cravens, who might have been labeled a "'tweener" in previous decades but has a sound, secure role in a defense now -- that of a coverage-first player who can prevent running backs and tight ends from running roughshod through the back lines of defense.
"I think guys like me, and a guy that you previously had, T.J. Ward, he was one of the best to do it, [Arizona's] Deone Bucannon, you need guys like that on your team to be able to stay on the field all three downs so that they can cover those guys," Cravens said, "because if they don't, it's going to be a mismatch on every play."
In the short term, he is likely to be used as a linebacker in the Broncos' sub packages, filling a role that was handled by Ward during the 2015 and 2016 seasons when the Broncos used six defensive backs.
Prior to his season out of the sport, such a role would not have interested Cravens; he saw himself as a strong safety, pure and simple. But a year away infused a new appreciation for the game.
"This is one of the things I was saying: My love for the game and my personal feelings for it affected the way that I handled things," Cravens said. "So if you asked me last year, I'd tell you, 'No, I'm not a linebacker. I don't like the position. I don't know why I'm playing it, but I'll just do it.'
"But now, for me, if they want me to play linebacker, I will play linebacker. If they want me to blitz and take on guards and tackles and get off double-teams, I will do whatever they need me to do. So I feel like I'm a strong safety, but I realize that I also have a skill set that suits the 'backer position."
Eventually, he could play his way into a role as strong safety. He will have time, as he is likely to be younger than much of the Broncos' draft class with three years left on his rookie deal.
"I don't feel like I've reached my ceiling. I don't think I've even scratched the surface," Cravens said. "I'm only 22 years old, so I think the Broncos are basically getting a rookie that has NFL experience. I just can't wait to go out there and show them that I'm an open book, I'm ready to learn, and I'm ready to take on any challenges that they present me."