DENVER —** It all started with an entrance.
Emmanuel Sanders preaches, "Look good, feel good, play good," and he arrived at Sports Authority Field at Mile High to face the Texans covered head-to-toe in Western attire, sporting his best Butch Cassidy costume.
The confidence displayed in his entrance continued into Sanders' play, sparking the Broncos offense, which had become stagnant during the team's two-game losing skid.
He played a hand in four of the Broncos' five scoring drives Monday night despite never reaching the end zone himself.
His 15-yard reception at the beginning of the second quarter queued the Broncos' first first-half touchdown since Week 4 vs. the Buccaneers.
Once he was reminded of just how powerful this offense can be, Sanders wouldn't be stopped.
The wide receiver walked into the huddle on the Broncos' ensuing drive and exhorted the offense to "act like [they] were in a bar fight."
"He said, 'Just go out and fight like it's your last. Act like we're in a dog fight.' The next thing you know, he came up and made a play," Demaryius Thomas said.
The following play, Sanders broke free for a 29-yard reception off a perfect dime from quarterback Trevor Siemian. It could have been the wide receiver's fourth touchdown of the year, but the yin to his yang couldn't get a hand on cornerback Kareem Jackson. Instead, Thomas got the touchdown three plays later.
"You know I had to give D.T. a hard time," Sanders joked. "Like 'Hey man, did you do that on purpose?'"
"I kind of messed it up because I didn't block on that one play, Thomas said sheepishly. "He came running down the field and I couldn't get to my cornerback in time."* *
But it didn't matter. Thomas scored shortly afterward, and the Broncos scored touchdowns on consecutive possessions for the first time since Week 3. Everyone was happy.
"You've got to have them," Siemian said about Sanders' deep ball. "It's tough to just go four yards, four yards, and do it that way. Him, D.T. — those guys are going to make plays for us. You've just got to give them a chance."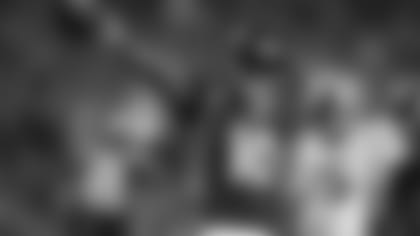 The offense's rejuvenation stemmed from Sanders' confidence, and the Broncos' offense finally began to resemble the balanced attack displayed in the first four games of the season. The team finished the game with a season-high 190 yards rushing, more than the last two games combined (168).
"If we would've lost this game, we would've been 0-3. That couldn't happen," Sanders said. "If we're going to be the caliber team — and that's winning a world championship — we've got to go out and get back on the same page. We did that."
Understanding what it takes to be a champion fuels Sanders' confidence, 10-gallon Cowboy hat and all, and it's exactly the type of confidence that this Broncos' offense needed to remind itself of just how dangerous it can be.