BOCA RATON, Fla. -- **The recent additions of Russell Okung and Donald Stephenson were not solely about upgrading the Broncos' play at offensive tackle; they were about making the entire line -- and the offense with it -- better.
"Those two bookends are a great starting point for us," Executive Vice President/General Manager John Elway said between sessions at the NFL Annual Meeting on Monday. "We knew that's where we had to get better -- especially on the offensive side."
Okung projects as the left tackle, with Stephenson slated to work on the right side.
"Donald, coming in from Kansas City, who we have a great deal of respect for, is a big, young guy that has got a lot of athletic ability. We think he's got a tremendous amount of upside," Elway said.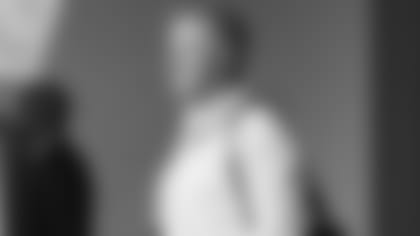 "And Russell, coming in from Seattle, where he's been a part of a world-championship team, and a winning culture up there. So we're fortunate that he can come in and be penciled in at left tackle right now. Obviously he's got the shoulder that we think is going to be healthy and fine by the time we get to training camp."
By locking down the tackle spots, the Broncos have options on the inside, with 2015 draft picks Ty Sambrailo and Max Garcia flanking center Matt Paradis.
"It gives us a lot of flexibility with the young guys with Ty and Max and Paradis at the center, and [Michael] Schofield, we can do a lot of different things," Elway said. "So it gives us a lot of flexibility, plus, going into the draft, we'll see if we can bolster that position, also."
Flexibility is crucial not just in the starting five, but in figuring out how the depth on the line will shake out. Sambrailo was regarded by some teams as much as a guard prospect as a tackle when he was in the draft process last year.
Schofield, in addition to being a swing tackle option behind Okung and Stephenson, can also fill in at left guard, a position he manned at the University of Michigan; he has seen some practice work there as a pro.
The starting experience of those three young linemen give Head Coach Gary Kubiak reason for optimism, as does the season-long improvement of Paradis and Garcia.
"We've got a leader up front in Paradis. We've got Max coming back; we think he's got a chance to be a great player," Kubiak said.
"We need to improve from that standpoint. I think John has taken the steps to give us the opportunity to do that. But we'll get back to work, and those guys will be a big part of what we're doing."
Executive Vice President of Football Operations/General Manager John Elway and Head Coach Gary Kubiak are in Boca Raton, Fla. for the NFL Annual Meeting. (Photos by Andrew Mason)