ENGLEWOOD, Colo. --For now, the Broncos will maintain status quo on the offensive line and will not add eight-year veteran Jake Long to the group.
The Broncos had the four-time Pro Bowler in for a visit Thursday.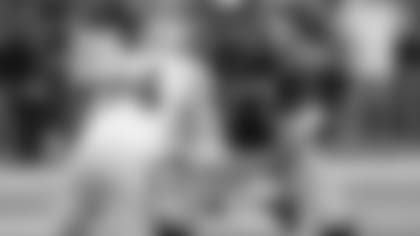 "We're doing our homework on it and we're going to continue to do that," said Executive Vice President/General Manager John Elway. "We'll continue to look at all our different options through training camp and as we go.
"With his reputation of what he was as a football player, we wanted to bring him in and see what he looked like. At this point in time, we're not going to make any moves. But we wanted to do that to kind of stay ahead of it. I'm never counting anything out."
But for the moment, the Broncos will go into training camp with a first-team offensive line of left tackle Ty Sambrailo, left guard Ben Garland, center Gino Gradkowski, right guard Louis Vasquez and right tackle Chris Clark. However, there will be some movement early in training camp, particularly at the tackle spots.
Kubiak said that Clark would work at right tackle "for right now," but that Clark would see some work on the left side, where he started 17 games in the regular season and postseason of 2013. The other tackles will also move around as the Broncos attempt to determine their answers not only at the starting spots, but at the swing backup position.
"There's going to be various things going on with him and Ryan [Harris] and Ty," Kubiak said.
The progress of second-year tackle Michael Schofield also had an impact. Schofield started at right tackle at Michigan, and saw some work on the left side during OTAs.
"When he [worked on] the right side throughout the offseason, I think he performed better over there. I think he was more comfortable over there," Schofield said. "So for us to get those reps, everybody's got to move around.
"I think for the first couple of weeks here, we're going to be pretty aggressive with our movement of people, and taking a look at guys at various spots before we start to settle down, but I think he's going to have to do both."
No matter what happens, the Broncos will have an offensive line filled with newcomers. At least three positions will be manned by players who did not start once for the team last year.
"We are going to be very young up front. There's nothing wrong with that," Kubiak said. "And if we can get it right and get it coached up right and get in the right direction, it gives you a chance to be very good for a long, long time. But we are going to have some youth up front, we know that."