ENGLEWOOD, Colo. -- **Brimming with confidence after being the Broncos' first free-agency target of 2016, a "ready to go" Donald Stephenson believes he will be a "perfect" fit for the team's zone-based blocking scheme.
"The zone scheme -- I'm really good at that," the 6-foot-6, 307-pounder said after signing his three-year contract Thursday.
He projects as a tackle, and said that's where coaches have told him he'll play. He's lined up at left and right tackle and has positional flexibility to go inside if needed.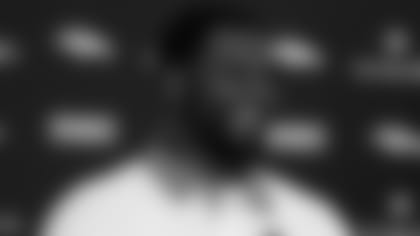 "I'm pretty versatile. You know how the season goes -- a lot of injuries," he said. "I can play guard, I can play left [tackle], I can play right [tackle]. I'm ready to go."
And he was ready to be plucked off the market quickly. He said "13 to 15 teams" expressed interest in him before he agreed to terms with the Broncos just hours after the new league year began Wednesday.
Stephenson doesn't yet know which quarterback he will be protecting, and he did admit to pondering that issue.
"I put a little bit of thought into it," Stephenson said. "But I feel like anytime you've got a [general manager] that you do here, quarterbacks are going to come running. I'm not worried about that. I'm pretty sure they're going to find somebody that can play."
Stephenson's departure from the Chiefs means he will leave his hometown -- and the team for which he grew up cheering.
"I spent my whole life there. It's time to move on," he said. "I love everything about it; I enjoyed my time. I just need something different. This is the perfect place.
"I thought it was going to be tough, but I'm getting around here, and it feels like home already. I love everything about Kansas City, but right now, I'm a Denver Bronco."
In the hours before Stephenson signed his deal, QB Brock Osweiler, ILB Danny Trevathan and DE Malik Jackson all held their first press conferences with their new teams after leaving the Broncos for contracts that included a reported $80.5 million in guarantees. RB C.J. Anderson also received a restricted free-agent tender from the Dolphins that the Broncos now have five days to match.
But in spite of the personnel losses, most of the starters from Super Bowl 50 are expected to return, including nine of 11 starters on the league's top-ranked defense and both of the Broncos' recent Pro Bowl wide receivers.
The cupboard isn't bare, and Stephenson knows it.
"I just want to join the party, man. I'm excited," he said. "A year right after the Super Bowl, I get to be a part of something special, maybe do it again. I'm excited."
During his first trip to the UCHealth Training Center, tackle Donald Stephenson signed his contract, met his coaches and John Elway, Executive Vice President of Football Operations/General Manager, before meeting the media.