Demaryius Thomas doesn't speak up often, but when he does, people pay attention. 
But more often than not, Thomas lets his play speak for itself.  
When the Broncos fell down a touchdown to the league's best passing offense late in the third quarter in a Week 10 battle with the Saints, Thomas' play spoke loud enough to quiet the Mercedes-Benz Superdome. He outmuscled Saints cornerback Delvin Breaux to pull in a crucial score on third down 2 yards from the goal line. The wide receiver's celebratory spike struck the turf with such intensity that it flew into the stands. The spike served as an exclamation point and as a reminder of the kind of player Demaryius Thomas is. It also seemed to represent a wake-up call to his teammates — his way of showing rather than telling.
"He is a captain of this football team," Head Coach Gary Kubiak said following Thomas' performance. "When he plays with that type of emotion and that type of fire and he's making those plays, usually good things are happening for our team."
This is the time of year the seventh-year veteran usually turns up his intensity. The sense of urgency as the playoffs loom ignites a fire in the wide receiver's performance. Thomas holds the Broncos' record for most receptions and touchdowns in the postseason and is second all time for the most receiving yards in the playoffs in franchise history.
"Closer to the playoffs, we get to playing better football," Thomas explained after the Saints' victory. "It's about that time."
The wide receiver's Week 10 performance acted as a signal to this young offense, which currently features a rookie running back and a first-year starter in quarterback Trevor Siemian, that it's time to round into playoff form. It was the quiet workhorse's way of saying what needed to be said without saying anything at all.
"I don't speak much," Thomas said with a shy smirk. "When I do, they're surprised."
"Everybody's different," defensive captain DeMarcus Ware explained. "I know all the guys on the team and all their different personalities. He's just one of those quiet guys that always does the right things and just leads by example. He's not one of those rah-rah guys."
"He's been like that since day one," Von Miller added. "If he's going to speak, he's going to speak on something that's true and right and needs to be talked about. That's why everybody respects him."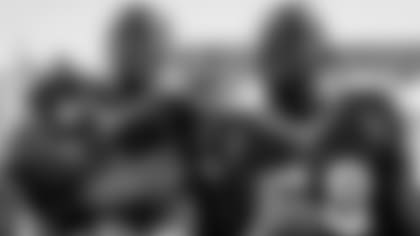 Part of the reason why Thomas is so respected is because of his consistent work, dedication and the level of success he's reached. He's the longest tenured current Bronco and has quietly climbed up the record books in nearly every receiving category. His name rests beside Broncos all-time receiving greats Rod Smith, Shannon Sharpe and Lionel Taylor. He's the fourth player in Broncos history to record 500 receptions, and the second fastest to achieve this feat. He holds the franchise record for most 100-yard receiving games (33) and the most receiving yards in a single-season (1,619 yards in 2014).
"Just the slow and steady progression into a legend," Von Miller answered when asked what was different about Thomas this year. "You can tell at the end of the race he's going to be a legend."
It's this slow and steady progression, this consistency, that makes Thomas such a rare receiver outside of his physical attributes. The 2016 season may not be his best statistical season to date at this point entering Week 12. However, Thomas is still on track to record his fifth consecutive 1000-yard season, which would join an elite club of receivers: Marvin Harrison, Jerry Rice, Randy Moss and Denver's very own Rod Smith. If he reaches 1,300 yards, he will join Torry Holt as the only receivers to accomplish that feat for five consecutive seasons.
This year, Thomas faced new adjustments with a young quarterback in Siemian, but another year in Kubiak's offensive system has provided Thomas the stability to help the offense's younger players.
"I think you just see comfort, and you see him being more of a mentor to a lot of guys because his position here is solidified by what he does," Ware said.
This comfort comes from a balancing of his family life and his football life. By signing a long term contract in 2015, Thomas secured stability in his career. And with his mother and grandmother's prison sentences commuted in 2015 and 2016, respectively, his family has been reunited for the first time since he was 11. With so much uncertainty resolved, Thomas' full focus could be on the game he loved.
"Last year, I was coming off not being at OTAs and training camp and then getting [my mom] home," Thomas said at the end of training camp. "So, it was a little emotional here and [with] ups and downs there not being able to be a part of the offense. But now, it's just ball time … It's all about football now."
Thomas and the young Broncos offense fought to find its consistent identity early in the season. After two games with no receiving touchdowns to either of the starting wide receivers, Thomas and Emmanuel Sanders felt the frustrations that came with a passing attack still finding its footing. 
The following performance was as much a statement as Thomas' spike in Week 10 against the Saints. Thomas and Sanders each finished with more than 100 yards receiving against the Bengals in Week 3, the sixth time they've done so since 2014 — the most in the NFL in that time by any receiving tandem.
These sparks of life from the most productive receiving duo in the NFL demonstrate the vast potential of this offense. When the ball is in their hands, good things tend to happen. Despite the occasional offensive struggles, the duo is the only in the NFL to rank in the top 20 in receiving yards.
"My confidence is sky high," Thomas said of playing alongside Sanders. "It's pick your poison. Either go me, or go Emmanuel … He pushes me. I push him back. We want the best for each other and we're just going to out and compete."
"It's like playing with my brother," Sanders added. "So far, the past two years, we've been the top duo in the National Football League. It's definitely been a great journey in playing with him, achieving and attaining goals. Being able to play alongside him and knowing that sometimes he takes on double coverage so it allows me to get open to try and take some pressure off him, but also get the ball. I really enjoy playing with him."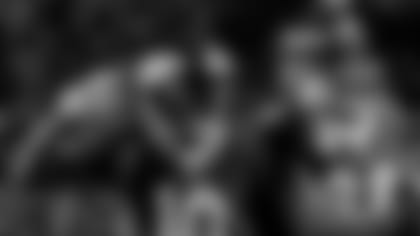 With 2015 behind him, it's a new year for Demaryius Thomas, but the standard that's earned him status as a Mile-High legend still lights a fire inside.
"You always want to be the best, you always want to compete. You want to always be the guy that somebody's talking about as a group or team," Thomas said. "It's about every week, every year out trying to be better because there's always somebody younger, faster that can go out and do the same thing you do."
The Broncos' final stretch of the regular season is easily its hardest. According to ESPN's Football Power Index, the Broncos' final five games is the toughest remaining slate in the league, as two of the five remaining games are against the Raiders and the Chiefs, the other two teams leading the charge for the AFC West title.
It's those games where players become legends, and the Broncos need Demaryius Thomas to play like the legend he's devoted to become.