ENGLEWOOD, Colo. -- **With the exception of Head Coach Gary Kubiak and his offensive staff, perhaps no one with the Broncos has a better perspective on rookie Ty Sambrailo's development at left tackle than outside linebacker DeMarcus Ware.
From the moment that Ryan Clady's torn anterior cruciate ligament pushed Sambrailo onto the first unit at the offensive line's most vital position, the Colorado State product has dealt with one of the league's best pass rushers in his face, play after play.
A rookie against an eight-time Pro Bowler and four-time All-Pro. Few members of the 2015 draft class must endure as rigorous a daily examination as the one Sambrailo faced.
And the improvement that Ware has seen offers tangible hope that Sambrailo will be up to the task of protecting Peyton Manning's blind side when practices turn into games and the no-contact-on-quarterbacks edict is tossed aside.
"The first day I went against him, you know, a rookie's going to be a rookie," Ware said. "But he's getting a really good comfort level in his play …
"For him to pick up the offense and know what's going on, but also be able to be effective and have the confidence that he's had, I really compliment him on that."
Further, Sambrailo has displayed feistiness and tenacity against Ware that should serve him well.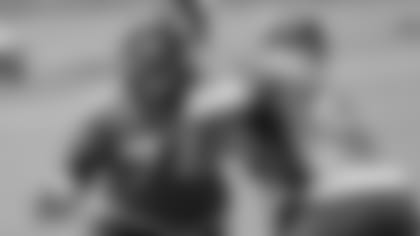 "We actually had a little scuffle in practice," Ware said. "He's waking up. His aggressiveness is coming out. That's what it's about. When you're playing that left tackle, you've got to let guys know that you're that cornerstone of the offense. That's what he's doing.
"He's doing a great job."
Tight end Virgil Green is optimistic that the new-look line can be up to speed.
"I think we have a lot of smart guys that are buying in. They're studying," Green said. "Rico [Offensive Coordinator Rick Dennison] comes in and asks them questions. Guys are getting the questions right. So that means that they're truly studying, because as long as you're prepared in that aspect, we'll be able to get the job done."
The Broncos donned helmets again to open the last phase of OTAs and make their final impressions before training camp in July.