ENGLEWOOD, Colo. --Do you remember the defense of the 2000 Tennessee Titans? How about the 2003 Dallas Cowboys? What about the 1991 Philadelphia Eagles -- or the 1981 Eagles, for that matter? The 1999 Buffalo Bills? The 1979 Tampa Bay Buccaneers? The 1989, 1975 or 1970 Minnesota Vikings? Or the 1987 San Francisco 49ers?
If you weren't a player, coach or a fan of those teams, you probably don't recall how great those units were. (Defensive Line Coach Bill Kollar will be happy to extol the ample virtues of the '79 Bucs to you.)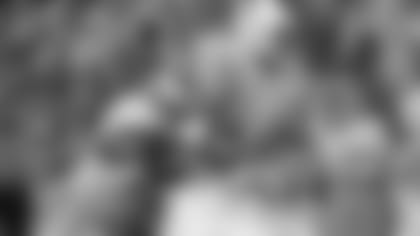 The 1991 Eagles were one of just two teams since the 1970 AFL-NFL merger to lead the league in total defense, passing defense and rushing defense. With Reggie White, Jerome Brown, Clyde Simmons, Seth Joyner and Eric Allen at the apex of their powers, they were a tough, physical unit that allowed just one team to gain more than 300 yards.
But they sit in the dustbin of history because injuries wrecked their quarterback position. They used five different quarterbacks (Brad Goebel -- Brad Goebel! -- started twice and mustered a 27.0 quarterback rating by throwing no touchdown passes and six interceptions) and forced them to cycle through before Jim McMahon was finally able to get healthy and guide them on a six-game winning streak that proved to be too little, too late as they missed the postseason on a tiebreaker.
The 1975 Minnesota Vikings were the league's best defense from start to finish that year, but were doomed by a lapse at the worst possible time: the "Hail Mary" pass they allowed to Dallas' Roger Staubach and Drew Pearson in the divisional round. That was the most powerful Vikings team of the Purple People Eaters era, and it fell short, never having the chance to change the 1970s Vikings reputation.
The 1999 Bills? Until now, that might have been the best defense Wade Phillips ever guided. First in total defense, first in passing defense and fourth in rushing defense, they didn't even have a first- or second-team All-Pro selection, but they held five teams to single digits in the regular season. But that unit is also lost to history because of a Music City Miracle that will forever be shrouded in doubt while raising blood pressure and anger in Western New York.
But you might remember the 1985 Chicago Bears. You definitely recall the 2013 Seattle Seahawks. The memory is probably pretty fresh for the 2002 Buccaneers, especially because their secondary Lynch-pin eventually finished his Hall-of-Fame-worthy career with the Broncos.
That's what the Broncos defense is fighting for in the coming weeks.
All of those teams had defenses that led the league in total defense, and either rushing or passing defense -- just like the 2015 Broncos, who are No. 1 in total defense and against the pass.
If the Broncos can establish their place in history, what happened Friday with the relative lack of All-Pro recognition will not matter.
Outside linebacker Von Miller earned first-team honors. Cornerback Chris Harris Jr. was a second-team choice. Both are worthy.
But for a defense as dominant as Denver's, it seems they were a bit shortchanged.
"I'm surprised that the No. 1 defense and pass defense didn't get somebody in the secondary [on the first team]," Phillips said. "I understand that we led the league in sacks, so Von's up there and recognized, but I'm surprised that we don't have one or two corners or even a safety as a [first-team] All-Pro.
"We had linebackers and D-linemen. We gave up the least yards per rush in the league, gave up the least yards per play and the least yards per pass. I thought we'd be represented a little more than that. That's the voting of the media."
It's also not that unusual.
Pittsburgh led the league in total defense and passing defense three years ago, and didn't have a single first- or second-team All-Pro selection. San Diego did the same in 2010, and only mustered safety Eric Weddle on the second team.
But they were still rankled.
"I mean, we have the No. 1 defense in the league in many categories and we have a lot of players that are excellent," said ILB Brandon Marshall, who earned an honorable-mention All-Pro nod. "We've got two All-Pro players. It's a shame. It's a travesty."
Added Harris: "Having the No. 1 defense and No. 1 pass defense and only getting one [first-team] All-Pro, that's very suspect right there."
But All-Pros aren't going to define this defense's legacy. The coming weeks will.
This is more than just a shot at a world championship. It's an opportunity for the Broncos to separate themselves from the rabble of great, but forgotten defenses, and join the pantheon that lingers forever in league annals.
"It's huge. We want to win the Super Bowl, and that's our main goal," Marshall said. "If we become one of the best defenses of all time, that comes with it. But we definitely want to win a Super Bowl."
Whether the Broncos get there will determine where this defense ranks in NFL annals -- whether they are one of many, like the first group of teams mentioned on this page, or one of a few, like the second.