ENGLEWOOD, Colo. –After Saturday's practice, linebacker Shaun Phillips took to Twitter to apologize to Broncos fans for what he called "not his best practice."
Sunday, Phillips and the rest of the Broncos' defense turned the page and enjoyed one of their best collective outings of training camp thus far.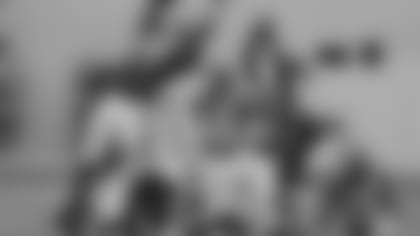 "We're going to continue to try to get better and get to the point where everyone's pleased, everyone's satisfied, and everyone's happy," Phillips said after Sunday's practice.
Duke Ihenacho and Danny Trevathan intercepted passes while Chris Harris Jr., Tony Carter, Omar Bolden and even Terrance Knighton broke up others.
"That's our goal as DBs, to get turnovers – whether it's interceptions or stripping the ball," Carter said. "That's what guys do in this league, so we try to feed off each other. If someone else gets one, it's like a competition between us."
The battle between Harris and wide receiver Wes Welker has been a captivating one through the first four practices of camp.
On Sunday, it was Harris' turn to get the upper hand during the majority of their one-on-one matchups.
"Wes is going to compete and I am going to compete every day," Harris said. "It was just my day today. That is just how it goes when it's two great players going against each other. He has his days and I have my days. We are going to be well prepared once the season comes."
Trevathan's interception came in the end zone in coverage of running back Montee Ball, who was lined up as a wide receiver on the play. The linebacker cut in front of Ball and skied in the air to grab the ball at its highest point.
"I know teams like to do that – spread them out and work on the innocent linebacker out there, but we don't have any innocent linebackers here," Trevathan said. "We're all hard workers and we're going to lock it down."
After the play, Trevathan's defensive teammates swarmed the second-year player in celebration.
"I was just out there celebrating," he said. "I was in the moment I don't even remember what was going through my mind. I just know I wanted to get up and score."
As the defense enters its second season under Defensive Coordinator Jack Del Rio, the players are more comfortable with the calls. That comfort level showed during Sunday's practice as defenders were flying all over the field to break up passes.
"We're a year under the system, so we're communicating a lot better," Carter said. "We're just getting used to playing with one another and I think the communication and just feeding off each other is getting a whole lot better. I think we're a step further than where we were last year."