DENVER --Monday night, wide receiver Eric Decker and his wife Jessica got to combine a few of their favorite things in the name of charity.
"We're, I guess, big winos, and we're able to basically have a social event with our own wine and auction money to a great cause -- Deckers Dogs, which is something we just started recently," Decker said. "To raise money and to raise awareness is our big focus."
The second annual Uncork for a Cause event was held at the Four Seasons Hotel Denver and featured the release party for the Deckers' wine to benefit Freedom Service Dogs through the couple's foundation, Deckers Dogs.
The wine, called Golden, features Eric and Jessie Decker along with their golden retrievers on the label. It's a Napa Valley Cabernet Sauvignon, and most importantly, as Decker said, "It's good."
In addition to the wine release, guests at the event got to enjoy a menu prepared by Executive Chef Simon Purvis along with a silent auction filled with memorabilia from the Broncos and throughout the sports world.
Since the event came on Monday night, there was also a special area at the event to watch Monday Night Football with the Broncos wide receiver.
But the star of the show was the wine and the cause it supported -- Deckers Dogs.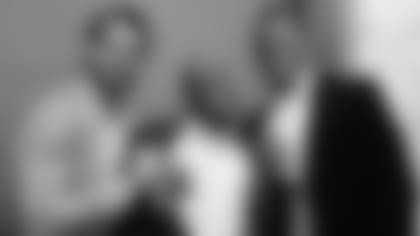 "We've been looking for the last year or so for a charity to do," Decker said, noting that the fit was perfect with "Jess being a military brat" and how passionate the couple is about dogs. "And the program within deals with bullies and at-risk kids, so it kind of encompassed everything that we wanted to be involved with."
Freedom Service Dogs, which Deckers Dogs supports, is a nonprofit that rescues and trains dogs for people with disabilities. The dogs are trained for children, veterans and active duty soldiers and other adults, and they're trained to assist with Autism, Traumatic Brain Injury, Cerebral Palsy, spinal cord injury, Muscular Dystrophy, Multiple Sclerosis and Post Traumatic Stress Disorder.
"We actually graduated one Deckers Dog this past weekend," Decker said. "We get to announce and introduce him to everybody. So that's pretty neat."
A handful of service dogs were at the event with the men and women that they were given to, and a few more dogs in training made their way to the event as well.
"The process of saving a dog to having these kids teach dogs commands and learn basic communication and confidence, and then serve these military veterans who have come back after serving us with a dog to help transition them to normal life, make it easier, it's amazing the stories and the impact they make," Decker said.
The event was not only plenty of fun, but served a great cause. And delivered a great turnout -- including teammates Demaryius Thomas and Mike Adams -- for the second year in a row.
"We had a good showing last year. This year, too, if not even more people," Decker said. "It's a chance to catch up with people throughout the community, raise awareness and maybe inspire them to get out and talk about it."