ENGLEWOOD, Colo. --Shoulder pads went on as the Broncos took an incremental step toward full-contact play beginning Monday. What jumped out?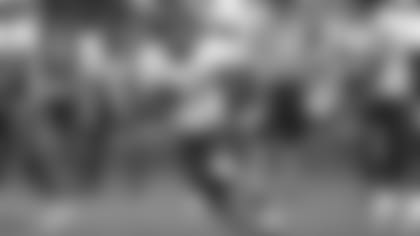 1. JORDAN TAYLOR, STILL TURNING HEADS.
Now playing the role of camp stud wide receiver ... Jordan Taylor.
If you've been around training camps for a while, you know the drill. A young new wide receiver emerges from a thicket of prospects as a favored target of the quarterbacks. He gets open. He catches everything in sight.
Why, then, might Taylor be different? We'll get to that. Of course, he looks different; you can't miss the sandy-haired locks that cascade from beneath the back of his helmet. That led to a tired nickname: "Sunshine," a moniker that has not sounded original since the brief period when "hanging chad" meant more than just a third-grader dangling from a pull-up bar.
"It's probably the hair," mused Taylor. He's not the first Broncos prospect who turned and answered when a teammate yelled, "Sunshine," because QB Bradlee Van Pelt was often called that name during his 2004-06 stint. Van Pelt had the same flowing hair, but the similarities pretty much stop there.
Where Van Pelt was in the local spotlight immediately because he was a prolific quarterback at a local school (Colorado State) who seemed to always be at the center of discussion, Taylor joined the Broncos quietly, as an undrafted free agent whose path to the Broncos was cleared by a connection: Head Coach Gary Kubiak's son, Klein, was a teammate of Taylor's at Rice University from 2011-13.
"He definitely kept in contact throughout the draft process and during free agency," Taylor said. "So, I'm sure he had a few good words to say, so I guess I've got to give him a little credit."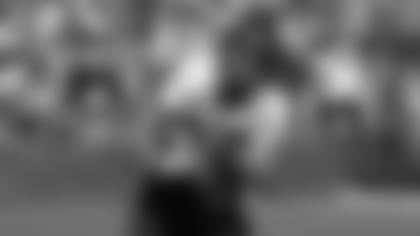 A little, yes, but most of it goes to Taylor himself, and why he stands out.
With 32 3/8-inch arms on a 6-foot-5 frame, he has the dimensions to reach passes that exceed nearly all of the wide receivers in this year's draft class. Taylor would have been the third-tallest wide receiver at the Combine this year had he been invited, and only 12 of the 44 receivers at Indianapolis in February had longer arms.
And then there are the hands. They're not big as far as receivers go; 27 wideouts at the Scouting Combine had bigger ones and 18 had smaller ones.
But size doesn't matter. Taylor's hands are dependable, and plenty capable of reaching out for in-stride grabs of well-placed deep throws, as was the case when he hauled in a pass from Osweiler on a go route Sunday morning.
Taylor streaked up the right sideline, got past Lorenzo Doss and Omar Bolden and easily made the grab. It was a perfectly executed pass play.
"[Wide Receivers] Coach Tyke [Tolbert] has done a good job of fine-tuning my route running," Taylor said.
Taylor's hands must do more than make grabs. They have to block. The ability to get involved in the run game will separate the receivers on the back end of the depth chart.
"They're really harping on blocking in the run game, and I think I've done that a little bit better," Taylor said.
People might call Taylor "Sunshine." But if he can block he'll provide thunder, and if he has more explosive plays, he'll be a bolt of lightning.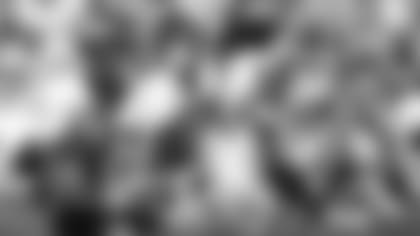 2. MONDAY COULD BE OSWEILER'S TIME.
Kubiak played it coy when asked whether Monday would mark the first of the planned days off for Peyton Manning. But he's always planned to give Manning "every third or fourth day" off from practice, and Monday is the fourth day.
With full pads going on and the contact ratcheting up, it could be the perfect time. Osweiler needs all the repetitions under pressure that he can muster. Running the No. 1 offense just makes them more valuable.
"Anytime that Coach [Kubiak] wants to give me reps with the ones, I'll gladly accept those," Osweiler said.
Osweiler uncorked some gorgeous deep passes Sunday, but he also threw an interception early in practice to Curtis Marsh.
3. BIT BY BIT, THE OFFENSE OPENS UP.
The mistakes on offense remind the coaches that it remains a unit under construction. But throughout the offseason and through the first three days of training camp, there have been big plays familiar to observers who have watched past iterations of this offense, from the Broncos of 1995-2008 (including the three seasons after Kubiak accepted the Texans' head-coaching job) to the 2006-13 Texans and last year's Ravens.
Osweiler's roll-out completion on Friday was one. His deep pass to Taylor on Sunday was another.
"I think any offense, you can find things that work for you, but without question there are a lot of things in this offense that I feel very comfortable with," Osweiler said. "I'm very excited to get out there and run that scheme, so we'll see when the preseason develops.
"I think this offense is a great fit."
But there were more glimpses Sunday of what Manning can do in the offense than in the two previous days.
A good supporting cast helps. Start with TE Owen Daniels. He's expected to receive a veterans' rest day Monday, but he's already done plenty to establish himself as a stabilizing force on the offense.
On the first day, he provided outside seal blocks to spring C.J. Anderson for two of his best runs of training camp to date. Sunday, he helped pick up Derek Wolfe, giving Manning a little bit of extra time to find WR Emmanuel Sanders downfield for a touchdown, beating Aqib Talib on a deep route up the left sideline.
O-LINE STILL IN TRANSITION.**
Although it was impossible to ignore the sight of Ryan Harris on the first team at right tackle Sunday, Kubiak continued to counsel onlookers not to read too much into the day-to-day shuffling along the offensive line given the coaches' desire to see as many combinations as possible to figure out not only the starters, but the swing backups.
"What we're trying to do is have a rotation working where we're really kind of looking at all those guys as starters and all those guys as swing guys," Kubiak said.
"It's hard to do, to be honest with you, but with where we're at up front, it's something we have to do. We have a plan in place so that the reps are going to come out even. We have some decisions to make here down the road. That's what we'll continue."
The one thing the Broncos know is that they will have some youth on the offensive line; as Kubiak has noted, this isn't a negative. But how much will the Broncos be willing to use? Believe it or not, that's up to the linemen themselves and how they play.
MORE NOTES FROM THE ONE-ON-ONES:**
The most spirited competition of camp takes place here, and the duels often transfer to further dustups in team and nine-on-seven periods, including a brief scrum between Derek Wolfe and Harris on Sunday.
... Max Garcia continues to show the same grit and brawler's mentality that defined his tough play both at Florida and then at the Senior Bowl against defenders like Washington's Danny Shelton. Garcia did well in one-on-one at impeding Vance Walker's progress after the defensive lineman had worked under and past Ben Garland. Walker also used a swim move to win a one-on-one duel against center Gino Gradkowski ...
... Garland responded by getting his hands up quickly to counter Kenny Anunike's speed, and knocked Anunike's helmet off during one duel ...
... NT Sylvester Williams continued to play well Sunday. During team and one-on-one work, he consistently burst into the backfield, and disrupted multiple run plays before the blocking could develop. Williams is playing as though he has a stick of dynamite in him, and Defensive Line Coach Bill Kollar lit the fuse.
"I think my game has definitely changed a lot, and [Kollar] has definitely brought the best out of me so far," Williams said.
Day 3 of training camp was highlighted by Peyton Manning and Demaryius Thomas running routes with two kids and a visit from Mayor Hancock. (All photos by Eric Lars Bakke)