ENGLEWOOD, Colo. --After lurching into training camp Friday, the Broncos opened up the offense Saturday, with more work on deeper routes, more big plays -- and more chances for the defense to respond with explosive plays of its own.
The defense obliged with a pair of interceptions off Brock Osweiler and Trevor Siemian during a 7-on-7 period, with Lorenzo Doss and Tevrin Brandon picking off passes.
The offense had flashes of brilliance, with Cody Latimer, Emmanuel Sanders and Jordan Taylor leading the way. But it's not where it expects to be -- and won't be until Demaryius Thomas is back in the lineup.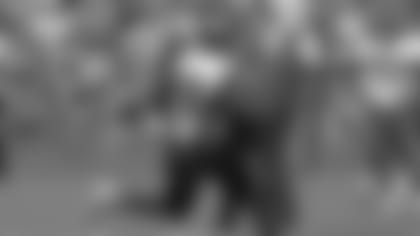 Thomas acknowledged that it will be "a week or two" until he reaches a proper conditioning level to get a full practice workload after missing OTAs and minicamp.
"We're going to take it easy. I haven't been here in a while," Thomas said. "I haven't played ball in high altitude in a while, so we're going to ease into it so I don't get any injuries and be ready to go when I'm in better shape.
But Head Coach Gary Kubiak noted that it's the mental adjustment that will determine Thomas' timetable.
"His conditioning looks good. We're just trying to break him into football stuff the right way," Kubiak said. "I want him to be able to go to the huddle, hear the call, know what [his] assignment is and just keep him very much involved instead of not being involved in the huddle at all."
That's where Saturday's takeaways begin.
THOMAS IN THE HUDDLE, BUT THAT'S ALL:**
Twelve men in the huddle draws a flag in a game, but it's no problem on the practice field. That allows Thomas to hear the calls and grasp the language conveying what his role will be.
"It's a new offense. It's basically telling you the formations -- strong side, weak side -- and telling you what you've got to do," Thomas said. "It's not much different, but usually we'll never be in the huddle, so that's the only difference."
Because the Broncos want Thomas in the huddle, he does his conditioning work at other times of practice, including special-teams periods.
"If DT had been in this offense a long time, and I wasn't worried about assignment stuff like that, I'd probably not be so [focused on Thomas being in the huddle]," Kubiak said. "That's probably the number one thing that we have to catch him up on right now."
LATIMER TAKING FULL ADVANTAGE.**
Thomas' absence put Cody Latimer onto the first team throughout the offseason and the first two days of training camp, and the second-year wide receiver has responded with some big catches despite tough defending. He made two grabs against Pro Bowl cornerback Chris Harris Jr. during one-on-one work, including a one-handed grab.
The timing between Peyton Manning and Latimer improved. But more importantly, the trust has skyrocketed. Throughout Saturday's work, Manning found Latimer in traffic, including a connection on the first play of the first team period. He trusts that the 2014 second-round pick can make plays with defenders on him, and that fits Manning's long-time ability to drop the football through the narrowest of windows.
But Latimer is not satisfied.
"I think I started kind of strong, but I can always do better," he said. "There are little things I need to tweak in my game. I'm going to take it day-by-day and try to increase every day and get better."
When Thomas returns, Latimer's repetitions might decrease. But the better he plays now -- not only as a receiver, but as a blocker, a skill at which John Elway felt he was the best in the deep 2014 receiver class -- the more he'll make the case for the Broncos to make heavier use of three-wide receiver sets.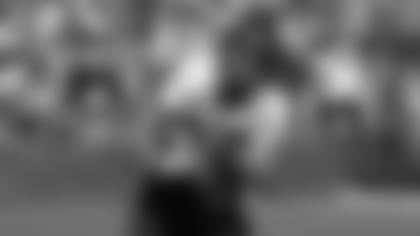 3. JORDAN TAYLOR STEPS INTO THE SPOTLIGHT.
Latimer's one-handed grab came moments after Jordan Taylor wowed the 3,425 on hand with a one-handed catch of his own which was arguably the highlight of the day.
In the seven-on-seven period after his one-handed catch, Taylor made a gorgeous reception from Brock Osweiler on a slant route, beating Tony Carter. But he was just as focused on the plays he didn't make.
"I left a few plays out there, too, and I've just got to constantly try to improve every day," Taylor said.
If Taylor is to stick on the 53-man roster, he knows that he cannot simply be a pass catcher. The last two days, he's been as focused on his blocking as his receiving. Run blocking by receivers is a long-time point of emphasis in this offensive scheme; it was a big deal in Rod Smith's day and it's just as important now.
But late in practice, Taylor was also blocking on punt returns for the explosive Solomon Patton, and helped spring him for two long returns with effective blocks upfield. That's a new role for Taylor, but it goes hand-in-hand with the emphasis on outside blocking on carries.
"I think I'll be able to pick it up soon, learning from Bubba [Caldwell]," Taylor said. "He's the first-string guy (in that role), and he's helping me too. I've just got to pick it up."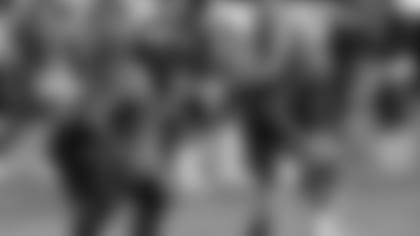 4. MARSHALL AND TREVATHAN GETTING CLOSER EVERY DAY.
Their injuries were different, but their rehabilitations were equally arduous. And even though the exact dates of their return to full-scale team work might be different, it will be hard to separate the progress of one from the other, given their roles as inside linebackers and the fact that Brandon Marshall replaced Danny Trevathan as a 4-3 weakside linebacker last year.
Although coaches and teammates praised the work of Steven Johnson and Todd Davis together throughout the offseason and the first two days of training camp, it's clear that the ideal defense involves Trevathan and Marshall back together. Walk-through periods and seven-on-seven work offer a glimpse. The first thing you notice is their pre-snap communication; the two rarely get their wires crossed. Although they can both be vocal, often a hand signal is all they need to communicate their intent.
"We know each other well, so it's actually pretty easy to have him in there," Marshall said. "I don't really have to sit there and tell him what to do. He knows what to do and we just feed off each other."
With their communication down and their knowledge of the defense sharpened by their constant presence on the practice field taking mental repetitions in the offseason, the only distance left to traverse is physical. Both are close to returning, but Marshall acknowledges some lingering discomfort. He'll play with two screws in his foot to aid in the long-term healing. In the meantime, he knows he will have to manage the pain.
"I'd give it 90 percent," Marshall said. "I think I'm at 90 right now and that's because I still get some aches, which will be there all season. The other 10 percent is probably me getting my explosion back, my pop back as far as running and jumping and doing stuff like that. I think that will be the last thing to come anyway."
5. NOTES FROM THE ONE-ON-ONES.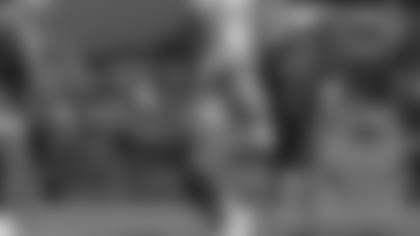 The daily duels between the offensive linemen and the defensive ends and edge rushers are always among the most fascinating parts of training camp. But with offseason departures on both sides of the line of scrimmage, the looming suspension of Derek Wolfe and a horde of young O-linemen finding their way, the work has rarely been more important.
Among the players who stood out:
... NT Sylvester Williams, who looked athletic and quick spinning through and around interior linemen. This is the sort of burst that made him a first-round pick, and his play at the end of practice earned praise from Kubiak ...
... DE Kenny Anunike, who burst into the backfield with an spin move to get past guard Max Garcia ...
... C Matt Paradis, who did a good job getting set off the snap and holding his ground, even when under intense pressure from Williams and NT Darius Kilgo ...
... Kilgo, who threw off rookie center Dillon Day at one point to burst into the backfield ...
... Garcia, who immediately rebounded from getting beat by a Vance Walker swim move by getting his hands up quickly in the rematch to prevent Walker from breaking through.
The Broncos continued training camp work on Saturday and got closer to their first day in pads. (All photos by Eric Lars Bakke)