ENGLEWOOD, Colo. --For the last month and half, we've been left with nothing but bloviation, speculation and wondering.
It was time to see some football. And although we're going to keep the "Jump to Conclusions" mat deep in the attic, there were some standouts who jumped into the notebook during the nearly two hours of practice Friday.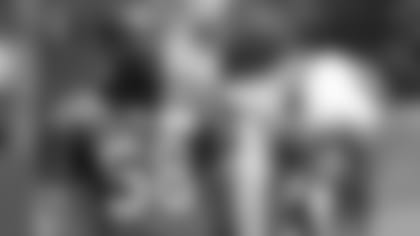 1. VON MILLER, ALREADY IN MIDSEASON MODE.
Miller strode onto the field with a spring in his step and then bounced past offensive linemen during team and one-on-one drills as though he had springs on his shoes. Even with at least two days separating the Broncos from full-pad work, Miller looked to be in midseason form, and appeared faster than at any point since he tore his anterior cruciate ligament at Houston on Dec. 22, 2013.
Miller dominated the one-on-one drills, using an array of speed, hand and spin moves to take one matchup after another. Defenders always have the advantage in these drills, but Miller's dominance was the most impressive among his position group, and included some extra work the inside against rookie Max Garcia.
"I wanted to get in there and get right where I was tired," Miller said. "Plus, Max, I like going up against good guys. Max is going to do a lot of great stuff for us. I go out there and show him stuff. At the same time, [when] I go out, I want to be able to beat him."
As an aside, Garcia's willingness to take on Miller and his persistence against him showed a lot about him. It's reminiscent of how Chris Harris Jr. put himself in position to take on Brandon Lloyd and the other top Broncos wide receivers during his first camp in 2011. That's how you make an impression; that's how you grow.
One matchup that stood out was when Miller faced rookie Max Garcia in one-on-ones. The feisty Garcia has never backed down from a challenge, and even though Miller got the best of him with spin moves, he recovered. He worked at left guard with the second unit during the team period and had some solid work creating holes for the running backs, working with Michael Schofield to his left and Matt Paradis to his right.
"That's what we're looking for -- development," said Miller, who carried himself with an air of exuberance that matched his 2011-12 self, and leadership that is the product of his experience and growth from his mistakes. Just as DeMarcus Ware has spoken of helping Ty Sambrailo, Miller knows that his play will aid the development of teammates like Garcia.
"I feel like Max is coming along. He's looking really good all the way from OTAs to now. I think the sky is the limit for him, and I feel good."
But the sky is the limit for Miller, as well. In the team period he had two pass rushes that would have been sacks in game conditions, blasting around the right flank of the offensive line from his left outside linebacker position. Miller pulled up to avoid contact, but the point was made: nearly two years after his torn ACL, he appears to be all the way back.
2. ROOKIES IN ONE-ON-ONES.
The first matchup in the one-on-one period offered a glimpse of future practice duels to come: left tackle Ty Sambrailo vs. outside linebacker Shane Ray. Sambrailo got the better of Ray in their initial duels; he didn't fall for Ray's attempts to spin around him, instead holding his ground and maintaining his balance and footwork.
When they met a second time, Ray made initial contact with Sambrailo, who used his hands to force Ray off-balance and get him to the ground.
"For me it's about learning right now," said Ray, who missed nearly all of OTAs with a toe injury. "I'm new. I'm a rookie, so it's not really too much talking that I should be doing. I should be paying attention to what I got to do and getting better and learning. So for me, I'm just really focused on just getting better and trying to be the best I can be."
For Sambrailo, the day wouldn't be all smiles and sunshine; he got beat by DeMarcus Ware during the team period on a handoff to C.J. Anderson; Ware pulled up because of the non-contact nature of Friday's work.
Nose tackle Darius Kilgo also displayed the quick feet and burst off the snap that jumped out during OTAs and minicamp. This helps the 320-pounder as he tries to prove that he can play all three spots along the defensive line.
3. OFFENSIVE HICCUPS, AND THE ABILITY TO WORK PAST THEM
From some missed blocks to a fumbled snap in 7-on-7 work, it was clear that the first day of training camp was exactly what you expect of the offense, which is usually behind at this point because of the increased timing and cohesion that execution on that side of the line of scrimmage demands.
"It's always tough the first day," running back C.J. Anderson said. "The O-line trying to get their chemistry back because they ain't been together. It's easier for the defense because they're just reading and reacting and flying around, so they look faster than us. But as we get into it, we should be able to dominate.
But in the end, the Broncos were able to overcome some of the missteps. At one point. Manning tumbled after taking the snap from center Gino Gradkowski, but still executed a clean handoff to Ronnie Hillman.
"Sometimes you get tripped up with the offensive linemen so it doesn't have much to do with the running backs. It happens sometimes," Manning said. "That's probably what happened on that play. I still got the handoff."
Manning and backup quarterback Brock Osweiler both had completions out of the pocket. Manning rolled right and found tight end Virgil Green, and Osweiler looked particularly nimble rolling to the right for a completion.
Deep attempts were scarce, and the closest the offense came to one in the team period was when rookie Trevor Siemian found WR Solomon Patton streaking up the right sideline. Siemian's pass was on target, but fell incomplete because of a pass-interference penalty against CB Curtis Marsh.
RUNNERS READ THEIR BLOCKS WELL.**
Despite the occasional bobbles, there were plenty of plays in the team period where the zone-blocking intensive scheme fired precisely as it was intended, and the running backs made their cuts and turned them into solid gains upfield. Anderson, Montee Ball, Juwan Thompson and Ronnie Hillman all delivered solid gains reading their blocks and cutting back.
Tight end Owen Daniels was on point in his role, sealing the edge defender on both sides on separate plays to spring Anderson to the second level.
But the most impressive run of all might have belonged to Kapri Bibbs, whose cutback against the flow was straight out of the Broncos' running playbook of the 1990s and 2000s. As the play flowed to the right, Bibbs made a sharp cut to the left, and there was nothing in front of him but open field. Bibbs looked as natural in this scheme as he did during OTAs.
One of the Broncos' under-the-radar prospects, outside linebacker Gerald Rivers caught my eyes Friday by consistently beating opposing offensive tackles around the edge. Rivers isn't the Broncos' tallest outside linebacker, but at 6-foot-2, he's long and rangy. His quick first step got him into the backfield consistently, and his long arms allowed him to get into position to burst into the backfield during one-on-one work.
The biggest key to taking the next step going forward is establishing an array of moves. He's got the outside speed rush down pat. If he can use that to set up inside moves, he could have enough tools in his chest to contend for a spot behind Ware, Miller and Ray.
Part of making that push is learning from the Pro Bowlers atop the depth chart.
"I model my game after a lot of these guys -- D-Ware, Von," Rivers said. "Whatever I can use to put into my repertoire, my arsenal, that's what I want to do, so I want to be able so show that I can do all these things, too -- to be a versatile guy. The more you can do; the more they need you."
If he can have more days like the one he enjoyed Friday, he'll be on the right path.
Take a look through the lens at our best photos from Day 1 of Broncos 2015 Training Camp.